Decades ago, people with disabilities experienced large discrepancies in terms of civil rights. There was no protection from extensive discrimination for people with disabilities, publicly and privately.
That narrative changed when President George H.W. Bush signed the American with Disabilities Act (ADA) into law on July 26, 1990, now considered the most pivotal pieces of legislation passed for people with disabilities.
Fast forward to 2020, and the ADA Act celebrates its 30th anniversary, marking decades of work done by several organizations and willing volunteers. The many stories tell of a journey of helping people with disabilities to flourish.
One of those organizations, Center for Independence, helped change the life of Rose, a local resident with disabilities who was unsure of where to turn before receiving help from CFI, a non-profit organization assisting communities on the Western Slope.
"I was stressed," Rose said. I didn't even know what to begin or what I needed to do. I was lost."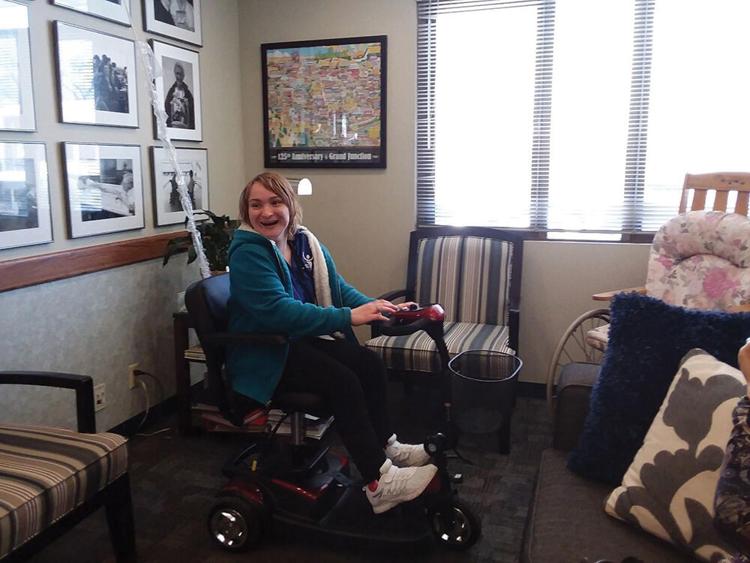 Rose has dealt with heart issues, diabetes and cancer. She said she can't feel the bottom of her feet when she walks.
Rose was worried about applying for disability. She wasn't sure where to start. With all the paperwork, the process felt overwhelming.
Near the tail end of her career at Community Options, where she worked 25 years, her boss acknowledged her struggles and urged Rose to apply for disability.
She connected with Candis Coca, regional program manager for CFI in region 10, and someone she had known for quite awhile. After talking it over, Coca told Rose she could help. Coca accompanied Rose to the social security office and helped with paperwork and made copies.
For Rose, applying for disability payments, although a lengthy process, was now a reality after spending so much time wondering if she would have enough money to pay her bills.
Rose said, at times, she would cry in Coca's office, feeling completely overwhelmed and stressed since the paperwork involves proper documentation.
"[Coca] would tell me, 'no, we can get through this'," Rose said. "She was very assuring. "She's somebody I can depend on. Somebody who can encourage me," Rose added.
Rose, today, is receiving her disability payments. Since the state can be behind processing applications, and are sometimes short staffed, Rose had to wait year before payments started to arrive. But now that she's receiving them, it's changed her world.
"I feel relieved," she said. "I'm thankful that I'm able to make my payments, pay my bills, be able to go to the doctor. I'm thankful to God for it."
Without the ADA Act, and organizations like CFI, there is a question as to whether people in Rose's position would receive such an opportunity, Coca said.
In Montrose, CFI has helped several people with disabilities. Whether it's applying for government disability assistance, teaching individuals how to live independently, or finding different devices for those hard of hearing, CFI has provided education and resources to countless people in need of assistance, Coca said. Over 50% of staff within CFI are people with a disability.
"I have referred many individuals to CFI over the past 3 years and as long as the clients follow through with the needed processes, CFI is able to assist them in obtaining their goal. Candis has helped many in our community and has a way to inspire others around her," said Amanda Taylor of Montrose County DHS in an email.
Diana Baker, a senior resources specialist for Gunnison County Health & Human Services, had high praise for Coca and CFI.
"Applying for disability with Social Security can be a daunting process, especially when you're just trying to get through your daily activities of living. Candis from CFI has been a valued resource for guiding our clients through the complex process. CFI has graciously made the trip to Gunnison to meet with our clients in their own community and we really appreciate it.
As an Aging and Disability for Colorado representative, I have benefited from The Center for Independence and consider them a big part of our team," Baker said in a statement.
Years ago, Coca worked for an agency that helped people with intellectual disabilities. Growing up, her parents told her not to look or stare and wonder why people with disabilities had, at times, a different appearance, wanting to educate Coca to shy away from stigmas that continue to be prevalent in present day society.
Working at the agency provided Coca an opportunity to look through a different lens, and was an experience that gave her more than she could have asked for.
"I felt like those folks gave me more than I could ever give in return.. Those folks looked at me as if i were their family," she said.
"It was probably one of the most rewarding jobs I ever had because it changed me as a person," she added.
Additionally, having hope is what "really makes a difference," Coca said, and something CFI provided to Laura Lucas, a Delta resident who was in an accident, leaving her with an injury that doesn't allow her to stand up for too long. Back issues play a part, too, in Lucas's life. Lucas also dealt with substance abuse, turning to alcohol, but she's been sober for a year and a half.
Before receiving help from CFI, Lucas shared the same feelings as Rose.
"I was lost," Lucas said. "I didn't know what to do."
CFI stepped in and helped Lucas apply for disability payments while educating and helping her understand the process.
"It made me feel so much better. I made some new friends and everything. I felt comfortable with [CFI]," Lucas said.
Lucas said she "feels better now," and that delays due to the pandemic have pushed back her doctor's appointments, a step needed to secure the disability payments.
The CFI, through its core services, helps people with disabilities gain skills to be successful, provides a network of support, educates and teaches, and offers transitional support. These services help CFI be creative with an individual, and opens the door for communication, Coca said.
"We do so many different things," she said. "Other agencies may not have the time to improve or develop someone's skills. We can."
For example, a person with autism could have difficulty with social skills like learning how to communicate and reciprocate actions and communication appropriately. Teaching them and reminding them can make a difference, Coca explained.
Recently, a mother walked into CFI with her son, who has terminal cancer. The mother needed help with the overall process and the paperwork.
"Government forms can be intimidating for a lot of people. We support them all the way, from the beginning to the end," Coca said.
The Division of Vocational Rehabilitation (DVR), a social services organization that works under the Colorado Department of Labor and Unemployment, works with people with disabilities in terms of getting them employment. It involves an eligibility process where DVR determines the person's disability, how it affects them, and how they can keep employment. Then, the person is counseled in terms of being able to identify an occupational goal that may or may not acquire accommodations.
The DVR works closely with CFI when people are trying to get back to work,
"Well, the impact is enormous as far as helping people with disability find employment. It's about education, it's about finding new meaning for each of these individuals. It's just been a lifesaver for people," said Lacy Anderson, a vocational rehabilitation counselor for the DVR office in Montrose. Anderson also oversees the entrepreneur program in the region.
Anderson, too, believes the ADA act has had a profound effect not just on people with disabilities, but also employers.
Thanks to a collaboration with different programs, and connecting and navigating, employers are educated and can come to understand that they too can help with job development and training. Many of DVR's clients have the organization's support, helping notify employers that the person has a job coach, which in turn, can take some pressure off the employer.
"It's completely rewarding," Anderson said. "People come into our program thinking their work life is over. It's nice when they find out what we can do."
Although the overall employment rate for people with disabilities has improved since 1990 — an increase from 28.7 percent to 37.6 percent — data released by the U.S. Bureau of Labor Statistics indicates there's still work to be done.
According to a news release from Feb. 26, 2020, 19.3 percent of people with a disability were employed in 2019. Those without a disability revealed a much higher number, as the employment-population ratio was 66.3 percent.
Also, the unemployment rate for people with a disability sat at 7.3 percent, more than twice for those without a disability (3.5 percent).
Additionally, in 2019, 32 percent of workers with a disability worked part time, compared to 17 percent for non-disability workers also working part time.
It's why the work doesn't stop, Coca said, in hopes to continue helping people with disabilities and making sure they don't go undetected.
"We need to lead the way or make the next step, 100%," Coca said. "That's a never ending revolving door. We can accomplish more if we're given the opportunity."
• RespectAbility will celebrate the 30th anniversary of the ADA act with a week-long set of events starting Monday. Visit respectability.org and choose the events tab for more information.
• Southwest ADA Center will also celebrate the ADA act with a pair of live events. Visit adata.org/events-calendar for more information.