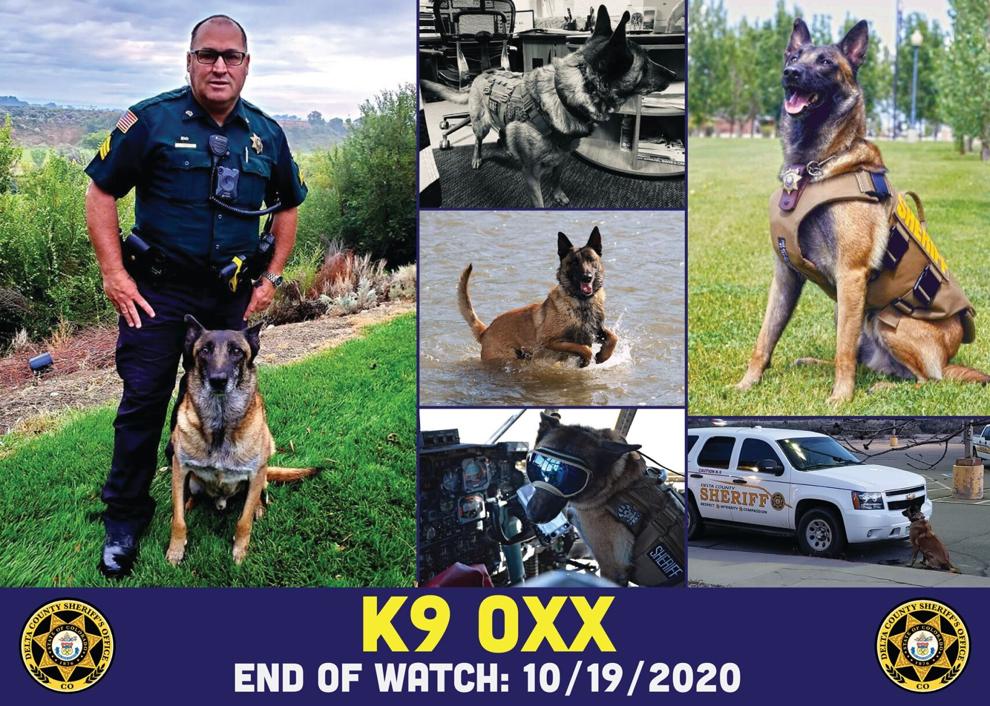 When he arrived in the area, Oxx was a young graduate of the Little Rock K9 Academy. The Belgian Malinois served first with the Montrose County Sheriff's Office, then followed handler Sgt. Keith Sanders to the Delta County Sheriff's Office, racking up awards, helping get drugs off the street and switching gears to visit community members.
Oxx was a very good boy. He died this week of an aggressive form of cancer that hit after his retirement from the DCSO.
"It ended up taking its toll and overtook his body," Sanders said Tuesday, after a procession of public safety agencies escorted Oxx's body to the Delta County line. From there, Oxx was taken to a Fruita facility for cremation.
"It's tough when you have a partner by your side every day for that long. He did amazing things and there is no doubt in my mind that he always had my back and I could rely on him at anytime," Sanders said.
"It's hard to say goodbye."
Oxx would have been 11 in February.
He arrived at the MCSO in 2011, going on to win the Colorado Police Canine Association Patrol Case of the Year in 2013 and the Detector Case of the Year for the same organization in 2016. The year before, Oxx was honored for the National Police Canine Patrol Case of the Quarter.
The dog's record is replete with sniffing out drugs and fugitives for both agencies where he worked with Sanders.
In 2013, Oxx and Sanders responded to a traffic stop involving men under drug task force surveillance. Upon arrival, Oxx honed in on backpacks in their vehicle, in which were found guns and weapons. (The charges arising from this investigation were dismissed when the suspects were sentenced in a Colorado Springs murder/robbery case.)
Oxx's performance on that traffic stop won him the patrol case honor from the state police canine association.
Oxx's Detector Case of the Year honor was given to Oxx for sniffing out a reported 200 milligrams of cocaine hidden inside the community corrections facility in 2016. Rick Dunlap, then Montrose County sheriff, at the time called the K9 team an asset and good community ambassadors.
Delta County Sheriff Mark Taylor on Tuesday held a similar view, noting how Sanders and the dog worked to fit in with their new community.
"He was not only valuable in situations combating illegal drugs … but he also spent a lot of time in the schools and assisted living centers, visiting with the elderly and the sick," Taylor said.
"Oxx is going to be missed."
Oxx's personality could be community-oriented or all-business, as the situation required, Sanders said.
"The few people that challenged him, they learned the hard way," he said.
"They (K9s) are classified as a tool, but nothing can compare to their senses and their ability to detect different attributes, especially when criminals are fleeing and the body puts off different chemicals due to endorphins. Dogs can detect that," Sanders said.
He recalled driving down the street, with Oxx lying down. "All of a sudden, he would jump up. I would always wonder if he was smelling the person, or if he could hear them walking as I drove by," Sanders said.
Oxx was always ready to go, whether it was to work or to visit community members.
"The best thing I can say is Oxx was definitely in it for the community. He was always working for a safe community and it didn't matter what time of day it was. When I pushed the clicker to unlock the door, he could hear it and he was there, ready to go."
Oxx was joined for a few years by K9 Roo, who was later medically retired. Roo was adopted by a Delta-area paramedic, but she got to see Oxx last week.
"It was very enjoyable to see dogs actually remember and recognize their past friends," Sanders said.
Following in Oxx's pawprints, K-9 Teg now serves the DCSO. K9 Raico serves the Delta Police Department and K9s Tigo and Jocko work for the MCSO.
Taylor thanked all agencies that participated in Oxx's final escort Tuesday morning.
"It really showed Oxx was respected, and Keith," the sheriff said.
The show of support also touched Sanders.
"It's an unfortunate ending, but I know that, especially after today, seeing community support and not only from Delta County but from Montrose County … they still support the DCSO K9 unit," he said.
"Today was a true tribute to show how many people loved him and what he meant to the community."
Katharhynn Heidelberg is the Montrose Daily Press assistant editor and senior writer. Follow her on Twitter, @kathMDP.