When I drove into the yard at the Dry Creek Farm on Monday morning, Lisa Perry had on the biggest smile that I have ever seen. In the small corral Corabelle, Lisa's 3-and-a-half-year-old Black Mountain burro, was standing guard over a gangly chocolate brown foal still damp from her birth, a mere four hours earlier.
"When I came out at 7, she had just delivered," Lisa said, looking like a cross between a giddy school girl and a proud grandma, as we watched the foal named Carina take some of her early steps on stiff, slightly wobbly legs. Lisa said the foal was on her feet within an hour after birth and had already gone to the water trough for a drink. All signs of a healthy young animal.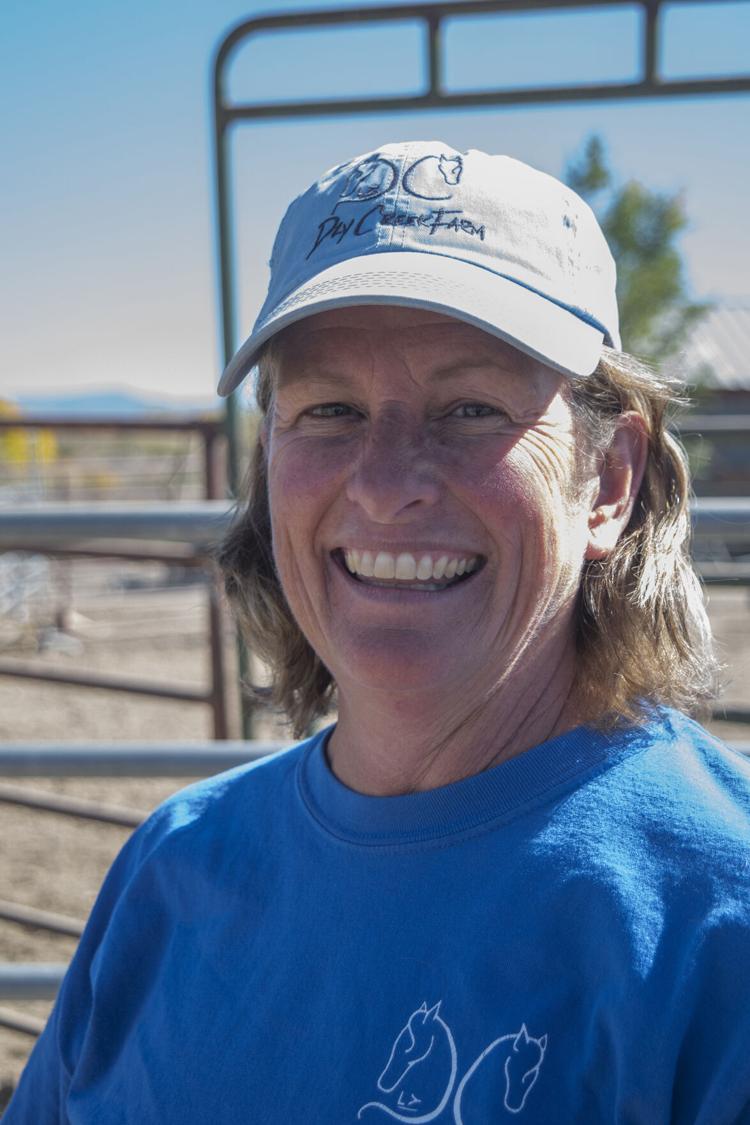 Corabelle, meanwhile, was ever the protective mom. One of Lisa's visiting relatives can attest to that.
"One of the girls tried to touch the baby and Corabelle gave her a butt and knocked her down," she related the incident from earlier in the morning.
Corabelle and her daughter are two of 25 equine residents of the Dry Creek Farm, Lisa's dream come true.
"I grew up on a farm in Indiana. I kept asking my dad to get me a pony," she recalls her horseless childhood. Her dad, a crop farmer in the Hoosier state, saw horses as draught animals, not something girls had as pets. So, Lisa got her own horses and about 50 years later this happy, busy 58-year-old is having the time of her life.
She came to the Western Slope from the front range almost eight years ago and bought the century-old Dry Creek outfit, west of Olathe. Her 40 acres straddles Dry Creek, which is seldom ever actually dry, as it picks up the tail water from many of the farms to the south and moves it back to the river.
Lisa does not see herself as a breeder or marketer of horses. Some of the horses in the Dry Creek pastures are boarders, but many of them are animals that needed rehoming or were victims of some abuse.
"I am not officially a rescue operation," she explains. Lisa says that she serves as sort of a conduit, helping her equine pals find better homes.
She also teaches horsemanship to a number of students and she trains a few horses. And besides all that, she has a full-time job as an education trainer.
"I got a degree in photojournalism but that didn't get me anywhere," Lisa says. "So, I got a master's in physical education." But rather than settling in as a high school phys-ed teacher, she began developing curricula and showing other teachers how to better teach physical training. Lisa is now national physical education/physical activity adviser at The Alliance for a Healthier Generation.
"I used to travel a lot doing seminars and lectures, but COVID changed that," she says. Now she stages virtual classrooms from her 100-year old ranch house and connects with her students over the Internet.
Meanwhile, back at the corral, Minda takes another walk to the water hole, while Corabelle watches Lisa and me. I step toward the youngster to shoot a few frames with the camera. The mama burro's body language lets me know that it was a bad move, as she moves between the foal and me.
Corabelle is one of the lucky feral burros who has a forever home.
"I got her at a BLM gather at Black Mountain in Arizona," Lisa explains. Black Mountain is one of the well-known burro hangouts. The area surrounds the storied town of Oatman, the central community in the 1880s gold mining district in southwestern Mohave County, Arizona.
Hundreds of prospectors looking for the end of the rainbow in the Black Mountains moved on to other dreams, leaving dozens of burros to fend for themselves. Over the years the burros did much better population-wise than the community of Oatman, which has been reduced to a sparse community of curio shops, a bar or two, and dozens of burros, which are pretty much the royalty of the town.
About 1,000 burros call the Black Mountain Range home. The range is a dozen miles wide and about 60 miles long, running from the Hoover Dam to just south of Oatman. On that range they compete for feed and water with other wildlife like big horn sheep, mule deer, javelina and others, as well as cattle.
Lisa bought Corabelle after the 2016 gather on Black Mountain range. She was pregnant when she came to the Dry Creek Farm. Since then the population has once again grown well past its intended capacity of 500 animals. The BLM has been gathering another 500 head since mid-September. They are up for adoption.
Lisa Perry had come to know other people in the area who had adopted burros and it seemed like something she wanted to do. She has no regrets, especially after Carina's arrival on Monday.
Part of the Perry dream was to ride anytime she wanted. So, on a regular basis, you will find her with her Palomino quarter horse named Pistol, headed for a ride. Some days they will go out through the country around the farm and on others, it's a trailer ride to a trailhead somewhere else.
"Sometimes I feel like I am living a fantasy life," Lisa says, spreading her arms and looking at the sky. "I couldn't be happier."
Or busier. As I climb into my old Tacoma to head home, Lisa takes one more look at Carina and heads off to her oil painting class.