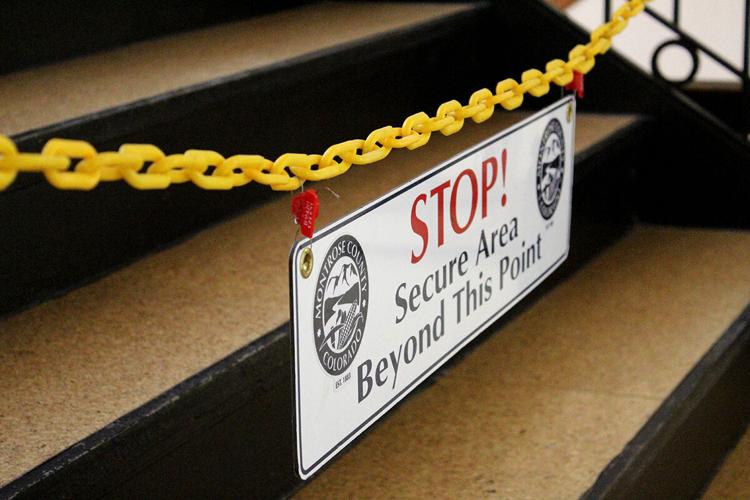 As business at the Montrose County Clerk and Recorder's office drew to a close July 24, an unwelcome surprise dropped down on employees in the recording office: chunks of the ceiling in the 100-year old historic courthouse building.
"Thankfully, the drop down ceiling caught by far the majority of everything. But two pieces had enough to them that they literally came through and barely missed on of the employees," Montrose County Clerk and Recorder Tressa Guynes said.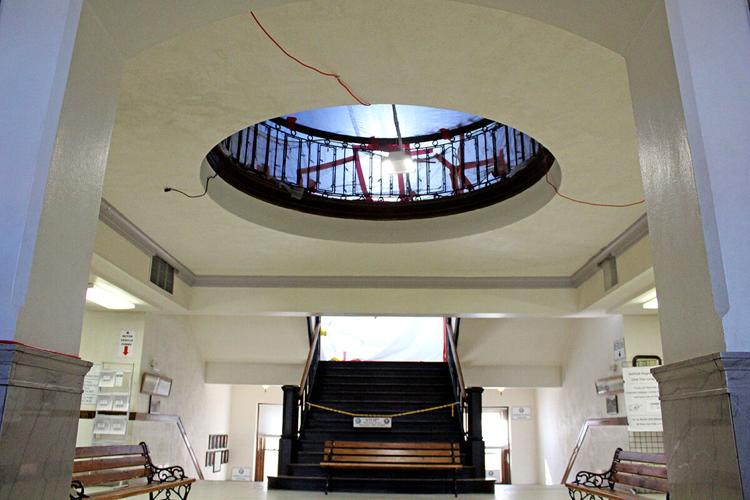 A 4-by-10-foot section of ceiling fell in when the plaster stuck to the lathe broke free and came through older tiles that covered the plaster, Montrose County Manager Ken Norris said. Most of the falling debris was caught before coming completely down.
County crews came in that night and the next day to stabilize the plaster and since then, a contractor familiar with older buildings has assessed the damage for a semi-permanent fix.
The county is in the middle of efforts to renovate and rehabilitate the historic structure, with the design phase completed.
The plan is to ultimately move the clerk's office across the alley, to the current county administration building. Administration staff and commissioners are to move to the South Campus on Townsend Avenue, while the treasurer, assessor and GIS departments now in the courthouse are to move to the former road and bridge building on North Second Street, by the fairgrounds.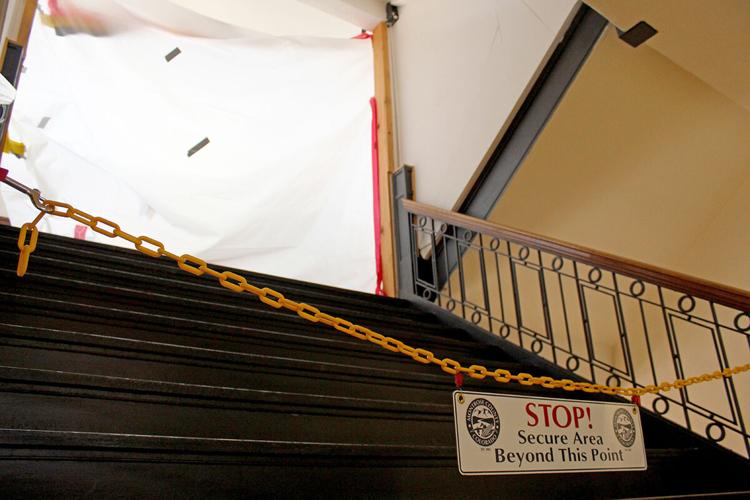 "We don't want to spend more than we have to (on the ceiling damage), because we're looking at doing a complete remodel, but on the other hand, we want it to be absolute safe for all employees we have in there," Norris said.
"We were talking about ahead with our project, moving people out of there and remodeling the courthouse, so we can bring the clerk's office over to the administration building," Montrose County Commissioner Keith Caddy said.
"They've got to get people out of here, but they also have to finish the South Campus building where administration has to move to, and the move all of the administration," Guynes said. "We're here at a minimum of (another) year."
Norris said engineering work on the admin building to accommodate the clerk's office is within a few weeks of completion; however, there are no plans to move that office prior to the upcoming General Election.
The ceiling damage was yet another indication that the courthouse desperately needs renovated, Caddy said.
In the end, once all the buildings are ready and departments have moved, the public will be better served, he said.
"It will be much easier to come in here (admin building) than it is at the old courthouse. And the old courthouse really needs to be remodeled," Caddy said.
"It's another problem we're facing for a building that's been there 100 years."