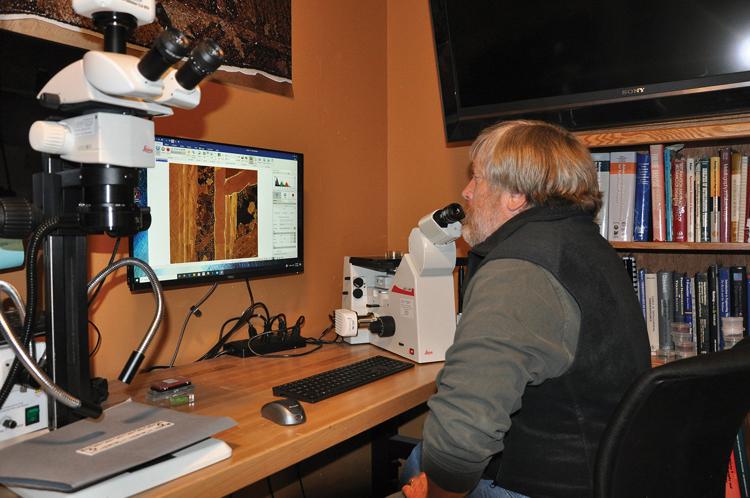 Marshal Clark is a metallurgical engineer. He studies the relationship between the structure of metals and their properties.
So how does art come into the picture?
It's simple. The beauty of the structure and its arrangements is too great to ignore, the licensed professional engineer said.
For the past several years, Clark, a Montrose resident, has studied and made photographic prints of the micro-structure of iron-meteorites, which has turned into a collection and website titled "Art of the Gods." When Clark takes a look at some of the work he's done, he appreciates what comes of it. After all, the process isn't too complex, even if he's searching for particular patterns.
"It strikes me as something that is very pretty, or interesting," Clark said when discussing one of his metal prints. "I have to have an area that's the right size to be able to capture."
"I'm not really looking for anything specific, unless later, sometimes these meteorites run into each other in space, and you get deformation patterns, and it makes some interesting shock lines through them. I try to capture those," he added.
Over the past several years, he's made photographic prints of the micro-structure of meteorites. Clark doesn't hunt down the meteorites. He purchases them from reputable dealers.
He then cuts his purchased pieces into slices, places them in a cylindrical mold and pours an epoxy resin around them.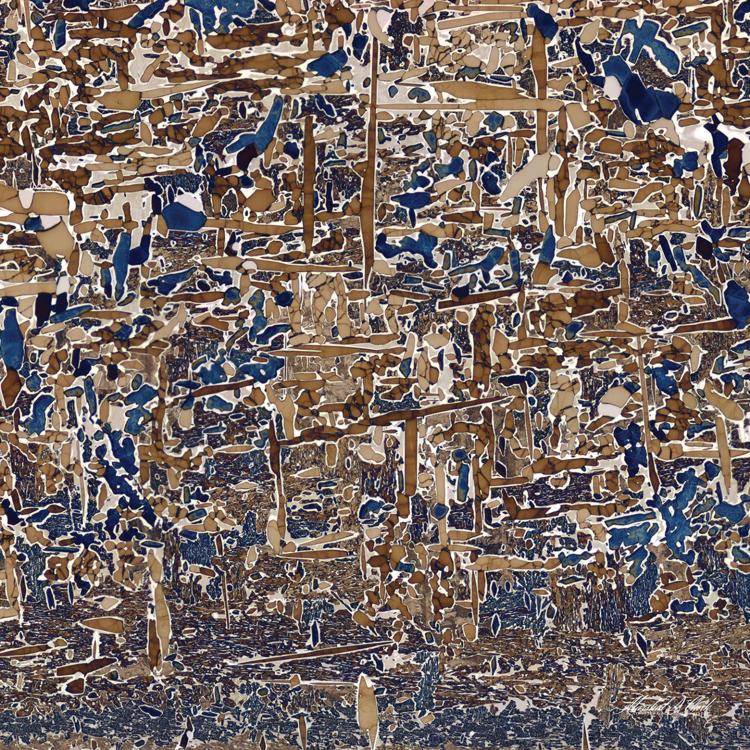 The mounted slice is then grinded flat with a series of grinding papers. After some grinding, it's polished, and left with a mirror finish.
When choosing which structures to use, it's no different than someone looking to the sky for a certain pattern. The imagination runs wild.
"There are times when I'll see things, just like when you look up at clouds and you see a face or a bird," he said. "That's not obviously there, but sometimes the feature reminds me of something."
"There's one that reminds me of an eagle, there are some that remind me of mountains. These things mean something to me structurally, but I'm looking because I consider them pretty."
Clark produces the prints at a professional lab that uses a process called dye sublimation. Each print takes about two hours, and once Clark re-grinds or re-polishes the print, different appealing structures are shown, which leaves the exact arrangement in a unique pattern.
The polishing helps remove "disturbed" metal from the surface of the print and remove fine scratches that are present.
It's not a type of art that involves pastels or brushes. It doesn't necessarily follow the usual pattern of art, where an idea is brought to life on a canvas or some other medium.
It's different, and unique, Clark said.
For example, "Seymchan No. 1," one of Clark's prints, features mixtures of two different crystal structures. Most of the print has individual crystals of kamacite surrounded by a "white area," which is the other crystal structure.
"As they formed, this would have originally started in the meteorite at very high temperatures as it began to cool, but then various of the lower temperature ones will precipitate the brown areas and transform out of the white area, so you get little structures of layers surrounding the colored regions," Clark said.
Most of the fields Clark photographs feature that type of structure. But just like in "Muonionalusta No. 4," another one of Clark's prints that has similar features like in "Seymchan No. 1," the formation occurs in space.
"Basically, all I've done would be like taking and looking at different snowflakes as they fall," he said. "All I've done is cut the sample, polished down, and etched it to reveal this micro-structure."
Clark estimates the formation of the micro-structure occurred billions of years ago. Over time, certain structures make their way through the solar system, and periodically, one will make its way to Earth.
Although Clark does not consider himself a recognized artist, his artwork did make its way to an art shop. Mother Earth Colorado, a shop that carries minerals, jewelry and photographs/paintings, now features some of Clark's work.
View more of Clark's work, online or at Mother Earth Colorado on 321 E. Main St.