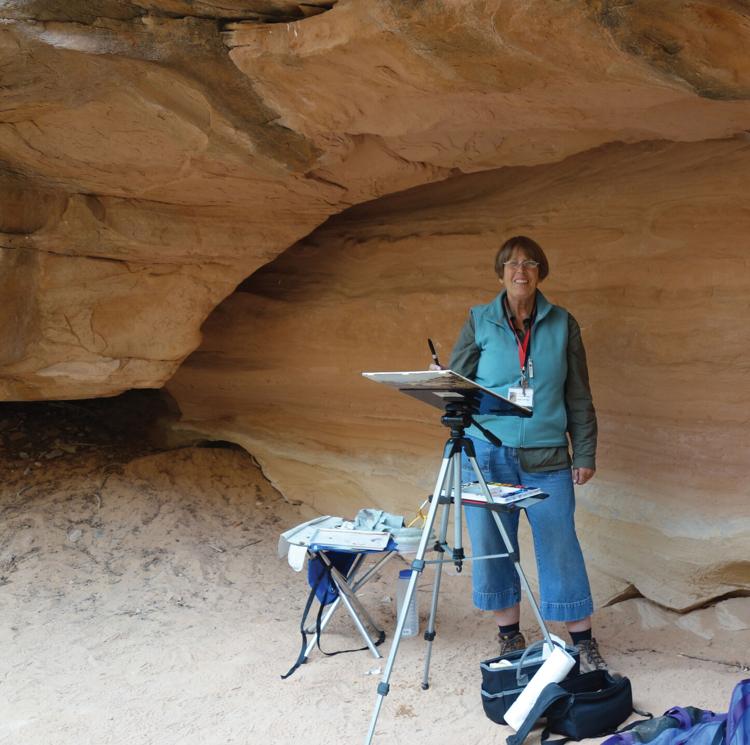 The Western Colorado Watercolor Society exhibit made its first appearance in Montrose this month. Several watercolorists submitted work for the show, including Montrose resident Susan Thiele, who won the second place prize for her piece titled "Henrieville Cliffs," a watercolor painting she did through plein air painting near Escalante.
The recognition follows a string of successes for Thiele as an artist, and further recognizes her journey as an artist, especially since it wasn't traditional — she didn't start as full-time artist until she reached her 50s.
Before becoming the artist she is today, Thiele made a habit of traveling around the world as an international guide, seeing a variety of different cultures and the artwork that accompanies them. Her travel history, in fact, is quite rich. As an international guide for 20 years, she traveled to South America, Africa, Thailand, Pakistan, India, and western China — not to mention several other unique locations.
The experiences have opened a plethora of perspectives for Thiele, and a greater appreciation of the many benefits one receives living in the United States.
"With people in foreign countries, it's the excitement of things that are exotic, the excitement of people living so differently in other countries, and the pride and dignity that people have in these cultures that are so extremely removed from what we have here," she said.
Often during her journey, Thiele stumbled upon folk art, typically a different style than the one that is seen stateside, which is typically fine art. Though in her 30s and not an artist at the time, Thiele would purchase art that intrigued her, wherever she was. Whether it was colored ink sketches done by regionally known artists from western China or old manuscripts that had been painted over style illuminated text, Thiele eventually began to appreciate the different genre.
"I have a great affinity for folk art," she said.
But it wasn't until Thiele was in her 50s that she began to expand her scope as an artist. Teaching outdoor education classes at the University of New Mexico, she was able to fit an art class into her schedule, which she started to enjoy. But it was an unfortunate set of events that led Thiele to truly engage herself as a full-time artist.
As a wilderness guide, Thiele was thrown off a camel and broke her back. Unable to work for a lengthy period, Thiele began to take art more seriously.
"That whole thing led to me leaving my previous career," she said. "I could get tremendous enjoyment for the rest of my life out of art, and create art as part of my life."
Later, Thiele moved to Montrose, eager to retire in a location with more outdoor space and land. It was in Montrose where Thiele learned about plein air painting (the act of painting outside). She gravitated toward watercolor painting, a medium she exclusively uses to this day.
"I like watercolor painting because it really has a mind of its own," she said.
It's a medium that's underappreciated, Thiele said, and why she participates in many watercolor shows and events that promote that type of work. She's gone as far as to capture the photos she took while traveling through watercolor painting.
Taking those photos wasn't as simple as it is today. Having to use photographic film, Thiele had to be judicious about what she photographed and had to ration her film to one roll a day. She took photos of people she interacted with. It's why she can remember exactly why she took a photo of the specific subject.
And now, with experience as an artist, Thiele said she's able to further appreciate many of the art pieces she purchased years ago.
"Certainly, now when I go back, being an artist, I can appreciate them at a different level. … I have one painting from Peru, I look back and I actually see mistakes that the artist made, which I wouldn't have been able to understand that back then. The style is different, shade is inconsistent. I appreciate them from a different standpoint."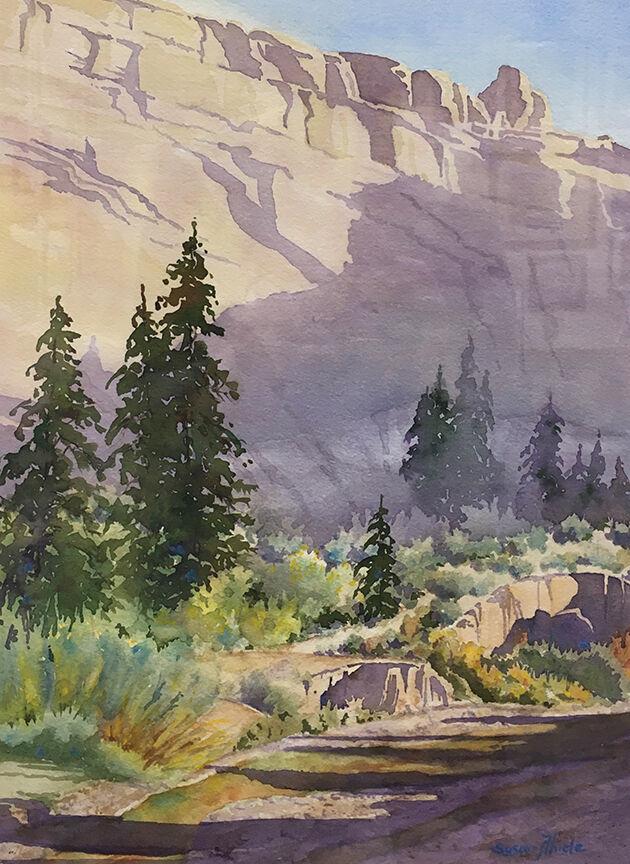 Living in Montrose, Thiele has transitioned the focus of her work to landscapes, with plein air painting serving as something that she believes can reveal a story behind a specific piece.
"I love to paint by myself and have that peacefulness and that connection to nature while I'm there. That's why my paintings have a story behind them," she said.
When she's able, Thiele will head to Gunnison, Silverton, the San Juans or any of the mountain regions in western Colorado to perform plein air painting. She's used time during the COVID-19 pandemic as a reflective period, thinking about her style and approach. And, Thiele is particularly happy and appreciative of the recent appreciation and recognition of not just her work, but the work completed by all watercolor artists, especially since "the value of art is a way of communicating to other people," she said.
"The public has been somewhat supportive of the artists, which has been great. It's always an honor to get an award. There are so many great artists around, so having a judge decide your work deserves special recognition, it's validating what you're doing," Thiele added.
Thiele was also recognized for her work on "Caravan," a painting of herders bringing donkeys with materials through an oasis settlement in Mali, Africa. She was notified earlier this month by Jack Richeson and Co., a supplier of high-quality art materials, of acceptance into an international exhibit in the Meritorious Entry category for the Richeson International Figure/Portrait Competition. "Caravan" will appear in an exhibition catalog.
"That really was a step up for me," Thiele said.
To view Thiele's work and read stories about her travels and art pieces, visit her website.