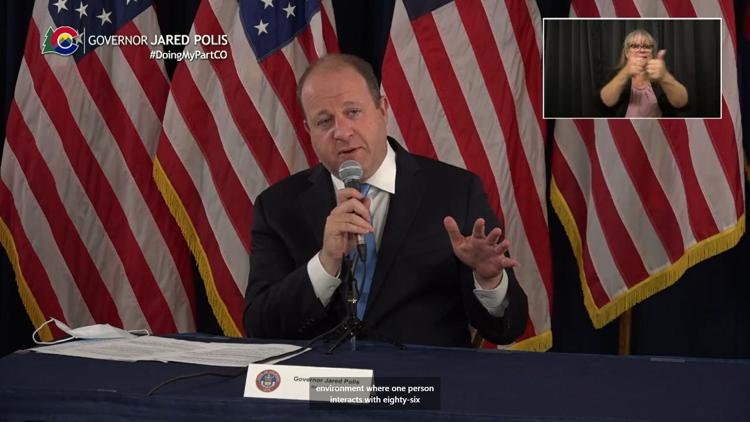 Booze can now be served until 11 p.m. at a bar or restaurant in Colorado after Gov. Jared Polis modified his last call order last Friday.
Bar and restaurant-goers will have one more hour to order alcohol under the order, which went into effect Aug. 22.
During a press conference Friday, Polis extended for an additional 30 days his July 21 executive order for alcohol sales at breweries, restaurants and similar establishments.
Citing positive trends in the data, Polis voiced a hope he would soon be able to extend the order to midnight.
The data the state is using to make decisions about restaurants and bars include epidemiological data and scientific studies for COVID-19 transmission and spread in various settings, contact tracing and where people have likely contracted the virus.
"With the better data we have," Polis said, "we always inform our decisions around bars and late night events by data. We are glad to be in the situation where we announce the last call will be moved to 11 o'clock, instead of 10 o'clock."
While the public can enjoy another hour of drinks and socializing, Polis said the updated order does not eliminate the need to follow COVID-19 protocols.
"It's very important that all those restaurants and bars observe the social distance protocols," he said. "If there are huge outbreaks, then we can't, as a society, handle those late night activities."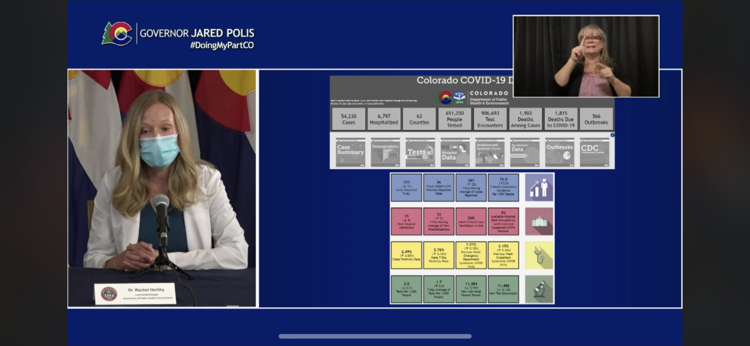 State epidemiologist Dr. Rachel Herlihy added the state has seen a drop off in cases among the 20-year-old age group.
The state's data show "a substantial decrease in the number of cases occurring among 20- to 29-year-olds," she said.
"That, of course, is the age group that we know that is spending more time in the bar-type settings," Herlihy said.
During Friday's press conference, the governor also announced the launch of the newly updated Colorado Department of Public Health and Environment's website on COVID-19 data.
Herlihy said some of the changes to the website include: consolidating data, redesigned interface for users to sort and filter data, expanded hospital data with patient-level demographics and outbreak details.
"As this pandemic has evolved, we really changed in the way our data needs have been represented," she said.
By navigating through the website, the public can see data showing changes and trends across age, race, sex and ethnicity. New to the website is patient-level data, which shows demographic information for hospitalized patients and where they went after discharge, including home, a nursing facility or long-term care.
One of the goals with this revamped website was to provide the community with clarity and access to the data the state uses to inform decisions, Herlihy said.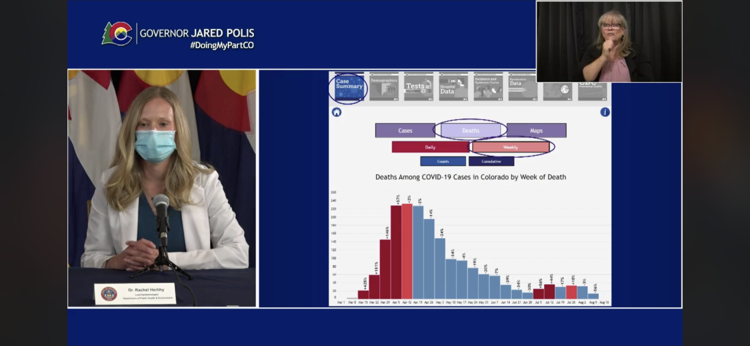 Herlihy navigated to the demographics information. "If you look at those gray bars, that shows you the percentage of Coloradans that are in each of those age groups and the colorful bars show you the percentage of cases in those age groups," she said.
"So when the colorful bar exceeds the gray bar, that is really where we see over representation of a particular group among our cases."
As of Tuesday morning, the state reported 572 outbreaks, with five in Montrose since the start of the pandemic. There have been 55,341 cases, 6,845 hospitalizations and 1,824 deaths due to COVID-19. For the most up-to-date numbers and COVID-19 information, click here. Data are updated every day by about 4 p.m. and include cases reported through the previous day.
As communities across Colorado continue to practice social distancing and mask wearing during COVID-19, the governor likened the scenario to that of a rainstorm.
"We are in the midst of a rainstorm," he said.
"We have an umbrella and it seems to be working. We need to recognize the good results that we're having are because of our actions and the good choices Coloradans are making. We need to keep it up."