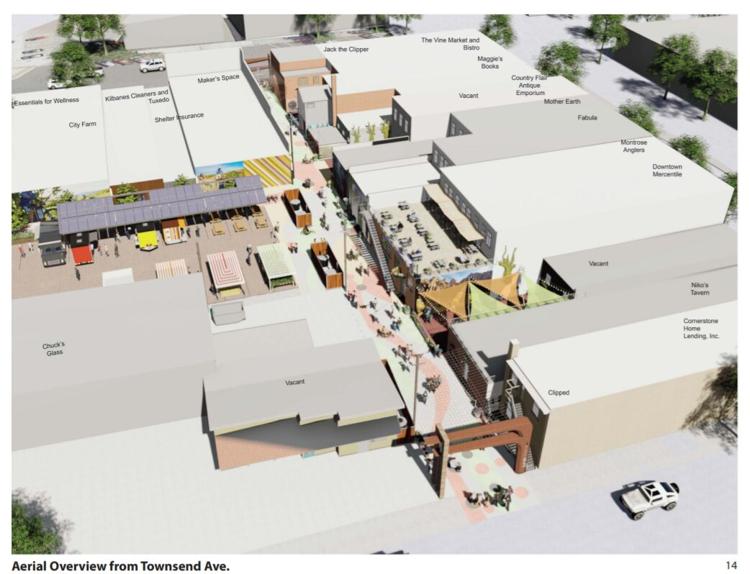 Editor's note: The Block 93 project references the alleyway between North First Street and Main Street in downtown Montrose. It intersects Townsend and Cascade.
Concepts are currently in place to revitalize the alleyway of Block 93 in Montrose to make it more pedestrian-friendly and improve the overall appearance of the area.
The alley is currently used primarily for utilities and is located between North First and Main Street. After consulting with downtown business owners, one of the primary concerns brought up regarding the alleys was that they were unsafe due to lack of lighting.
"We've been engaging business owners downtown, how they use [the alleys], what they think. The alleys particularly are not safe, especially at night. We have now a lot of residents downtown that are walking in those areas after they park their vehicle, and patrons of restaurants," said Montrose Director of Business Innovation and Tourism Chelsea Rosty.
"How can we drive people into these alleys to become a destination and hopefully drive up values for the business owners in the area?"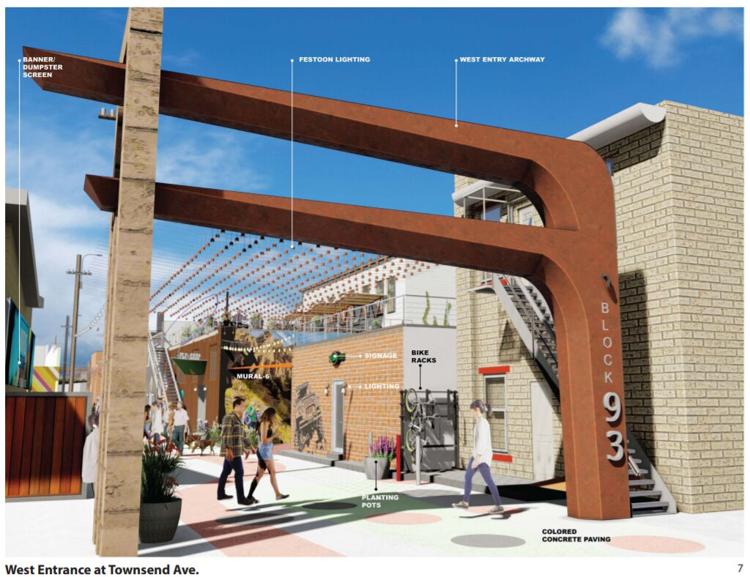 Inspired by alleyways in Fort Collins, the ideas for the Block 93 Project involve colored pavement, new or preserved murals, added lighting and seating, bike racks and other amenities designed to attract walking traffic to the area.
The master plan (which is entirely conceptual at this point, and Rosty emphasized that nothing is permanent) was presented at the July 28 Historic Preservation Commission meeting, as Rosty said she hoped to get the commission's perspective on the project considering downtown holds multiple designated historical buildings and murals.
The master plan was funded through a nearly $40,000 grant from Colorado Main Street, a program under the Department of Local Affairs that focuses on community revitalization of downtown areas. The goal for Montrose was to rethink the use of alleyways which "hold hidden potential to contribute to the walkability and vitality of downtown."
To increase the color and atmosphere of the alley, varying types of murals are proposed in the plan, including 3D and interactive murals. The plan includes a rendering of a large 3D mural of two fisherpeople with 3D elements.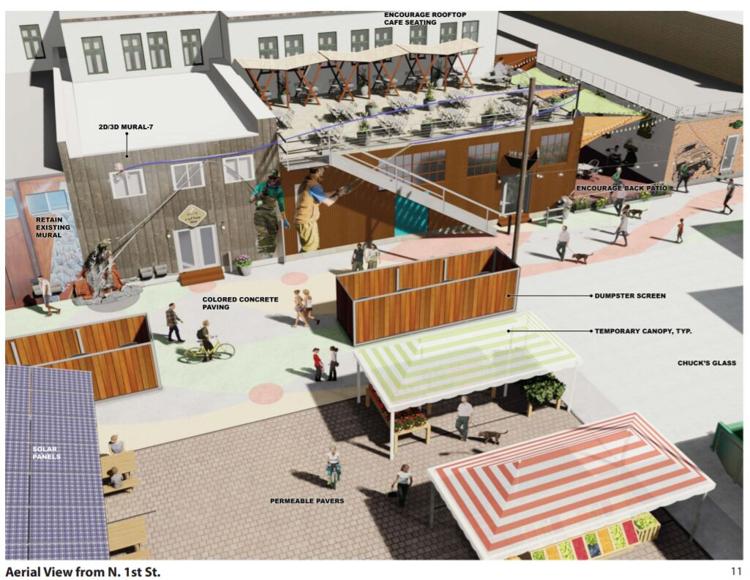 "The purple fly line we have planned to be actual neon, so that creates a bit of color and lighting. There's a 3D fly, and from the female's line there's a fish coming out of the wall," Rosty said. "The DART board really seemed to take well to this idea of the 3D mural, and it's not as time consuming as painting an entire wall."
Trash pickup will also be consolidated, and trash containers will be located in enclosures to improve their appearance. One item up for discussion is the exact location of trash containers that will allow for easy collection by trash trucks without creating an inconvenience for business owners.
Overhead power and utility lines could also be buried before putting in the new pavement, which will reduce "clutter'' in the aerial views of the alleyway. The Historic Preservation Commission said that nearby businesses and DMEA (Delta-Montrose Electric Association) will need to be collaborators on that project, and that other options for the power lines are available.
"There are other things you can do with power liens and power poles to make them more visually appealing," Rosty said.
Nearby businesses will be encouraged to create patio seating or back entrances that face the alleyway to make them more accessible to pedestrians, and incentives such as covered parking (with solar panels) were also discussed to help encourage businesses to contribute to the project.
There is also space in the master plan that would allow for food trucks and other market settings with electrical outlets to allow vendors to avoid using generators. Picnic tables, stadium seating and raised planters would also provide areas for pedestrians to linger and draw attention to local businesses.
Rosty said that the Block 93 alley project would pave the way for revamping other alleys throughout Montrose by providing a process that could be replicated. She closed the presentation by commenting that the project was something exciting to work on amid the pandemic.
"Hopefully we'll see some progress soon," Rosty said. "It has been a blast, it has saved 2020."