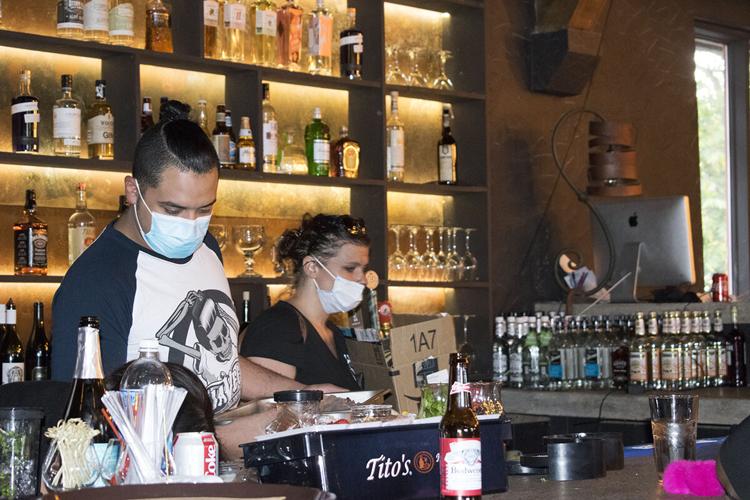 Walking into a church, one normally wouldn't expect to be greeted by an air of romance and medieval goth, but that's the vibe owners David and Cadence "Kate" Green are trying to create in Bonnie and Clyde's.
The new restaurant located on 647 E. Main St. celebrated its grand opening last Friday, after an initial week for a soft opening.
The restaurant also planned its opening during the middle of the COVID-19 pandemic. Kate Green was confident in the restaurant's ability to flourish, despite the pandemic.
"We believe in the future; we believe in good things happening. We're looking forward to it," she said.
The Greens got established to start the business in June and immediately began the four month process of renovations.
"It's amazing because of the way we are set up with our tables. We naturally already had a lot of spacing for our tables that was already required. As you can tell when you look in here, you don't feel overly crowded," Kate said.
The Greens have established safety protocols to protect their staff and guests.
Aside from the spacing of tables, all staff are required to wear masks; the Greens provide masks bearing the restaurant's logo. Kate explained that the team is constantly cleaning and always changing out tablecloths.
In addition, they don't use lamination for their menus because it's a problem for cleaning, so they have opted for paper menus instead.
"We follow social distancing guidelines as best we can, and following those protocols are important to us. Everything is very clean and organized, everything is labeled and we're following all the proper protocols with the health department. That's a huge thing," Kate said.
Aside from the pandemic, Bonnie and Clyde's faces more hurdles.
The church building in which the restaurant is located is 120 years old and previous establishments located there have undergone health code violations. At first glance, the odds appear stacked against the new owners.
"This place is cursed," David joked.
"It's a pirate ship; what do you mean?" Kate added. "We lifted the curse through all the hard work and all the love we put into it."
She said everyone who works at Bonnie and Clyde's calls themselves "pirates." Their motto is, "Part of the ship, part of the crew."
The saying refers to taking all the good and leaving the rest behind.
"We run this place like a pirate ship. We look for hidden treasures and the gold in everything," Kate said. "We want to take something that may have had a negative connotation and make something good from it."
This is why the restaurant's outdoor sign reads, "Finally open, finally some good food."
"We've worked really hard on our food," she said.
Despite the obstacles, she is confident in the provisions set in place to ensure that health safety guidelines are met.
"If you follow and do those things, it's pretty easy to not have those dings. I think it's just a matter of paying attention to the rules and abiding by them," Kate said.
Everything in the restaurant is sourced locally, from the food and the structure, to the live music.
Everything was handcrafted by the owners or the staff, which is why renovations took so long. The Greens painted and aged the chairs themselves. The concrete bar was poured by David.
"We did this ourselves, 100%," Kate said. "We hand-made our menus as well. These planks were hand made by my husband, and Noah, one of our cooks and sous chef."
The local sign company, Copy Cats helped the Greens line up the menus.
"My husband designed them, but it was a lot of work to actually do this, and we kept any and all help local," Kate said.
The Greens couldn't place an exact figure on the investment price.
"I think it was close to $140,000," Kate said. "We can't even put a number to it, it's more than that. Because of the amount of hours and labor everyone has put in, it'd be impossible to say for sure."
"There's no place like this in Montrose. We believe in the community enough to put it here because we think that Montrose is worth it," David said.
Bonnie and Clyde's is a place for everyone to dine.
The restaurant offers a $9.95 lunch special for Montrose locals to test out the cuisine. They also offer options for an elegant date night, including a $68 Tomahawk steak on the stylish menu.
David explained the process behind their prized steak.
"Six hours goes into smoking the Tomahawk. In total, there's about 10 hours of prepping the meat," he said.
The price range allows for Montrose residents and visitors to enjoy the restaurant during any occasion.
"We think it's time for us to have something like this because there's no other place like this," Kate said.