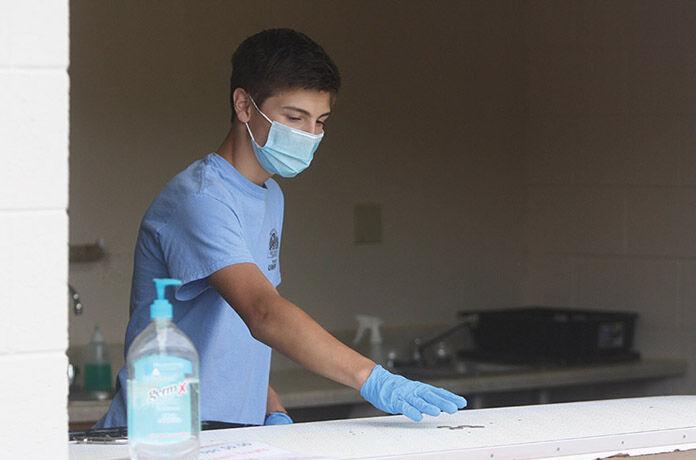 During the pandemic's early stages, there was much debate surrounding a certain topic: mask or no mask.
At first, it was recommended by the health officials, including the Centers for Disease Control and Prevention, to not wear a mask; the agency cited a potential shortage for essential workers who were battling the virus on the front lines.
Once it was clear there wasn't going to be a shortage, the CDC's tone shifted, and according to the CDC, science began to prove that wearing a mask does help stop transmission of the disease, and has become one of the more effective tools in slowing the spread of the virus.
However, the debate still raged on, at least in Colorado, where Gov. Jared Polis was hesitant to issue a statewide mask mandate since he believed it was "not enforceable." But according to a recent survey conducted by The New York Times, the rate of self-reported mask use was high in the United States. Around 80% of Americans said they wear a mask when they expect to be in close proximity to other people. It's not universal, as health officials would prefer, but it presents an improvement from earlier months of the pandemic.
Once Colorado experienced a spike in cases, that back and forth debate ended, and Polis, too, shifted his tone. He issued a statewide executive order last Thursday, effectively mandating people 10 years or older to wear a mask when entering a public indoor space, which includes all retail stores.
If people enter a space without a mask, they can be refused service, and if they choose not to comply with the requirement, they can be prosecuted for trespassing, per Polis' order.
The mandate has placed businesses into a precarious position. After experiencing months of unorthodox operations, another shutdown would provide more headaches. But refusing service hasn't been a walk in the park, either.
Ted Nelson, owner of Ted Nelson's Steakhouse, said the majority of his customers are entering the restaurant with a mask, and he and his staff wear masks.
There are a select few who enter without a mask, but Nelson said he isn't going to refuse service to non-mask users anytime soon, even though the order states businesses are required to refuse service to those who don't comply.
"I can't afford to offend them," he said. "If I do that, they won't come back."
Nelson said he has signs posted in the restaurant addressing masks and believes wearing a mask is a responsible position that helps reduce transmission.
He added, enforcing mask usage would leave him "out of options" since he already utilizes limited seating at the restaurant, and people are exempt from wearing a mask while at their table and eating. Plus, a financially tumultuous several months has already made many aspects challenging for the hospitality business.
"The governor has mandated that. Who's going to listen to me?" Nelson said.
Both Coffee Trader locations in Montrose have experienced largely compliant customers. In particular, regulars said they were appreciative the business was taking the extra precautions to keep them safe, owner Dee Coram said. 
However, some customers have entered the building unhappy about the mask requirement. A handful of people have even threatened employees, and threatened to sue the business. 
"It's ridiculous that 60-year-old people are threatening 17-year-old kids for just doing their jobs," Coram said. 
According to Coram, a man told a 17-year-old employee that he will "make sure she spends the rest of her life in jail," which Coram called a "really absurd threat." 
Coram said his business supports the mask mandate, and wants to keep customers and employees safe. The business has even gone to additional lengths to provide customers with multiple options for those who don't want to wear a mask. 
Small businesses are struggling enough right now, Coram said, and people who enter the store with such attitudes adds "undue stress" to business owners who are trying to do the right thing. 
"Most people have been great about it. It's a pretty small ask. We're in the middle of a pandemic," Coram said. 
Coram said he and his manager, Michelle Roberts, will always support the employees, and won't stand for such treatment.  
"One thing we won't allow is for our employees to be threatened, harassed by adults. [Those harassing] should actually be ashamed of themselves. 
"It's grotesque, and extremely un-American," Coram added, in response to customers threatening his employees.
Gold's Gym in Montrose also has been no stranger to harassment from the public, said general manager Faith Sasias. Like Coffee Trader, the gym has had members yelling at the young employees. 
The gym has required members to wear the mask the entire time they are in the facility, unless they are alone in a separate room. Rather than risk closure, and the order being vague in which locations it applies to, Sasias said the gym has chosen to take additional measures, which has affected businesses "dramatically" through a high number of membership cancellations. 
Sasias said she understands the mask requirement can be an unrealistic ask for members trying to work out. 
But even with the additional measures, Sasias said mask supporters are adamant the gym enforces the mandate even harder, presenting mounting pressure from both sides of the spectrum. People have also pulled down their mask during a workout.
Sasias said it seems like no matter how the business plays it, "they can't win," considering how difficult it has seemed to please people since the order was issued. But even with mounting pressure, the gym will maintain a strict manner regarding the masks in hopes to keep people safe and avoid any sort of shut down or closure. 
Among the public, mask usage was an additional message at the "Back the Blue" rally. Besides showing support for law enforcement, a few participants shared their opposition to the mask mandate. A rally participant held up a sign that read, "No mask, my body, my right, my freedom."
One of the event organizers, Christel Pizzarusso, spoke about her experience at City Market over the weekend, where she was told she couldn't shop in the store since she wasn't wearing a mask.
Pizzarusso said she told management she has an exemption from the order.
"If they stop someone from going shopping, where does that end? Where is the line? These people need to buy their groceries," she said.
Rachael Skelton, another organizer, said she was threatened by a person at Walmart for not wearing a mask.
"If you want to wear a mask, I support that 100%. At the same time, don't turn around and shame me," she said.
At The Stone House, there haven't been many issues with the mask mandate so far, owner Don Vincent said. Customers who do enter without a mask aren't automatically refused service. Rather, Vincent tries to work with them to find a solution, and explains the importance of complying with the mask order.
"Most people who are coming in are respecting the signs on our doors. Most tourists understand that it's mandatory. Locals that are coming through are complying," he said.
Vincent added the restaurant, like many other businesses, isn't trying to make a political statement with the mask. As a business, staff is keen on keeping people safe, and simply wants to stay open. The unpredictability of the virus and an order from Polis that can come at any time to shut down restaurants presents challenges for the eatery.
"It's a tough position to be in as an operator," Vincent said. "It's a challenge to operate when thinking you could get shut down at any time.
"As restaurants, we're struggling, and we're doing everything we can to not get shut down again."
As the early shutdowns indicated, businesses are the first to see the repercussions of taking away certain services. By following the order and keeping people safe, they're trying to make sure that doesn't happen again.
"Hopefully the mask mandate keeps things under control," Vincent said.