The rate of single-family residential permits issued in Montrose County is reaching — and surpassing — rates not seen since before the Great Recession as the housing market continues to expand.
Through October 2021, Montrose County has issued 139 single-family residential (SFR), up from 78 through October 2020.
The rate of growth is heavily outpacing SFR permit totals the county has issued in at least the past 16 years.
Steve White, planning and development director for Montrose County, compared the pace of growth to that of pre-recession boom years of the mid-2000s.
"There's no question that this year is a banner year," White said.
In 2004, the county issued 127 SFR permits and subsequently issued 134 in 2005 and 103 in 2006. It hasn't issued more than 100 since 2006.
The county doesn't track who requests permits, but White said "common sense tells us" that people relocating from hot real estate markets such as the Front Range, Texas, California and Arizona are fueling the growth of the local market.
"We might have 50 more houses than last year. That's a huge increase," White said.
In 2020, the county issued 96 SFR permits, similar to 2019. The SFR valuation — value of the building — which the county calculates, fell 6% from 2019 to 2020.
Through October 2020 to October 2021, that SFR valuation year-to-year has doubled, totaling over $26 million compared to nearly $13 million through October 2020. The last time the SFR valuation surpassed $20 million was in 2006.
The total valuation, which accounts for SFR permits but other issued permits, too, such as additions to the home, the construction of a garage or shop, is more than $37 million through October, up from $20.2 million at the same point last year.
With a month and a half left in 2021, the total valuation has already surpassed the $32 million tallied in 2005, the previous peak, when 382 total permits were issued.
The county has issued 370 permits through October this year.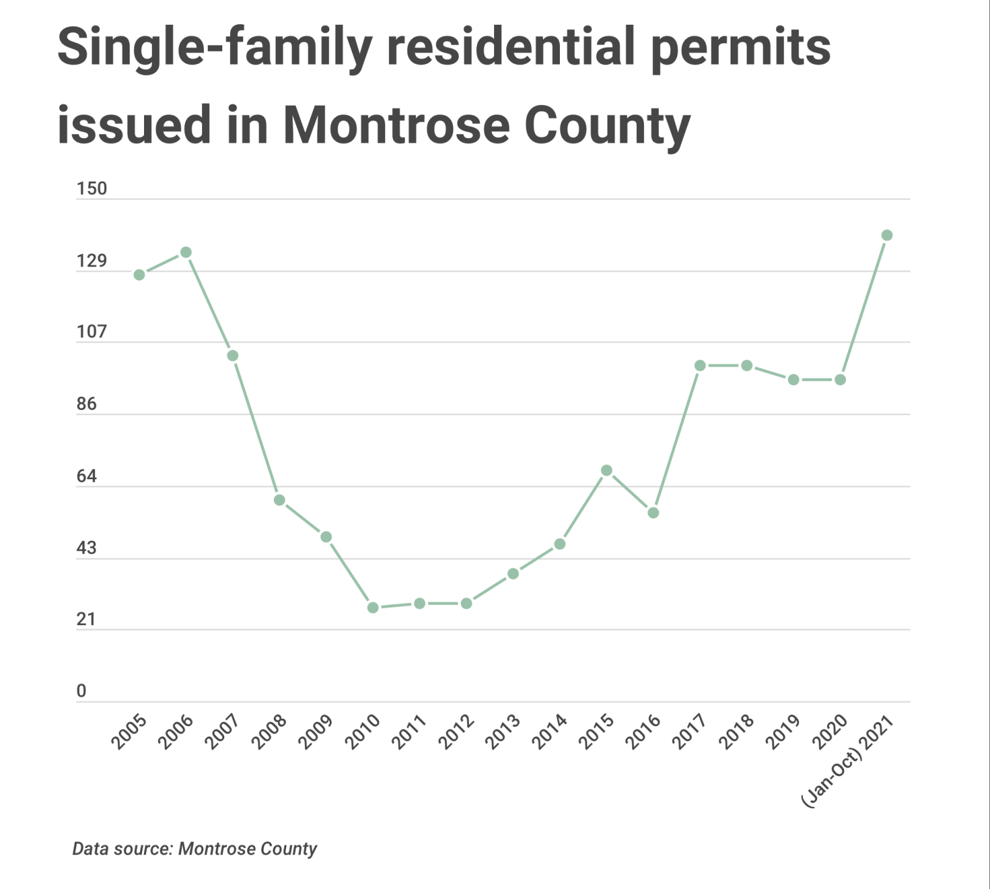 "That tells me that people are building bigger homes and spending more money on their homes," White said.
That's been a development at Montrose Hardware on Main Street, formerly known as Park Avenue True Value Hardware. Owner Robert Peterson has reported seeing additional customers visit the store in search of wiring or plumbing fittings.
"Both our electrical and plumbing have really increased recently," Peterson said. "People are starting to build and they're like, 'let's run over to Montrose Hardware' … I've seen an increase in what contractors search for."
Local developers have numerous housing developments underway such as Matt Miles' 186-unit project at the corner of Marine and LaSalle Road, with final plat expected this week and a target opening of next spring.
This month, there was additional paving inside Bear Creek, a subdivision located in north east Montrose. Additional work is underway at Woods Crossing, a proposed residential development located south of Sunnyside Road and east of 6700 Road.
It's become a theme across the board for local developers and contractors: build, build and build with demand for homes surging.
"We've never seen a situation where if you build it, they'll come," Miles said. "We always built in need and had excess inventory and were fettered by the market. It's the opposite now — if you can build it, you can sell it."
As demand for homes has risen, so have returns for the county's use tax, which funnels into the road and bridge fund.
The tax revenue is up 58% from October 2020 to October 2021. The county pre-collects 1% in tax from someone who requests a permit, which is later subtracted from the total when that same individual purchases a product at a home improvement store like Home Depot.
"It's an incentive to get people to buy locally, which most people do," White said.
"Everybody says it's getting crazy around here and busy. Well, the county has issued 139 permits for single-family homes. In a county that's not overly populated, you add 139 homes, you start feeling that."
According to population estimates from the U.S. Census Bureau, Montrose has a population of 20,291 as of April 1, 2020 and the county has 42,679 residents.
The city's comprehensive master plan projects that the town's population will soar to more than 32,000 residents by 2050.
Josue Perez is a staff writer for the Montrose Daily Press