Nestled into a corner across from McDonald's on East Main Street, and several feet away from Beer Barn II, sits Tacos El Gordo (1019 E. Main St.) a new taqueria in Montrose serving up authentic Mexican cuisine with rich flavors, including tacos, burritos, tortas, platillos and quesadillas.
Inside, you'll find owner Marcelino Rascon, who opened the business in Montrose in early June. He originally started the business in Vernal, Utah, but later relocated to Moab with a food truck. He and his wife, Maria Lambarri, live in Grand Junction — Lambarri drives to Moab to help operate the food truck while Rascon commutes to Montrose. It's been a good run so far for the duo and their business. Five years ago, Tacos El Gordo was named one of 12 best small locations to eat. Today, the food truck in Moab is a popular spot, and one many have praised on social media.
Lambarri, who also cooks, handles much of the preparation for the truck in Moab. Rascon, at the moment, does most of the cooking.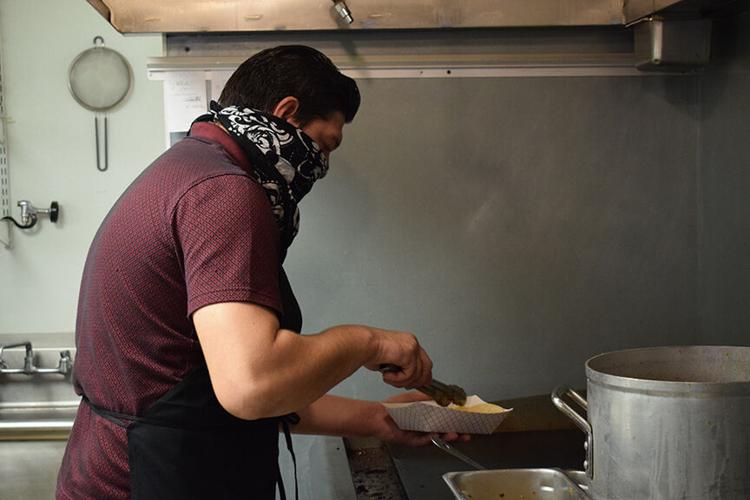 In Montrose, Rascon is joined by Saul Pantoja, an employee and Montrose resident who works the grill and prepares orders for local customers. He was brought on within a few weeks after the location opened.
"Business has been good," Pantoja said as he worked the grill preparing an order.
Having been open for three months now, the community is starting to learn and hear about the authentic cuisine and rich flavor at Tacos El Gordo.
But opening up the business during the COVID-19 pandemic didn't come without its bumps.
In early March, on his way to Moab, Rascon's truck collided with a cow, flipping the vehicle. Rascon then had to stay at home for two to three weeks. The time recovering wasn't easy. He was eager to get back on track with a business to run in two locations.
But his return to work was quickly nixed with the pandemic shut downs underway, leaving Rascon at home for a month-and-a-half. It didn't help that Rascone was unable to secure building permits, adding yet another obstacle.
"That was really bad luck," he said.
However, rather than allow himself to get caught up in what ifs, Rascon kept his mind at ease, well aware the events of the past few weeks would pass.
"I was just letting the time pass. There's nothing that you can do. You just hope things change," Rascon said.
After securing the permit, Rascon would drive down to Montrose and renovate several areas inside the building, and continues to renovate today.
Currently, he doesn't let himself be too concerned about the inside of Tacos El Gordo, knowing well the look comes with time. Rather, he prefers the flavors and quality of his cuisine to speak for itself.
"I care about the flavor, the taste," he said. "I don't mind getting a Mexican-American hamburger, or Italian, Japanese — any food. If it's good, I'll like it. Flavor is the important thing. It's not exactly the presentation or the fancy ways. It's flavor. That's what I like and most of the time what I'm looking for."
So far, the most popular items are the $3 tacos and smothered burritos. Quesadillas, too, have been a hot item for the first few months. Tacos, however, are a high seller. With different sets of meat to choose from, including adobada, it's become a go to for many who are looking for something quick, but done with care and authenticity.
"Everybody likes tacos," Rascon said.
As with any taqueria, Tacos El Gordo offers a certain taste, especially with Rascon's barbacoa, which can feature a certain set of peppers depending on what he uses, and his menudo, also done with a personal touch. The certain style is what Rascon prefers rather than emulating a traditional style. He's focused on cooking items he likes, knowing well people will enjoy it all the same.
"If I like it, I know people will like it," Rascon said.
With locations in two places separated by nearly three hours, operations work differently for Rascon. To provide meat for the food truck in Moab, the meat is completed in Montrose. And on Tuesday, Rascon received a call from a customer in Moab, taking his time to offer them help with directions.
Rascon hasn't ever considered himself a cook. He just enjoys formulating a dish and serving people interested in trying his food.
"A cook is something else," he said. "Some people really love the way I do stuff. They really make me feel comfortable. That's one of the best things. When people come over and they smile about what they ate and they smile about the salsa, I love that."
The food truck in Moab, which often sees 1,000 people per day, is booming in business, Rascon said. With business doing well in Utah, he hopes the same can ring true in Montrose. People haven't arrived in droves yet, Rascon said, mostly because people aren't clamoring to sit and eat, preferring take-out options at Tacos El Gordo and other locations. But the taqueria has made some headway, and Rascon is eager to establish roots and make the location a popular spot within the community.
"I hope this works better for us," Rascon said.