There's been plenty attention on the housing market crisis, but Colorado renters are facing hardships, too.
It's why Colorado's statewide effort could offer some relief with the Centers for Disease and Control and Prevention's federal eviction moratorium set to expire July 31.
Governor Jared Polis last month extended an executive order requiring landlords to issue 30-day notice, instead of the traditional 10-day, before pursuing legal action, and continued his busy June by signing Senate Bill 21-173, which expands tenant rights in residential agreements and adds restrictions for landlords.
The bill transfers $15 million from the general fund to the housing development grant fund for support services and rental assistance, and potential shelter or affordable housing through underutilized hotel use for people experiencing homelessness.
House Bill 21-1329 transfers $550 million in federal funding (from the American Rescue Plan Act of 2021 for the state's mission to address the housing crisis and invest in housing to assist those impacted by the COVID-19 pandemic.
There's plenty more, and all of the bills come as Colorado communities continue to bear the brunt of astronomical housing prices, for both would-be-home buyers and renters.
Department agencies are on the clock to push out millions in Emergency Rental Assistance Program funds to applicants across the state with the eviction moratorium expiration looming.
The Colorado Division of Housing has a dashboard of its housing relief programs, which shows nearly 60,000 Coloradans applying and about $250,000 million in funds requested. According to dashboard data, 34,282 applications have been completed, totaling $103.4 million in payments.
To date, residents in Montrose County have sent in 201 applications, requesting $452,464 in funds. So far, $272,000 has been approved (143 payments).
The latest data from the Colorado Association of Realtors revealed the median sales price in May for single-family homes in Montrose County to be $415,000, a 55.1% increase from May 2020 ($267,500).
The inventory of homes for sale dropped 60%, from 230 (May 2020) to 91 (May 2021). (The report warns activity for one month can look extreme due to small sample size.) Single-family homes in Delta are lower, at $330,000 for May, but they're still up 39% year-to-year.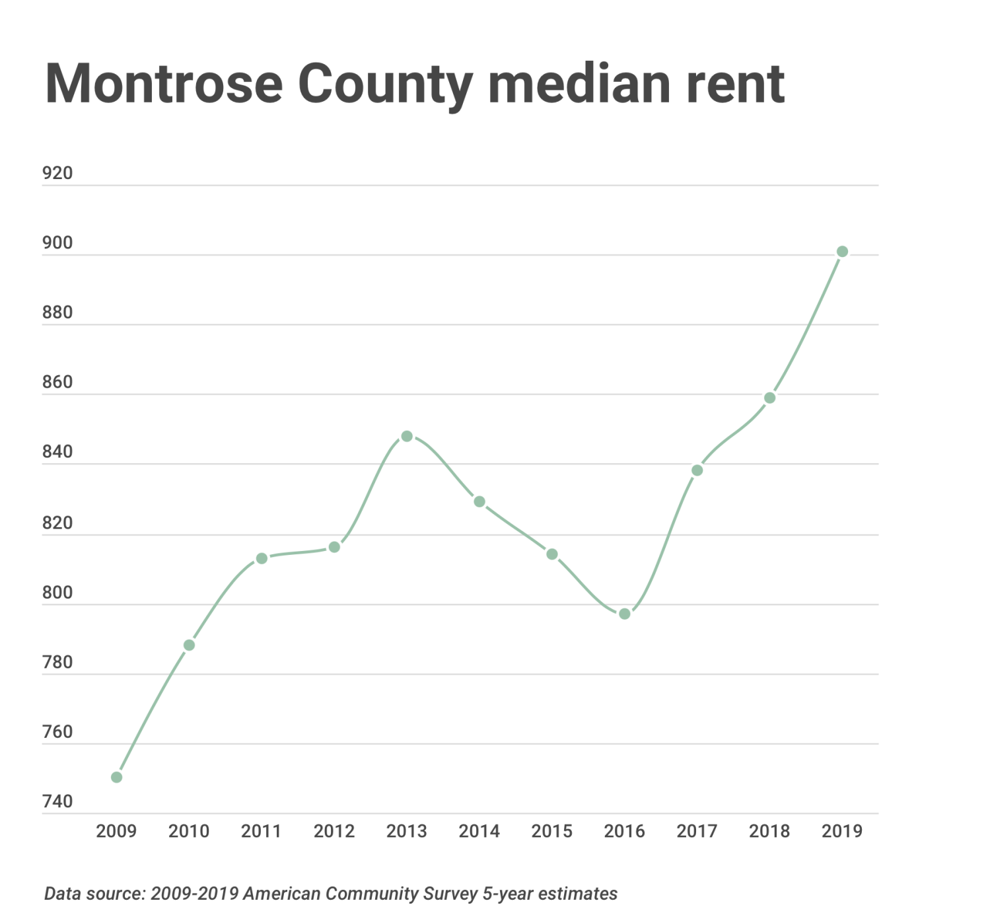 But back to the rental market: it's just as robust. A recent listing on Zillow showed a two-bedroom, two-bath house for rent in Montrose at $1,800 a month. Another listing showed a three-bedroom, two-bath house rental for $2,100 per month.
Others were lower, at around $1,000 to $1,200 a month. And that's just what's available — other recent listings say there's no availability, as supply and demand has affected the rental market similarly.
The latest rental prices follow a trend that's been on an uptick since 2016.
According to data from the American Community Survey and U.S. Census Bureau, the 2019 median gross rent for Montrose County was $901. For renters in the 81401 zip code, it was $887, and slightly higher ($1,058) for those living in an 81403 zip. Data for 2020 are expected to release in September.
It's lower than the 2019 average for Colorado ($1,369) but somewhat aligns with the national average ($1,097).
It's all culminated to what's been a difficult past several months for renters across the U.S. and statewide.
An analysis from the Center on Budget and Policy Priorities revealed, nationally, 1 in 7 renters were not caught up on rent during the pandemic, with renters of color experiencing the most hardship — 15% (about 197,000) of all Colorado adults say their not caught up, but Black and Latino renters were at 22% and 20%, respectively. White renters reported in at the lowest figure, at 9%.
Staff Writer Anna Lynn Winfrey contributed to this report.
Josue Perez is a staff writer for the Montrose Daily Press.