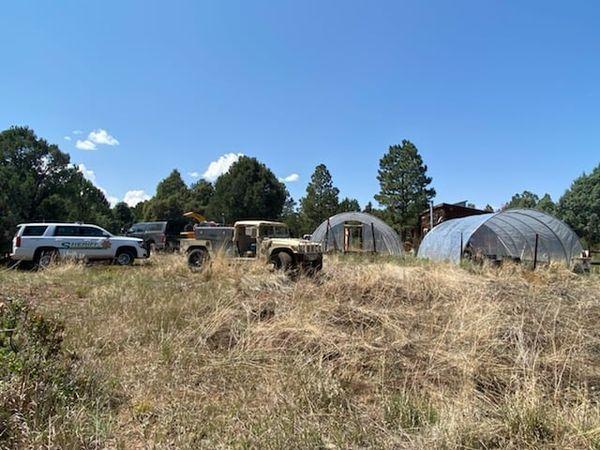 In two separate raids early Thursday, the Colorado Bureau of Investigation and local law enforcement agencies seized an estimated 1,800 pounds of marijuana plants, from reportedly unlicensed grows that exceeded the legally allowable amounts.
In Montrose County, agents and deputies arrested Christopher Fehrenbacher, 52, on suspicion of felony marijuana cultivation, manufacture of 50 or more pounds of marijuana, possession of psychoactive mushrooms, and possession of a weapon by a previous offender.
Fehrenbacher was free on a $7,500 bond Friday, according to jail records. Formal charges have not been filed. These are due Sept. 23.
He was linked to a property on Ragsdale Road, where dozens of mature marijuana plants, weighing an estimated 1,300 pounds, were found, Montrose County Sheriff Gene Lillard said Friday. The quantity has an estimated street value of $250,000, per the sheriff.
A second raid, on Wrights Mesa in San Miguel County, did not result in an arrest, but did yield about 500 pounds of large marijuana plants and a suspected butane hash oil lab.
Fehrenbacher has not been named as a suspect in the San Miguel County case.
With respect to the Ragsdale Road property in Montrose County, suspicions were first raised in the aftermath of a 2018 wildfire burning in the area, which prompted some residential evacuations and also drew assistance from the San Miguel County Sheriff's Office.
A firefighter informed SMCSO Investigator Dan Covault that there was a marijuana grow on Fehrenbacher's property, and that he had returned in the night to remove plants, Fehrenbacher's arrest affidavit says. Covault would later report to CBI agent Ben Russell that there were no records or reports related to this information and that the exact address and full name of the possibly involved party was unknown.
In 2019, the Montrose County Sheriff's Office and SMCSO provided information to the CBI about possible illegal grows on several Ragsdale Road properties, the affidavit also says. One of these properties was said to be Fehrenbacher's.
The CBI conducted surveillance that in 2019 showed a plastic-covered greenhouse full of tall, green plants. Russell, in the affidavit, said these appeared to be marijuana plants.
The document also details evidence of a vehicle registered to Fehrenbacher traveling Ragsdale Road often, sometimes carrying a large water tank in the truck bed.
That raised the agent's suspicions, because there did not appear to be a well or water tap at Fehrenbacher's Ragsdale Road address. "It is likely the water … is used to transport water to the marijuana grow at 1269 Ragsdale Road," Russell wrote in the affidavit.
On May 29 of this year, Fehrenbacher's truck and another truck were recorded driving to the Ragsdale Road address. The beds of both were, in the agent's estimation, "completely filled with marijuana plants."
Aerial surveillance in June revealed about 50 suspected marijuana plants inside the greenhouse of the property, Russell said in the affidavit.
Agents then obtained a court order to install GPS tracking on Fehrenbacher's truck. This reportedly showed the truck was on most nights at a home in the 2000 block of County Road 42Z North, thought to be Fehrenbacher's primary residence.
Russell said the tracking also showed the truck traveled from that address to the Ragsdale Road address almost daily, as well as to the water tank fill station in Norwood, and sometimes, the marijuana grow supply store in Norwood.
The CBI obtained search warrants for both properties on Thursday. Agents, deputies and officers swept in early in the morning, after meeting in Montrose at 2:30 a.m. for briefing, Lillard said.
"It was a concerted effort between the CBI, Montrose County Sheriff's Office East End and West End, Montrose Police Department SWAT, the street crimes unit of Montrose County and the SMCSO. They all worked together to make that happen," Lillard said.
" … It was a good operation. It was well-orchestrated and good working with other agencies to make that happen."
According to the affidavit, investigators found 52 plants, which were so tall that they had ripped through the plastic covering on the greenhouse and were sticking out through the roof.
Investigators weighed two cut-down plants and, based on the weight of 50 pounds, surmised each of the plants found weighed 25 pounds, giving an overall weight of 1,300 pounds.
"These were mature plants. They were 7 to 8 feet tall. They were big plants," Lillard said.
Fehrenbacher was located at his 42Z North Road home. When informed of the search warrants, he said it was medical marijuana and he had a license for 50 plants, Russell said.
Russell later checked with the state. Neither address was licensed to grow medical or recreational marijuana, he learned.
Further, state law limits residential marijuana grows to 12 plants for recreational use or 24 plants for medical marijuana cards. Any more than that grown by designated medical caregivers must be registered with the Colorado Marijuana Enforcement Division.
Montrose County ordinance explicitly limits residential marijuana grows to 12 plants, regardless of medical status.
Russell wrote that inside Fehrenbacher's bedroom, the CBI found a shotgun and ammunition. In the closet, agents reported finding a baggie containing 34 grams of psilocybin mushrooms, a schedule I controlled substance.
Fehrenbacher was convicted of felony forgery in Illinois and therefore is precluded from having a gun, Russell said.
The affidavit also points to other criminal allegations in his background. A check of the records maintained by the CBI for offenses in Colorado came back clean.
The CBI on Thursday also served a search warrant on Wrights Mesa, outside of Norwood, finding several large marijuana plants, as well as a suspected butane hash oil lab, according to the SMCSO.
San Miguel County Sheriff Bill Masters referred questions about specific details to CBI, the lead agency, which did not provide information prior to deadline.
Masters said no arrest was made in connection with the Wrights Mesa warrant.
He said it is legal to grow marijuana with the correct state permits and in accordance with regulations, but that restrictions apply in absence of those permits.
"If you don't have a permit, you can only grow the maximum of 12 plants, according to our land use codes," Masters said.
"I don't know why they continue to do it (grow in excess of the allowed amount). Growing marijuana is legal if you follow all the rules. You can get a permit. But it takes some time and effort; you can't just go out and do whatever you want," he added.
"It's not a free-for-all. There are regulations and you have to comply with those. That's just the way it is. … Do it the right way, or don't do it."