Following months of hammering out details and anticipation, Colorado Yurt Company broke ground on its new headquarters during a brief public ceremony Thursday, marking the start of what's expected to be a near-yearlong process to build out the massive project - a 30,000-square foot manufacturing and office space building on nearly 3.4 acres.
Additional project implementations include a display village (this includes an eventual rental experience for overnight customers, a "try-before-you-buy") along the south end of the river trail and, in partnership with the City of Montrose, a public/private restroom on the north end.
Colorado Yurt owners John and Kelly Gibson were joined in attendance by Mayfly Outdoors Founder David Dragoo, city staff and members of Montrose City Council, dozens of Colorado Yurt employees and other community leaders. Also in attendance were Dan and Emma Kigar, who founded Colorado Yurt in 1976. The Kigars sold the company to the Gibsons in January 2020.
"We were pleased to find somebody that would protect the legacy and the brand, and John and Kelly have done a great job of that," Dan said.
"This was always our vision, and we thought it was ready to hand somebody who could really grasp that, and see a way forward, and build on what we've started," Emma said. "... we're thrilled to see this happen."
Gibson, with Kelly by his side, in front of dozens, commended his employees, who've helped contribute to the company's mammoth surge in the outdoor sector. Gibson in April reported Colorado Yurt's first quarter sales were 56% above target projections. That followed a 2020 cycle where sales were up 45%.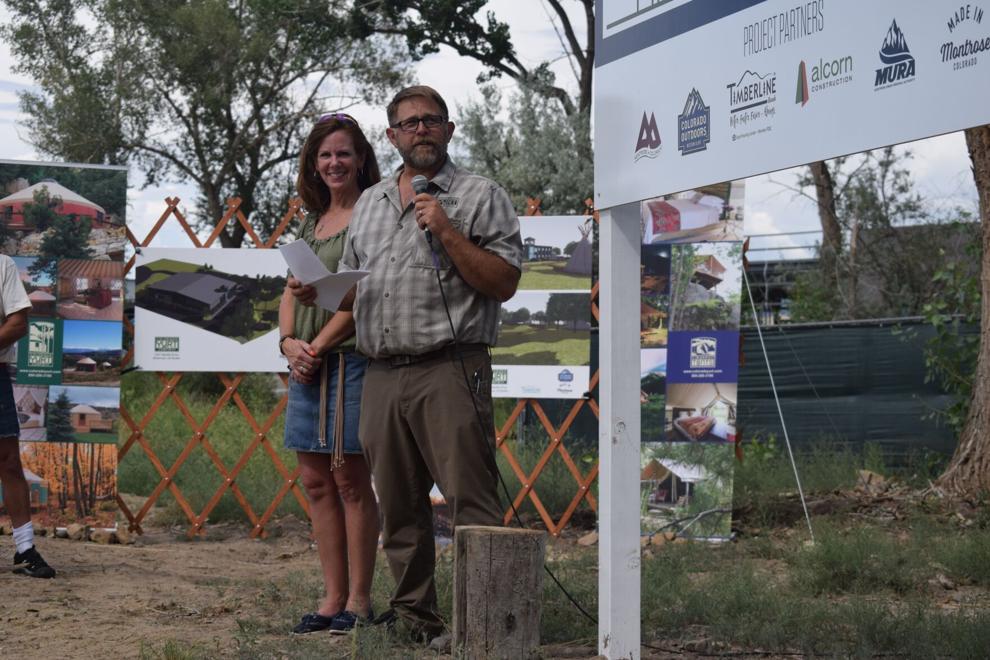 "Our vision is to build a destination site, one that our employees would be really proud to work at," Gibson said during the ceremony.
The Gibsons have added 27 different employees in 18 months, and could add even more once the project is finalized - potentially 37 to more than 60 over the next three years, including five jobs with a salary of $70,000. Existing average salaries for employees would increase from $40,000 to $50,000 by 2023, Gibson said earlier this year.
"A lot of what we envisioned in the project (Colorado Outdoors), we envisioned a company like (Colorado Yurt)," Dragoo told the Montrose Daily Press. "Good community partners, they treat their employees well, they're successful and they're in the outdoor industry."
Dragoo said the project's proximity to the Uncompahgre River and walking path is a huge bonus. "They're probably in the best spot of the whole project - they can now have a yurt Disneyland here."
Along with the city, additional project partners include Colorado Outdoors, Timberline Bank, the Montrose Urban Renewal Authority (MURA) and award-winning general contractor Alcorn Construction, which has been involved since the start of the process.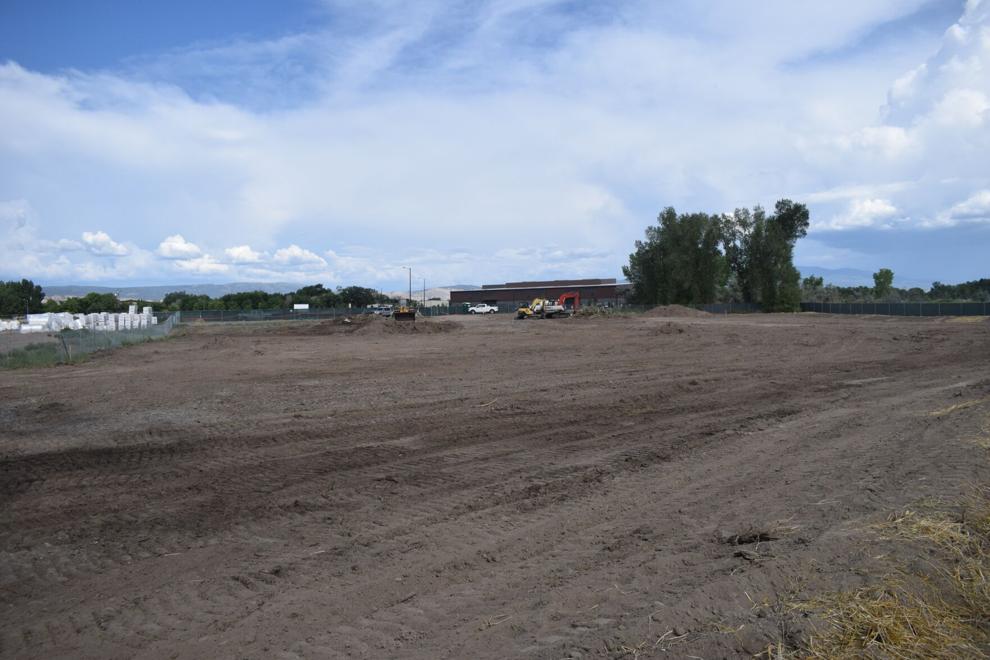 Chris Alcorn, president of Alcorn Construction and friend of John for six years, said the team did experience a "significant increase in steel pricing" (pricing reached $1,270 per ton in March, and hasn't slowed down). Alcorn Construction's lead time also increased, with the timeline for steel delivery extending from September to February.
It forced Alcorn to switch steel building contractors, to stay on the September deadline. "We worked really hard on to stay on that and make sure John gets in there early next year," Alcorn told the Montrose Daily Press. "Materials, steel, underground utility piping - it's very, very challenging right now."
Alcorn Construction's Chris Emmel will serve as project superintendent, with Kyle McLean as project manager.
Project completion is currently estimated for Memorial Day (May 30) 2022, during which Colorado Yurt is planning a grand opening.
Other Colorado Outdoors notes:
• Dragoo said completion of the two, 27,500-square-foot Flex Buildings is "60%" done, with full build-out estimated for "end of the year." (Delivery of product can fluctuate that timeline). Colorado Yurt and the Flex Buildings will share an access road, Dragoo added.
• Wedge Brands is getting closer to breaking ground on its 76,000-square-foot distribution and third-party logistics center within the Colorado Outdoors campus, north of the Mayfly facility, Dragoo said, but "they're battling construction costs." He added the plan remains for Wedge to break ground in 2021.
Wedge Brands has a growing portfolio of outdoor industry companies, including Level Gloves USA, Northwave USA and Briko USA. It acquired Xcel Wetsuits in March of last year. The company previously stated it intends to bring several new jobs to Montrose over the next decade.
• Basecamp Subdivision, a multi-family housing development being built in Montrose on a 3.6 acre parcel by North Grand Avenue and west by the Uncompahgre River, is expected to start construction on apartments this month, followed by duplexes, starting in September or October.
Josue Perez is a staff writer for the Montrose Daily Press