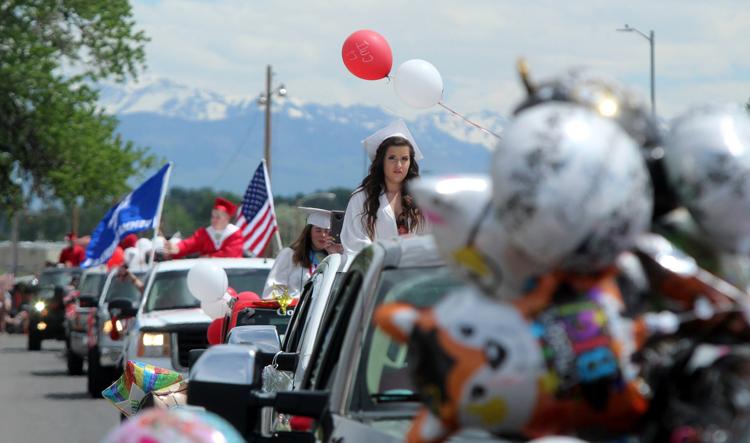 Sunday was a day of celebration and the closing of a chapter for over 350 graduates in the Montrose County School District as Olathe High School and Montrose High School seniors celebrated their graduation with a drive-thru commencement ceremony.
As families and the community lined the streets in Olathe, 59 Olathe High School graduates received help from loved one getting into their caps and gowns before the commencement parade Sunday.
PHOTO GALLERY: Olathe High School commencement 2020
While the coronavirus restrictions prevented schools from holding traditional graduation ceremonies, OHS administrators organized a drive-thru ceremony to celebrate the Class of 2020.
For Tiffany Hickey, she looked at the opportunity with positivity.
"I think the drive-thru graduation parade is such a great idea," she said. "We are the only class that has ever had a graduation parade."
Hickey also felt like this style of commencement allows her and her classmates to still celebrate their commencement on the original date.
"I actually prefer this way because graduation ceremonies are so long and you listen to all the speeches. So doing it this way I think saves a lot more time. Plus, I would rather have a graduation parade on the day we were originally supposed to graduate, rather three months late."
With Pomp and Circumstance playing over the radio, the graduates rode around town with smiles on their faces, surrounded by their community wishing them congratulations. As the parade made its way into Corn Park, graduates received their diploma covers from principal Scot Brown.
The graduates decorated their vehicles with balloons and made the best out of the situation by riding in comfort.
As the graduates made their way out of the park in blue and gold balloon decorated vehicles, Brown wished the best for all the seniors.
"I would like our seniors to remember everything that they've overcame in the most unusual of times and how strong they've been," he said. "Carry that strength into their future. All of our seniors have a great future ahead of them and I'm sure they'll do great things. I'm proud of them."