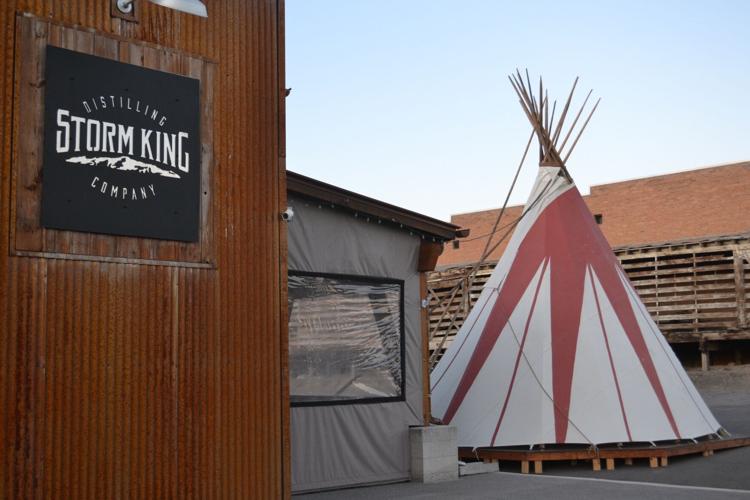 Local businesses are receiving reinforcements.
The City of Montrose and the Colorado Yurt Company — a Montrose manufacturer that crafts yurts, tipis and tents — have teamed up to provide outdoor tipis to businesses in the area interested in providing outdoor seating as an alternative in response to COVID-19 restrictions.
"If restrictions keep going the way they are going, it's going to be pretty tough," said David Fishering, co-owner and distiller at Storm King Distilling in Montrose.
The local distillery currently has two tipis (16 feet in diameter) planted outside its facility, both sitting idle on decks (stained to combat winter conditions) and constructed by Straight Arrow Home Solutions. It provides another option to host local and out-of-town visitors, because without the tipis, the outlook for winter wouldn't be as fruitful.
"Business has definitely slowed up," Fishering said. "We're trying to create more outdoor seating and the idea with tipis, it's more of an experience."
Former city employee Chelsea Rosty reached out to Colorado Yurt and inquired about the potential to provide a different sort of arrangement for outdoor seating as restaurants continued to battle indoor capacity limits.
The timing worked out perfectly, Colorado Yurt Marketing Manager Ivy Fife said, as the company had purchased the tipis back from a customer.
Additional Montrose locations, including Rio Bravo, Horsefly and Jimmers, have taken advantage of the tipi program.
"Our local restaurants were looking for ways to creatively serve their customers," Fife said, "so we were really happy to jump in and help.
"It just provides an outdoor space for smaller groups to be able to enjoy some space. … It's a great solution for people who want to go out and the dining room isn't available."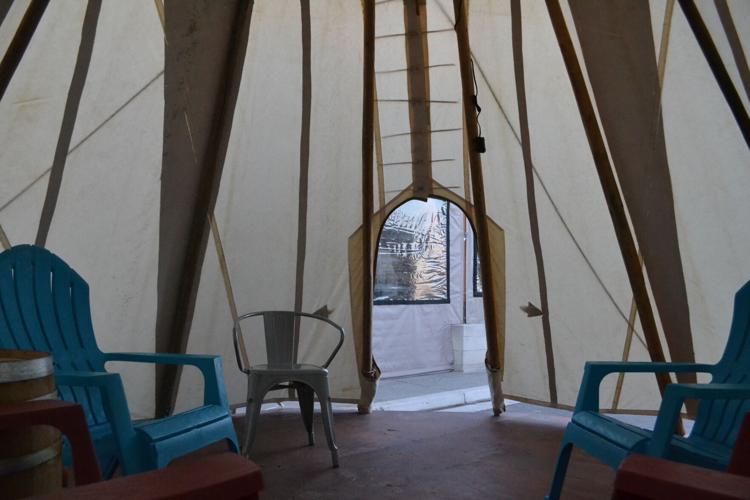 The latest round of support from the city comes as Montrose moved to "high risk" (orange) on the state's COVID-19 Dial Dashboard. Due to the move, restaurants needed to shift to 25% capacity limits (or max of 50 people).
The shift is a drastic difference from the "concern" (yellow) level on the dial, a position where eateries were capped at 50% capacity.
Beyond considering limits to capacity, the tipis came at no cost, Fishering said, with installation and removal provided by the city, making them an attractive option.
"It's a pretty good option and takes care of losses inside," Fishering said. Indoor capacities at Storm King, under the current restrictions, allow for eight patrons. The tipis should hold up to eight, assuming all arrive in the same party.
The outlook for winter is far murkier than in summer, when local business was booming. Fishering reported that he spoke with several Montrose restaurants (and others in the region, including Ouray and Ridgway) that experienced a profitable summer. (As people looked to escape bigger cities with high case counts, they visited rural areas as summer arrangements.)
"I haven't talked to a single business owner in food and beverage who didn't have a great summer," Fishering said.
Though with cases rising, and counties shifting up on the dial's restrictions, a difference from the winter "norm" will be needed to keep pace with summer returns.
"If we keep seeing a winter that's busier than normal, we might be able to benefit from that," Fishering said. "The tipis will help.
"If people hunker down — stay at home — it's going to get tough through the winter and the spring."
The tipis have already gained traction among locals and visitors at the distillery. Curiosity piqued for patrons who wanted to experience the tipis, and locals who had never visited the restaurant wanted to get a look for themselves.
"It's a conversation starter, if nothing else," Fishering said. "Colorado Yurt was willing to partner with the city — being willing to do this is pretty awesome."
Using "out-of-the-box" scenarios to provide outdoor seating during the pandemic isn't unprecedented, at least locally. The Denver Post reported the town of Mountain Village had brainstormed a way to provide outdoor seating with capacity limits in place, eventually utilizing The Gondola Shop in Fruita to refurbish gondola cars into dining cabins.
Refurbishing gondola cars is done annually to keep them in good condition, but at least 20 will be transformed into dining room cabins for the village.
The cabins should also fit up to eight, giving locals an option to dine-out without having to eat indoors, all in an effort to keep restaurants open and employees staffed as restrictions mount.