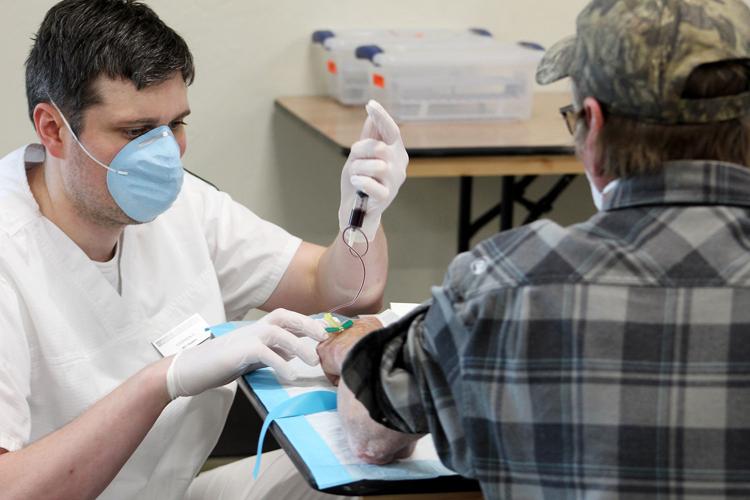 Do you want to know if your body has created COVID-19 antibodies? The community can now get that answer by going to the Montrose County Event Center through this Friday.
Montrose Memorial Hospital is running the testing site in the event center's lobby every day this week from 2 p.m. to 5 p.m. The cost for a test is $75, paid by cash, check or credit card at the time of service. No ID is required and the hospital will not bill insurance.
What are antibodies? William Marshall, a doctor with the Mayo Clinic, said antibodies or proteins are produced by the body's immune system "that are critical for fighting and clearing out the virus."
So what are antibody tests? Brad Wiersma, MMH marketing coordinator, said it's different from a coronavirus test.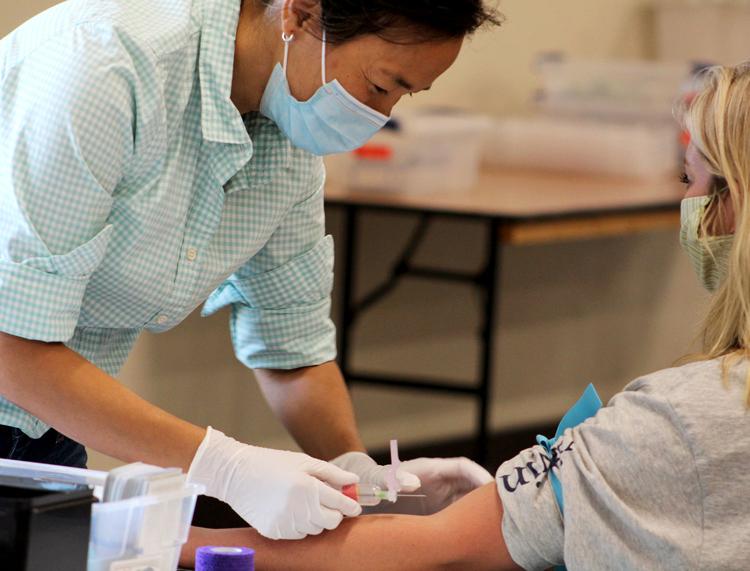 "The COVID-19 test tells you if you currently have COVID-19," Wiersma said. "This (antibody test) tells you if you had COVID-19."
Prior to having their blood drawn, participants must register, which takes roughly 20 minutes. The walk-in tests consist of a medical technician drawing blood, which takes about two minutes.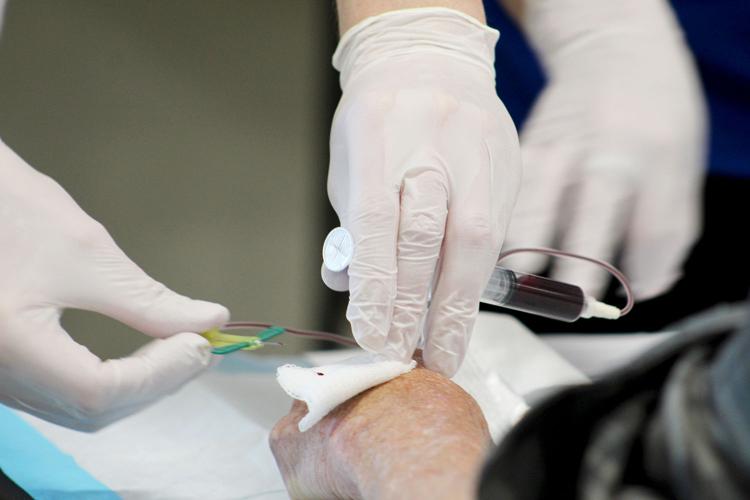 Monday was the first day of COVID-19 antibody testing where technicians took 55 blood samples from people, said Leann Tobin, chief marketing officer at MMH. The estimated numbers for Tuesday's testing ranged from 100 to 150 people.
Unlike the COVID-19 drive-thru testing, people must enter the lobby and complete a COVID-19 screening before having their blood drawn.
"The participants will come into the events center, wear a mask, asked some screening questions and have their temperature taken," Tobin said.
MMH decided to move forward with setting up an antibody testing site after receiving community feedback.
"We have had many requests from the community members to offer this test, so we wanted to honor their request," she said.
People are encouraged to maintain their daily routine prior to having their blood drawn — no need for fasting — and take medications as usual. Once the blood sample is obtained, a lab technician will test to determine if antibodies are reactive or non-reactive to a virus.
"The blood sample is run on an analyzer in the lab and the results show whether the individual has antibodies or not," Tobin said.
Test results will be mailed out within five to seven business days.
Tisha Braaten of Montrose went to the event center Tuesday to have her antibody levels tested.
"It was like a Disneyland line," Braaten said, while pointing at the barricades creating an 'S' pattern through the event center lobby.
She hopes the tests let her and her husband know if they were exposed.
"(The process) was fine. No complaints," she said.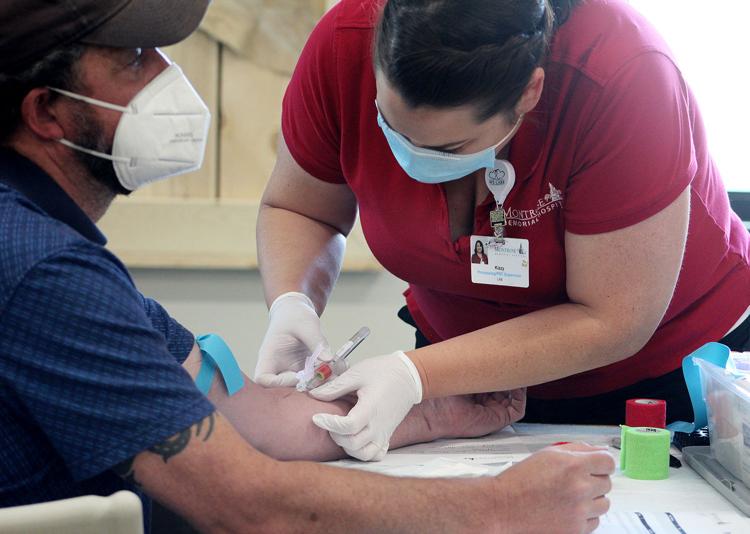 After having his blood drawn, Dwane Reed of Montrose, said the process was smooth.
"It went very quick and smooth," he said. "I thought it was going to be longer than that because I got here right around a little after 2 p.m., so it was quick."
Reed said the process was more pleasant than his experience at the Channel 9 News health fair where he was poked multiple times and nearly passed out.
"She (the MMH phlebotomist) was very skilled," he added.
Reed said he decided to take advantage of the antibody testing since he, his son and his son's wife were sick, coughing up white mucus in January. He is interested to learn his results.
"I would do it if you think you may have had it," Reed said. "I had a reason for coming because in January, the end of January, we were in Florida and we came back and we weren't back not even a week in the first week in February and all three of us were sick. I was down for three weeks, my son was for a week and his wife for two weeks."
If the test result indicates a reactive (positive) result for antibodies, it indicates a person was likely infected with COVID-19 at some time in the past. The information sheet people will receive with their results from MMH explains, "Illness was likely at least 5-14 days ago and may even have been several months ago. At this time it is not known if you can still spread the disease to others or if you are immune from future infection."
That means if you were sick this past winter, the test will still pick up on the antibodies in your system.
Test results that indicate a non-reactive (negative) result for antibodies could mean various possibilities: "You may have never had the coronavirus or you may have had the virus, but you are one of the 10% of people who do not develop antibodies to the disease or you may have COVID right now and if you have been sick for less than 14 days, you might not yet have antibodies."
Having a positive test of having had COVID-19 does not mean you should quarantine yourself, but it's important to take precautions, Wiersma said.
"You definitely still want to take the common sense measures of staying 6 feet apart, wearing a mask and taking those precautions just because we don't know yet what protections are offered," he said.
While antibodies are good at boosting the body's immunity to a virus, like the coronavirus, the World Health Organization warns that having COVID-19 antibodies does not protect you from getting reinfected with COVID-19. The level of immunity and duration are still unknown.
"There's a lot of medical research that still needs to take place, so what we don't want people thinking that they're invincible because they found out they had COVID-19 antibodies," Wiersma said. "What it does tell them is that they've had it at some point."
The antibody test sensitivity is 99% on the test, Wiersma added.
Participants must be 18 or older to be tested.
View more information about the antibody testing here. For COVID-19 testing information, contact Montrose County Public Health at 970-252-4545 and select option 2.