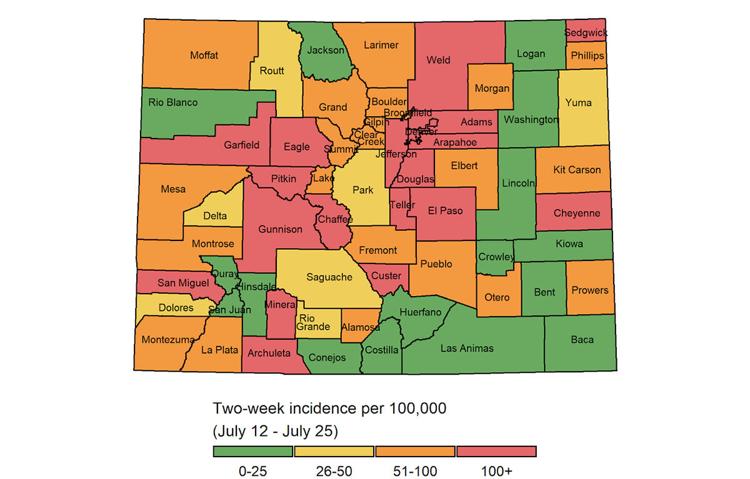 With incidence rates for new COVID-19 cases above the threshold for its variance, Montrose County has been directed to submit a mitigation plan to the state.
County officials said cases had been expected to increase and that there is little difference between what is allowed under its existing variance, granted in June, and the governor's public health order that would apply without it. County commissioners and public health officials are working on the mitigation plan and will make it publicly available.
"It sounds really dire if you don't know the details. … In effect, that means we go to the (governor's) safer at home order and at this point, the safer at home order basically caught up with the variance, and the difference is pretty minimal," Deputy County Manager Jon Waschbusch said, referring to what would happen if the variance were to actually be rescinded.
The county is also watching for a new order or an amended one, which Gov. Jared Polis is expected to issue soon, as his existing order is set to expire today.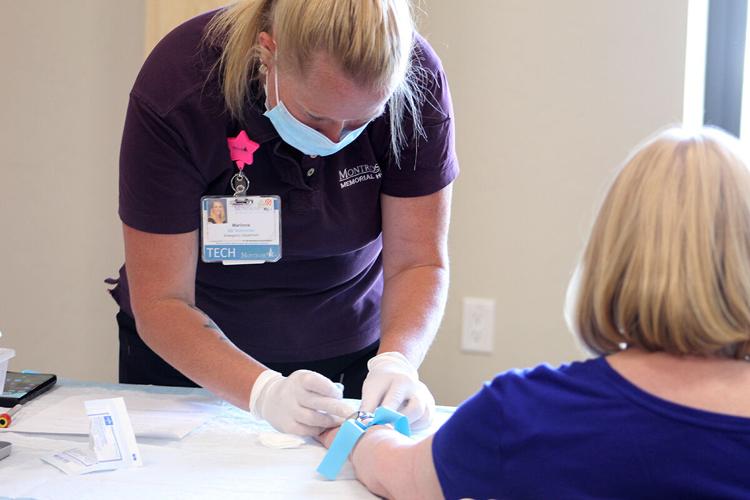 "We don't know what's coming down from the state," Commissioner Keith Caddy said.
Montrose County previously received two variances to the state's COVID-19 orders.
The county's most recent variance included thresholds for percentage of positivity, which could not exceed 10%, and for incidence rates, which could not exceed 22 or more cases in a two-week period (excluding residents of facilities where an outbreak — two or more positive cases — had occurred). The variance requires the county to notify the Colorado Department of Public Health and Environment when rates are exceeded and to implement a mitigation plan for two weeks to restore transmission levels to the baseline under which the variance had been approved.
In Montrose County, there were 36 positives, by date of report, in the two-week period that ended Tuesday, July 27. Within that same period, there were 12 cases by date of onset.
The county's percent of positivity remains below the 10% threshold, according to the CDPHE. But, in response to the Montrose Daily Press' questions, the CDPHE stated: "The incidence rate exceeded thresholds and there is evidence of community spread. We recommend Montrose County proactively implement mitigation measures to prevent further spread of the virus."
The state has the ability to invoke either the percentage of positivity or incidence rate, County Manager Ken Norris said. The county is taking a hard look at its mitigation plan and finalizing it in advance of the state's deadline.
"We anticipated for some time it would continue to ramp up in the same manner that it will across the state before it reaches a peak and then begins decline," Norris said.
Among its provisions, the county's variance allows businesses, gyms and houses of worship to be open at 75% of the allowed occupancy under fire code, or a maximum of 175 people. It also allows increased classroom size, more patrons at microbreweries, distilleries and bars; sporting tournaments and outdoor events of up to 175 people. Additional activities, including events like rodeos were also allowed, but only if capped at 175 people.
The county's variance was approved June 26. On June 30, Polis issued his eighth amended public health order to address COVID-19 risks.
The amended order, which expires today, allowed several activities similar to what Montrose County's variance granted, although under it, gyms, recreation centers and indoor pools could be open with a maximum capacity of 25% of fire code occupancy.
If the county's variance is rescinded, it would revert to the conditions of the state's order. Again, the current order in effect is due to expire and could either be extended or amended.
"I think that at some point, all of the counties could lose their variances," Waschbusch said, referring to counties that have been granted variances. Last week, 15 counties were informed they had exceeded their thresholds.
"If the predictive model for COVID cases holds true, I think there are thresholds that will be crossed. Now, that sounds really (extreme), but we looked at the (governor's) eighth amended stay at home order, and even if our variance would go away, there is very little difference. It would be minimal," Waschbusch said.
The county's pandemic specialist, Dr. Joe Adragna, told commissioners last week that the county was entering a period of case growth, which had been expected, based on case modeling for transmissibility, however, hospital capacity is not being exceeded.
Waschbusch said that if models hold true going into fall, there could be an overall peak larger than the one seen in April, making it hard to stay under thresholds in variances.
"When we applied for the variances, we expected at that time that cases might increase and thresholds might be exceeded," he said.
The county on Wednesday showed a hospital census of three for COVID-19 patients. Hospital censuses change daily, or even more frequently, as patients are discharged or admitted. Too many COVID patients would overwhelm resources, but Montrose Memorial established a COVID unit at the start of the pandemic and has not been overwhelmed.
Statewide, COVID hospitalizations are creeping back up, Polis' office said. It cited University of Colorado predictive models showing social distancing is needed at a level of at least 55% and, ideally, 65%, to avoid overwhelming the hospital system.
The state's ICU bed capacity was stabilizing at between 22 and 30%, while the state's new case average has exceeded 500 a day, and last week, several days hit more than 600, taking it close to April's peak.
"The key to our success continues to be a strong response at the individual and community level. In order to avoid unnecessary loss of life and more economic pain, we are looking to our local governments to lead during this time," Polis said in a provided statement.
"No one wants a major setback and I implore our local health agencies and local governments to use the tools that have been provided to them and take more ownership of the local response. We are all in this together and we're going to have to work together to get through it, and the state will be a strong partner."
Polis urged counties to follow their mitigation plans, including social distancing orders, increased testing and contact testing, increased education and enforcement of social distancing and mask-wearing.
Montrose County continues to recommend the basics of good and frequent hand-washing, maintaining a social distance of at least 6 feet and wearing masks. Polis earlier this month issued an order requiring mask use indoors (public places) for anyone older than 10, unless there is a valid medical reason not to wear one.