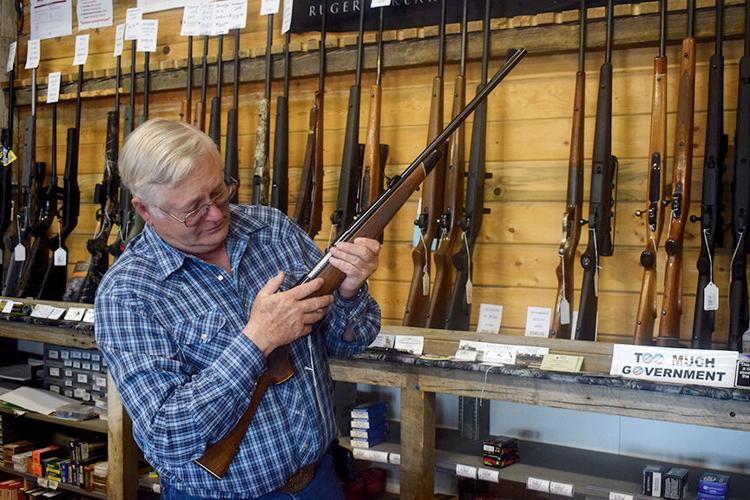 The COVID-19 pandemic does not appear to have diminished people's interest in buying firearms, but, as with other businesses, it has put a crimp in the supply chain.
"It's been pretty steady for the last month or six weeks. We had a little early push and then it's been pretty steady," said Steve Smith, owner of the Gun Depot in Montrose.
"It's tapering at the minute, but that's because there's nothing at the suppliers. It's not like we can replace what we've sold."
Purchases gave his business a good push, but at the same time, he is confronted with less available inventory: manufacturers' workforces were affected by the pandemic and its restrictions, so output is down.
"When things started going, getting back up, the demand was there, but they haven't made anything for two months, and it takes quite a while to get things back on track," Smith said.
"Then you never know what state they're being built in, how each state is putting people back to work, and what stage they are in going back."
Figures from the Colorado Bureau of Investigation, which oversees the state's InstaCheck Unit for firearms-transfers background checks, show that residents are indeed hungry for whatever the manufacturers can make available. (The unit conducts background checks for all firearms purchases and reviews concealed weapon permit applications.)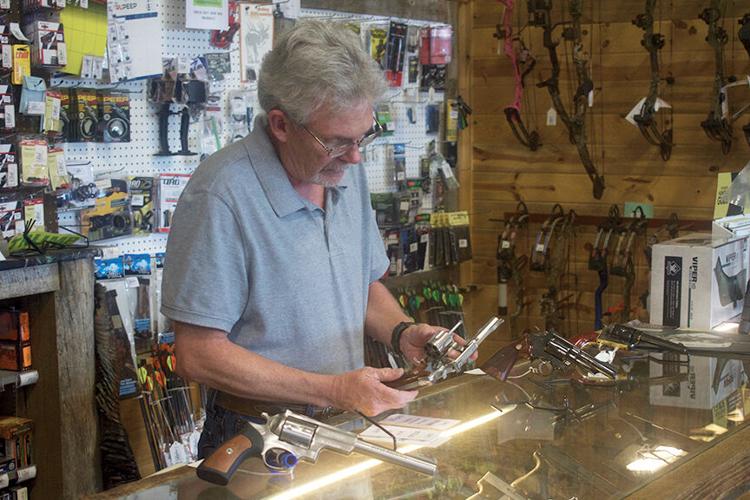 In the first five months of the year, 204,490 background checks were conducted. The annual total for 2019 was 342,439. The figures include all types of firearms and denials as well as approvals. For 2020, statistics past May are not yet available.
For that month, CBI stats show 41,153 InstaChecks — well above the 25,196 conducted in May of 2019.
January through April of 2020 also showed an uptick for each month, compared with the same month of the previous year. (See info box.)
The CBI alerted people on the InstaCheck Unit page that it is experiencing a higher than normal volume of background checks, resulting in an above-average wait time.
Mark Rackay, a Montrose County Sheriff's Office Posse director, outdoors columnist for the Daily Press, and firearms expert, took note of FBI reports of a soaring background checks for gun sales. In June alone, 3.9 million background checks were conducted nationwide, setting a record, according to published reports.
"Nobody can keep up," Rackay said, adding that ammunition is also harder to find.
"It's a supply and demand thing, but what you also see is, if anybody ever needed a reason for an AR-15 and high capacity magazines, they only need to watch the news."
Rackay pointed to large cities where riots have broken out. He said he was referring to civil unrest and actual threats and was not advocating that people who are merely protesting should be harmed.
He praised local protests that took place in the wake of George Floyd's death at police hands in Minneapolis, calling the local marches peaceful.
"We're lucky we're where we are. We have good people and good neighbors. We can agree to disagree. Peaceful protests are welcome. … The Second Amendment is there to make sure the First Amendment stays in place."
Rackay said people may be feeling a greater need to defend themselves, and that as more people new to guns buy them, they need to seek the training necessary to use them properly and legally.
Ammunition is affected by the same supply chain issues as firearms, Smith said. Shortages are spurred by "panic buying" and then manufacturers not being able to replenish stock.
"It's still pretty slim pickings out there. We're just a small sporting goods store," he said.
Montrose County Sheriff Gene Lillard said his agency took care of most of its ammo and weapons needs at the beginning of the year and don't have a shortage at this time.
"We have heard where ammunition is getting hard to find at certain outlets. There is still ammunition on hand, but it's a little more difficult to get," because of supply issues arising from the pandemic, he said.
Lillard has noticed an increase in concealed carry permit applications, which are up by about 30 compared with the same time last year.
"I think a lot of that is attributed to the slowdown with the COVID-19 pandemic, where a lot of people held off , as far as coming in to renew their permits. It's not like there's been a giant influx of new people coming in," he said.
Smith said that as pandemic restrictions eased a bit, firearms industry customers got a little excited and bought up inventory, creating a bit of a crunch. The issue can be seen in other fields, too, he said, mentioning mechanics who have had trouble finding some auto parts.
"I don't think people stopped to think about that. It wasn't just the restaurants (employees) that weren't working. You had manufacturing that was shut down, or greatly reduced," Smith said.