Editor's note: This interview was edited for length and readability.
Old West Fest has kicked off in Ridgway, and festivities celebrating the 50th anniversary of the film "True Grit" continue through Sunday. Perhaps the biggest star to grace Ouray County with her presence is Debby Campbell, the daughter of Glen Campbell, a country music legend famous for songs such as "Rhinestone Cowboy," "Wichita Lineman" and "By the Time I Get to Phoenix."
Glen also played LaBeouf in the original "True Grit," which was released in 1969. The film, as most locals know, was filmed in Montrose and Ouray counties. Glen, according to several accounts, stayed in Montrose while the movie was filmed. Glen was diagnosed with Alzheimer's disease in 2011 and died in 2017 at the age of 81.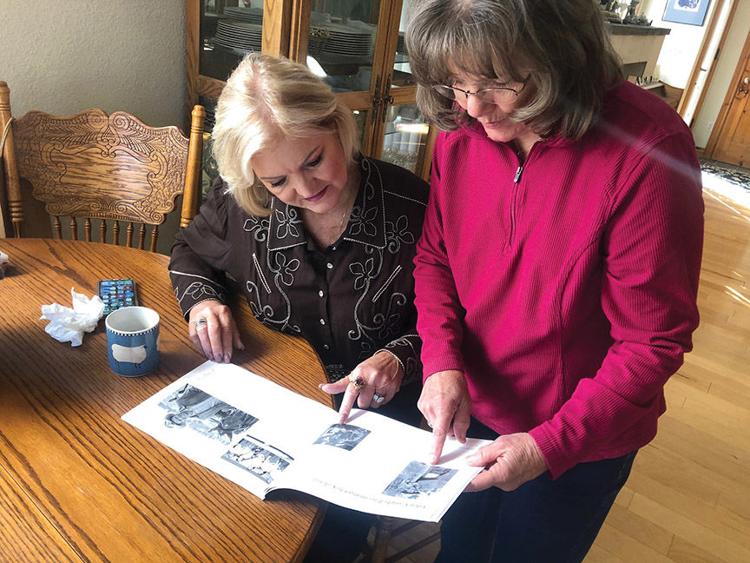 Debby, now 63, sat down with the Montrose Daily Press Friday to discuss "True Grit," her father's legacy and her activism work. Debby has worked as a flight attendant for 33 years and has a music career of her own, having released an album on which she covered many of her father's songs or gave tribute to him. She will perform many of those songs in a concert today at 5 p.m. at the Ouray County Event Center, 22739 US-550 in Ridgway. Tickets are available online.
MDP: What's your favorite part of the movie "True Grit"?
Debby: It's been a while (since I've seen it). The snake pit is my least favorite part. I think any scene that had dad in it. Any scene that dad was in, and I do like the ending with John Wayne riding up (over the fence).
MDP: Your father also sang the title song for the movie, on top of playing LaBeouf. Did he ever talk about the casting process?
Debby: John Wayne was the one who asked dad to be a part of the movie. I think John Wayne's daughter, Pilar, liked dad's music, so he took her to see him, and that's when he asked dad if he would like to be part of "True Grit." I think (Director Henry) Hathaway was pretty mean to dad from what I understand. He just fought with him all the time. Dad wasn't really an actor, so he probably just thought he was crappy. Then John Wayne I guess finally told him to "leave my buddy Glen alone"… What a perfect scenario to then have an entertainer like dad sing the (title) song (for the film).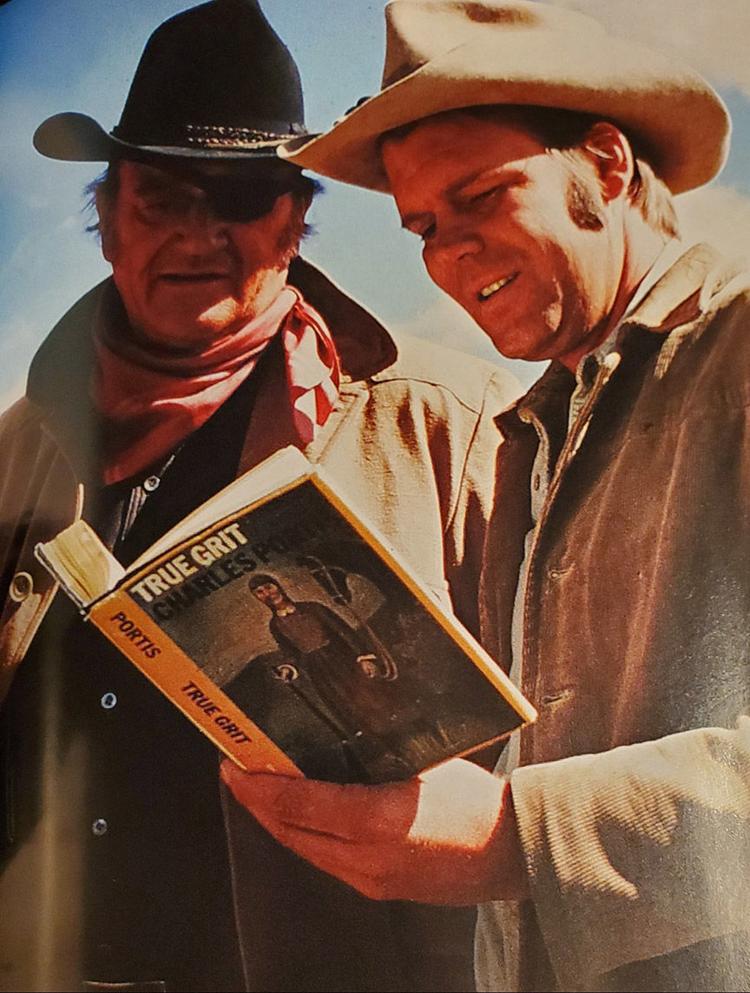 MDP: Anything else you remember about your dad and John Wayne?
Debby: I just remember dad always talking about how they put him on a short little pony to make John Wayne look really larger than life. He loved (working with him). In fact, I got to meet John Wayne. Dad did some BBC specials over in England, and John Wayne was part of them, and I happened to be with dad at the time, so I got to sit back stage and visit with him. He was just really a great, great guy. He was just really kind, and I don't really remember what we talked about, but I know he sent me a picture. He enjoyed his time visiting with me, so he sent me a picture he autographed…
MDP: Did your dad ever share any memories of being on set?
He hated it. I mean, he loved working with John Wayne because, of course, he was larger than life, but he just wasn't into acting. He said it was a lot of sitting around wasting time. But then he went and did another (movie). Maybe it was because Kim Darby (who played Mattie in "True Grit") was in it. Maybe it was because Joe Namath was in it. Who knows why he decided to then do "Norwood." Maybe it was because he got to play his guitar in the song, but that movie bombed.
MDP: Talk more about how he didn't like acting.
Debby: He just didn't like it at all. They were trying to mold him into the Elvis scenario — another good-looking actor who could sing on every little musical show or whatever. Dad said, "No, no more. It's over. I'm going to go play my guitar and play golf."
MDP: Have you ever been to Ridgway or this area before?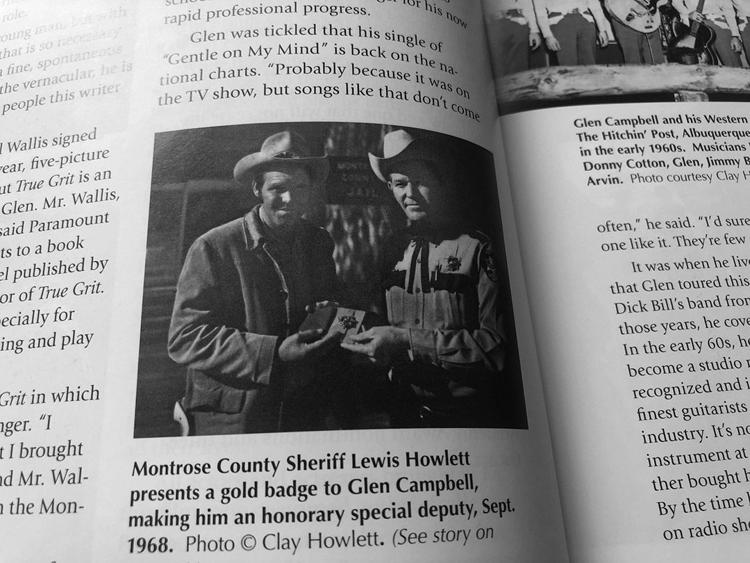 Debby: I never have. It's so awesome. When they asked me to come, I said, "You don't have to pay me. I'll come. I'm there."
I'm going to see a lot of the (sites) today. To Debbie's Meadow — they need to change it to D-E-B-B-Y.
MDP: Does being here evoke any emotions or thoughts of your dad?
Debby: It makes me want to cry knowing dad was here and then I got to experience it 50 years later. I'm a nostalgia sap. I get pretty emotional with things that have to do with dad. The pictures I saw today (of dad) at the (Ouray County Ranch History) Museum. I'm excited to be here and can't wait to see everything "True Grit," even the thrift shops. Who knows, maybe there's some "True Grit" memorabilia — a hidden gem.
MDP: Did your dad have any thoughts on the 2010 version of "True Grit," directed by the Coen Brothers?
Debby: Yeah, he probably watched it, but you can't duplicate perfection. Although I do like Jeff Bridges, and they did pick a good person to play dad — Matt Damon.
MDP: What excites you most about this weekend?
Debby: Just walking in places where I knew dad once walked, and I'm getting to sing his songs here. In fact, tomorrow, I'll be performing "True Grit" (the song) for the first time in my career. I'm going to attempt it. I never thought I'd be singing any of dad's songs. I've really shocked myself. It's almost like ("True Grit") was my song — you know: One day little girl/ the sadness will leave your face/ your fight to get justice done. It's kind of like my song and the story of me today.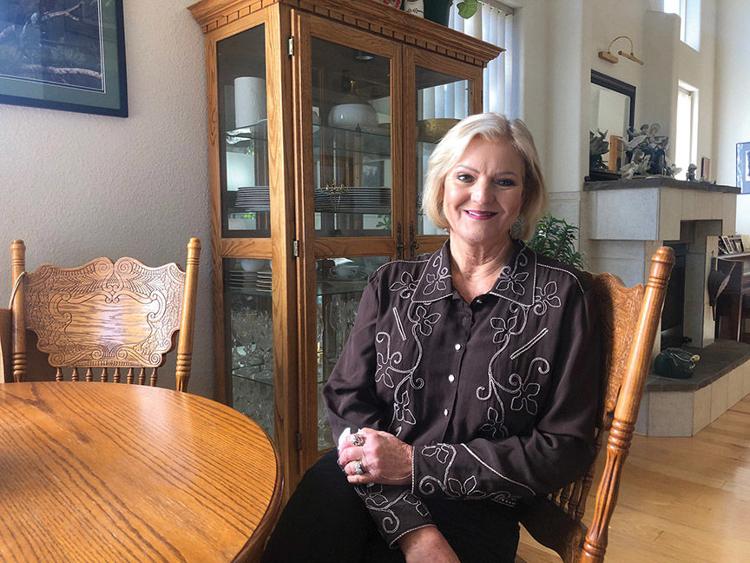 MDP: Talk about your career a little more and your time in the U.K.
Debby: Well, I lived there. I went to high school there. So when dad would come over there, I would perform with him. I went on tour with him and Anne Murray in the '70s, and I remember she had this black cape that I just loved so dad had a black cape made for me. (Murray) even had a quote about me in her book. She said (something like), "His daughter was no slouch either." That was great accolades for me, so of course I had to go out and buy the book just for that one line.
MDP: Talk about your album.
Debby: Well, most of the songs are dad's. But if they're not dad's songs, they have to do with him. Only three songs aren't his. There's an Alzheimer's song on there that was pitched to me, and it resonated with me. Then I did "Leader of the Band," because every time I hear that song, I just think, "That's dad." And then I did, "The Way We Were," because Barbara Streisand was dad's and my favorite singer. Then I did a video of me and dad of us over the course of 25 years, so if I play that song, I have that video playing in the background.
MDP: Your dad battled Alzheimer's — talk about how that inspired you to do activism to raise awareness of the disease.
Debby: I did walks in Phoenix [where Debby now resides] for three years, and then a lot of dad's fans wanted to do it, too. So I went to Manchester, England, and we did an Alzheimer's function. The fans in Dublin heard I did it in Manchester, so they wanted it in Ireland, so I went the next year and sang at an Alzheimer's function there. I'll go wherever to help raise money for that. And now we are trying to raise money for the Campbell Memorial Fund to erect a bronze statue of dad at the cemetery. Then we also want to put another bronze statue at the town center in Delight, (Arkansas). And now we're trying to hold a festival every year around dad's birthday for people to come out and sing and play and celebrate dad.
MDP: To people who have loved ones with Alzheimer's, what would you say to give them strength?
Debby: Just be there with them. They might not know you, but you know them. So you just be there for them any way you can. I would just sit with dad for hours, and he wouldn't even say a word. Then I remember I was sitting with him — I would have to fly to Nashville to be with him, so I would spend all day with him. Then there was one day he didn't talk for three hours. We went outside, and the air hit him, and he opened his mouth and said, "Did you bring a cigar." I thought, "After three hours this is what you say?" I guess when the air hit him, something in his senses told him when the air hit him, he would be smoking cigars, which was fine with me just to get anything out of him. I remember another time sitting at the Alzheimer's home with him. They (on the TV) started playing Prince's song "Purple Rain," because he had just passed away. And he hadn't talked in a couple hours. He just looked at me and said, "Honey, that's the song you have to do in the show." I just said, "Yeah, dad, I'm sure that's what your fans want — to hear Debby sing 'Purple Rain.'" It's comical that they don't speak for hours and just seeing the things that make them talk. But you just be there for them, and that was enough for me.
This article was updated to show Glen Campbell died at the age of 81.