When the Glenwood Canyon closure of I-70 last week forced adjustments for Phuong Nguyen, it wasn't necessarily a surprise. It just added to what's been an ongoing issue for local businesses over the past several months.
"Oh, you have no idea," Nguyen, who co-owns The Coffee Trader with Dee Coram, said of supply shortages.
Nguyen and Coram order sauces, syrup and wrapped straws from a distribution center in Denver. Truckers deliver the products through I-70 to Coffee Trader's own distribution center in Montrose, and it's later delivered to one of the company's three current locations — Grand Junction, Montrose or Gunnison.
Nguyen and Coram have their own distribution center, which helps keep supply steady, along with not waiting until product is low to place orders. They get deliveries from Salt Lake City, too. But with a portion of I-70 closed, Nguyen and Coram decided to switch to Shamrock, part of the Webstaurant warehouse in Denver.
That means a slight cost increase for wrapped straws — from three to five cents, which seems small on paper, but substantial when operating in bulk.
"If the distribution timeline isn't fixed, I'm not sure how many small businesses can sustain that fluctuation in pricing," Nguyen said. "...there's some price increases in some sectors, but I would imagine getting consumers back to the business is the most important to most, if not all, small businesses."
Despite product costs increasing, Nguyen and Coram haven't boosted prices for Coffee Trader beverages. Other businesses in Colorado, though, have done so. Currently, they are focused on timeliness, the reason for the switch.
Recently, deliveries tend to arrive later than usual on Monday, effectively becoming a Tuesday delivery since the shop closes at 6 p.m. And for certain products, there can be a two-to-five day delay.
Crash Burger in Montrose was immediately impacted by the closure, and that's continued this week. Deliveries from Denver off I-70 for the business' soft drink products have been sporadic. Employees might get more of a certain beverage during one delivery, and less of the same beverage the next.
"We get what we get basically," said Kyndra McMillan, manager at Crash Burger. "At this point, if it's anything specific to soda, popular soda, we've been short on. It's off and on."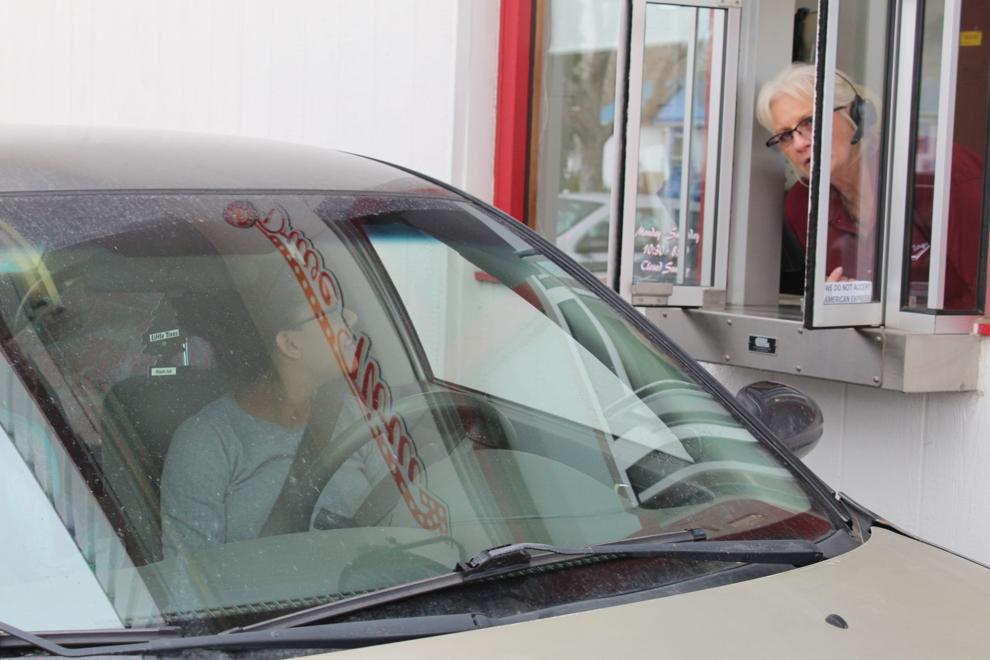 Lewandoski hasn't been commissioned yet to economically quantify the extent of the I-70 closure, but it's apparent what the immediate economic impacts of the closure are.
"The debris and road closure has diverted traffic and people onto routes they don't normally take," said Brian Lewandowski, executive director of Leeds School of Business Research Division at the University of Colorado. "There are winners and losers in that scenario."
Some of those winners include places like Kremmling and Steamboat Springs. People headed west of Denver who don't take I-80 are inclined to head north after reaching Silverthorne. That limits tourism in Glenwood Springs, though, which lost 50% in its tourism due to the canyon's closure, according to a report from CPR.
Parts of Montrose experienced some benefits from the closure. Employees at Blair's Truck Stop said they've seen more tourists and foreigners. Jeff Anderson, owner of Country Lodge, a small hotel in Montrose, said it's been busy as usual in the last week, though his lodge has been sold out every night the past two months, and is up 10% in revenue over last year. (Some tourists have taken US 50 this week with the Little Blue Creek Canyon project on US 50 temporarily open to two-way travel.)
There's slight long-term economic risk when you have extended road closures to major highways, Lewandowski said. In the span of a month (June 26 — July 28), the Colorado Department of Transportation closed I-70 12 times due to flood warnings. Five events caused debris and mudslide flow to cover the roadway. 
As "creatures of habit," tourists or residents could opt to continue on I-80, or head north after Silverthorne. "You could lose some of that thru traffic permanently, and the economic pie gets a little bit smaller."
Lewandoswki said truckers are taking I-80, driving through Cheyenne in Wyoming. With time-sensitive schedules, extended closures considerably change their plans.
But he doesn't anticipate these short-term changes of navigation to become permanent, for both leisure and business travel. If anything, the closure gives Kremmling and Steamboat Springs "tourism impressions," leading to potential future visits.
"The risk becomes a little bit greater than that if Colorado can't be a pathway through the Rockies if it's so intermittent," Lewandoswki said. "During winter, there's an intermittency because of snow and ice. In the summer, we seem to have intermittency because of fire and debris, and then we don't become a reliable route… that's a risk, especially for the trucking and transportation sector."
On Friday, Gov. Jared Polis authorized a disaster declaration, a planned move he announced earlier in the week. The Colorado National Guard, through the declaration, is expected to aid with traffic control, debris management, with support from unarmed law enforcement.
The declaration also suspends regulation for commercial drivers so they can deliver necessary goods and services that mitigate the effects of the emergency.
Polis on Monday said it could be "a few days to few weeks" before the reopening of Glenwood Canyon on I-70. State agencies are aiming to fully reopen the highway before the start of ski season.
Josue Perez is a staff writer for the Montrose Daily Press