Interior Secretary Deb Haaland met with Western Slope county commissioners and Sens. Michael Bennet and John Hickenlooper at Top of the Pines near Ridgway on Saturday, discussing and championing for passage of the Colorado Outdoor Recreation and Economy (CORE) Act, which unites four previous legislation initiatives: the San Juan Wilderness Act, Thompson Withdrawal and Protection Act, Curecanti National Recreation Area Boundary Establishment Act, and the Continental Divide Recreation, Wilderness, and Camp Hale Legacy Act.
The Act proposes to protect 400,000 acres of public land in Colorado, with 80,000 acres to be developed into recreation and conservation management areas.
The legislation passed the U.S. House of Representatives in February, and now awaits legislative action by the U.S. Senate. House Rep. Joe Neguse secured passage of the CORE Act through the House of Representatives, with bipartisan support, in October 2019.
"It's critical to our mission at Interior to ensure that everyone has access to the outdoors, and if we want folks to care about the outdoors into the future, that means we need to give them an opportunity," Haaland said during Saturday's roundtable.
"... We know that the outdoors — we can create good paying jobs, we can conserve our lands and waters for future generations. When I was in Congress, I was very proud to support the CORE Act to promote outdoor recreation."
County commissioners from Gunnison, San Miguel, Summit and Ouray were present (those counties would be affected by the CORE Act), addressing the potential impact the protections from the bill could have on their areas.
Overcrowding on trails has been a recent theme due to increased visitation, San Miguel County Commissioner Hilary Cooper said, with the outdoor recreation industry booming and tourism a constant during the pandemic. "We've got a lot of leave-no-trace ethic that needs to be reminded," she said.
"We've got a lot of educational opportunities. We need to work on spreading out the impact, because a lot of our areas are being over-impacted, and that to me is one of the latest reasons why doing these kind of bills that are land designations built from the ground up are so important, to allow for that access to public lands and allow for local communities to determine how to mitigate the impacts of more and more visitors."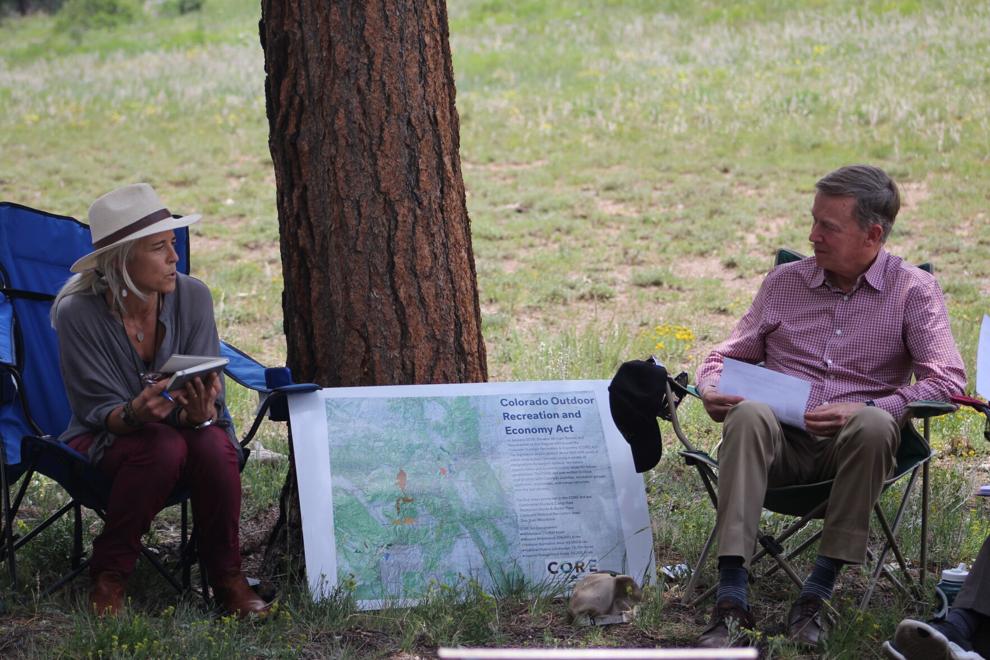 Cooper added San Miguel County has engaged with the Ute tribes on the bill.
Summit County Commissioner Elisabeth Lawrence said the White River National Forest is one of the most popular sites to visit in the nation. She cited a provision in the bill that would create three new wilderness areas (21,895 acres) in Eagle and Summit Counties.
Gunnison County Commissioner Jonathan Houck spoke on the somewhat "jumbled ownership" of the Curecanti National Recreation Area, though stressed agencies do a fine job of managing the land. However, the Curecanti National Recreation Area Boundary Establishment Act would "basically establish a firm boundary" for Curecanti, Houck said, adding the ability to move management into the recreation area "saves money and is more streamlined."
Having access to nature in cities and the need for conservation was a focal point for Beatriz Soto, director of Defiende Nuestra Tierra for Wilderness Workshop.
"There is a big issue with cities, parks, towns and other places that are forcing people to come to these areas because there is not accessible nature where we have urban areas, so people are being pushed to come further away from where they live," Soto said. "So when we think about conservation, I really want us to start thinking about conservation that is local, and that is in communities and especially in communities that don't have access to nature."
Soto added that people in the Latino community, a major contributor to the outdoor economy, often work multiple jobs due to the lack of affordable housing (also a problem in urban areas, she said). Most, Soto said, aren't able to visit public lands, despite their contributions.
When asked what the Department of Interior could do to help address issues raised by Soto earlier, Haaland provided an example where that's been addressed.
"In Albuquerque, we have a wildlife refuge, right in the south valley of Albuquerque," Halland said following the roundtable. "It's so accessible (for) the school children all over the city. We support areas like that and we want to make sure kids have opportunities to get out there. We care about that and that's one of my priorities."
The Land and Water Conservation Fund, established in 1965 by Congress to safeguard natural areas, water resources and cultural heritage while providing recreational opportunities, has a grant program targeting urban areas with few parks and recreation resources.
Haaland, near the end of the roundtable, discussed the importance of paving a path for future Coloradans. Following the roundtable, she mentioned the importance of collaboration to address issues raised by locals in the communities.
"We have to help make sure that future generations are caring about the things that we care about," Haaland said. "The only way to do that is get them out in nature, and so when we think about what we're doing and why we're doing it, it's for the children."
In conversations with Haaland this week, Gov. Jared Polis also urged passage of the CORE Act.
"The Colorado way of life relies on public lands and our vast great outdoors. Coloradans cherish our access to hundreds of thousands of acres of public lands and wilderness for recreation," Polis said in a press release. "The CORE Act serves to protect the lands that Coloradans love. As our state works to protect our wilderness in the face of development and climate change, the CORE Act will help Colorado permanently preserve our natural beauty while providing endless opportunities for recreation that will drive our economy and create jobs. I urge Secretary Haaland and the Biden administration to help ensure the Senate passes this important bill."
Through CORE, 73,000 acres of land would be designated as wilderness (including in the San Juan Mountains), formally establish the boundary for the Curecanti National Recreation Area, and around 200,000 acres in the Thompson Divide area, southwest of Glenwood Springs, would be withdrawn and protected from future gas and oil projects. It also proposes to create the first National Historic Landscape at Camp Hale (training home of the 10th Mountain Division).
Editor's note: This story was updated to reflect county commissioners from Ouray County, not Otero County, were present.