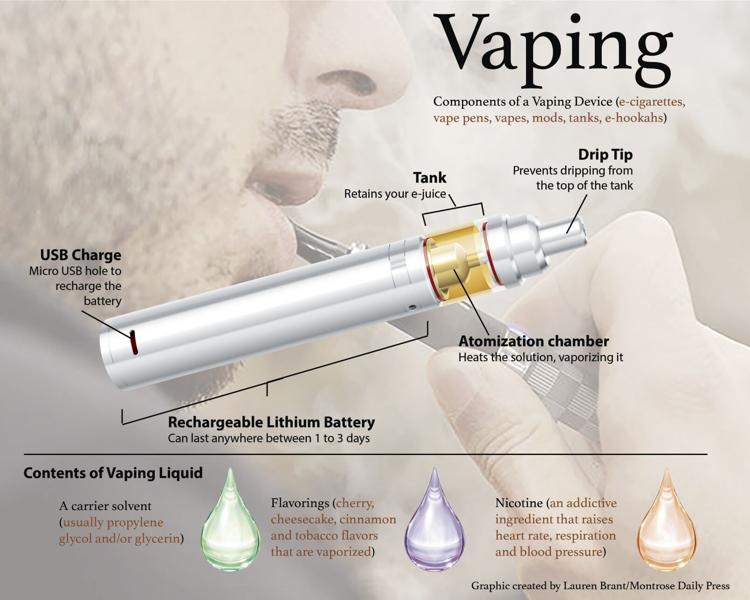 POLL: Should e-cigarette producers be held to the same standards as Big Tobacco?
A month after a California attorney informed Montrose County School District about a class action lawsuit against Juul Labs, Inc., the district's school board voted to join the lawsuit.
"When you look at the area of Colorado that Montrose County School district is in, we are number one in teen vaping," said former MCSD superintendent Stephen Schiell. "Somebody is taking advantage of our students, and that's JUUL."
Working with the district's health professionals and nurses to understand the impact of these products, Schiell said the actions of JUUL Labs to market fraudulent advertising that targets young teens and kids inspired him to have specific objectives for this litigation, which are " … to quit selling it like it's candy, and to stop selling it like it's a great alternative to smoking," he said.
JUUL Labs is a top manufacturer of vaping products and is the maker of the JUUL e-cigarette. The company is identified as a major cause of the epidemic that the Center for Disease Control notes has caused youth use of e-cigarettes to skyrocket.
Prior to this nationwide lawsuit, MCSD nurses and social workers presented the dangers of vaping, particularly for youth, to local leaders after surveys indicated that Colorado had the highest number of teens vaping in the country.
"At that time, basically nobody was doing anything about vaping for adults or anybody, but the city of Montrose probably became the first city in Colorado to ban vaping in public places like restaurants and bars," said Schiell. "They saw what our nurses and social workers were presenting and they were very, very, very concerned about what was happening."
Schiell added, "We do surveys with our students every couple of years regarding behaviors and what they do and don't do," Schiell said. "Many school districts in Colorado do this, too. Most of the states in America are doing the same kinds of surveys. In America, Colorado is No. 1 in the country for vaping by teens. Our area, not necessarily the school district but we are the biggest school district in the area (the state's divided up in these surveys into half a dozen or so areas), we're No. 1 in Colorado. What does that tell you about us? We're the No. 1 region in America for teen vaping."
According to Denver Public Health, e-cigarettes are now the second most-tried substance among Colorado youth, behind alcohol.
William Shinoff, an attorney with the Frantz Law Group, APLC in California, will represent MCSD along with over 90 other districts. Between 100-150 school districts are involved in the litigation, which indicates the epidemic of youth and teen vaping has infiltrated schools across the nation's public education system. Shinoff hopes for a trial next summer.
The lawsuit's goal is for JUUL to establish funds for districts' educational efforts for prevention programs, counseling, and treatment for addicted students.
During the May board of education meeting, Shinoff said FLG is filing lawsuits against JUUL under the legal theory of public nuisance, while showing the presence of the company's products on campuses, the issues associated with that and the need for resources to address it.
During the lawsuit, the firm will fight for funding for vape detectors in school bathrooms, which is one way to reduce vaping on school grounds.
"That is a lot of the time where vaping is going on because detectors right now (vape pens) don't set off a normal smoke detector," Shinoff said.
While MCSD is one of many districts to join the litigation, lawyers expressed concerns with school districts across the country.
Shinoff cited one incident that occurred at a district outside of western Colorado: "When we are seeing school districts finding these products on third graders, and the federal government is involved on why we are seeing this epidemic, I think the company has to take the right measures," Shinoff said.
The case has been filed with lawyers hopeful to have a trial begin by summer of 2021.Since JUUL released e-cigarettes in 2015, the company has increased its market share to over 70% and has generated over $224 million in retail sales, a 621% year-over-year increase. By June 2018, the company's sales skyrocketed to $942.6 million, a 783% increase.
While JUUL is not the only company marketing vaping products, Shinoff said they are the big fish since they control such a large portion of the market and are worth $32 billion. Other companies are also being investigated.
"This case is not only about money, there's also a social justice aspect to this case," Shinoff said. "We are going to be seeking an injunction against JUUL to ban them from being able to sell the flavored pods because we know that's what caused the major issue with teens."
They are also seeking an injunction against the company's marketing practices.
Results from a 2017 study showed Montrose County youth reported trying or using e-cigarettes at the highest rates across Colorado.
Several Colorado counties have also filed suits against JUUL, including Boulder, Eagle and Pitkin counties as well as local governments in other states.
According to papers filed in court against Skagit County, Washington versus JUUL, "the increase in youth nicotine vaping from 2017 to 2018 was the largest for any substance tracked by the national Monitoring the Future surveys over the past 44 years."
Citing the progress made after exposing Big Tobacco's health risks as one of the greatest public health success stories and the subsequent decline in youth smoking rates from 20% in 2000 to 7.6% in 2017, vaping rates seek to erase that progress. The papers cite the number of youth e-cigarette users increased to over 5 million.
Robert Redfield, Center for Disease Control and Prevention (CDC) director, said, "The skyrocketing growth of young people's e-cigarette use over the past year threatens to erase progress made in reducing tobacco use. It's putting a new generation at risk for nicotine addiction."
JUUL did not immediately respond to a request for comment.