Leonel Mireles, a Montrose native born in Mexico, migrated to the United States in 1991. His experience is similar to that of other immigrants who've come stateside in search of the "American dream."
"You see all of that stuff — the movies, TV shows. It makes you want to be a part of that culture," he said. "It seems to be pretty cool — people are getting ahead and you just want to be part of that success."
That stateside success didn't come overnight for Mireles, who arrived in Lancaster, California at 19. Coming from another county, he didn't understand the language. He wasn't sure who to trust. He didn't know which specific places on the streets to avoid. People started to lose patience with him, simply due to the language barrier.
Despite some challenges, Mireles quickly integrated himself. His first job was at a wood shop, building furniture. He then worked at a few restaurants, and later as data engineer for a medical X-ray company. His last job before leaving California in 1996 was at a glass shop, similar to his work in Zacatecas, a state in Mexico.
As a teen in Zacatecas, Mireles had no form of transportation. That meant either walking dozens of miles to work, or connecting with others who did have a vehicle. If he took the bus, he couldn't be late, or it was headed to the city without him.
"You had one chance to make it up there and one chance to make it back," he said.
That daily chore partially contributed to his desire to move to the U.S., where he met his future wife, Norma Mireles Rodales. The pair met in 1991, and moved to Telluride in 1996.
Having found direction stateside, and after starting a family with Norma, Mireles, a non-U.S citizen, was ready to become one.
So Mireles started his path for naturalization, a process in which a non-U.S. citizen is granted citizenship after meeting requirements established by Congress.
His motivations were simple: He knew the benefits, and he wanted a voice.
"There's a lot of people out there that don't have the chance to show themselves and have a voice. That was a big thing [for me]," Mireles said. "There's people around, they get to go to work, but nobody can ever hear you. You just don't have a voice really.
"But once you do, people start seeing you and you're actually there."
Mireles' path to citizenship took a little over a year. "I'm luckier than most people," he said of the one-year timeline.
His naturalization ceremony was in September 2017, at the National Monument in Fruita. Hispanic Affairs Project, a nonprofit organization in Montrose that works to promote the integration of Latino immigrants in western Colorado, and National Parks Services provide food and beverages for 50-60 New Americans and their families.
Moments after the annual ceremony, the moment hit for Mireles.
"It's an experience, I would say," Mireles recalled. "It's something I would have never imagined when I first moved to this country. When you get to this point, it's pretty empowering."
A one-year path towards citizenship certainly isn't the norm. Others, like Mario Reyes, who lives in Grand Junction and works for District 51 as a groundskeeper, wait much more than a year. In Reyes' case, it was eight years, though he said some of that was his doing — he was willing to be patient, didn't have a lawyer and, considering all the necessary documentation, the process wasn't easy.
He started in 2013, learning the intricacies and nuances on the fly as he went through the steps himself. He received some help from agencies like HAP, which recommended a lawyer, but that didn't work out. He sought assistance from other organizations, but those turned him down and didn't offer any recommendations, which Reyes said is a massive problem in the process.
"They close the possibility that a person continues in their process," Reyes said. "... Don't say, 'No I can't help you.' Say, 'I can't, but these people can, or let me find out who can help you.'
"..If I stopped when they didn't help me, I wouldn't have become a citizen."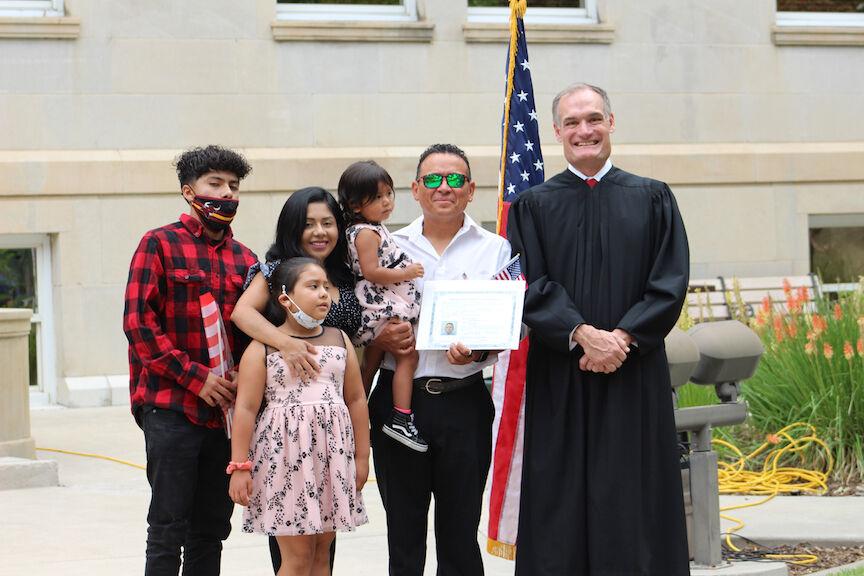 That was frustrating, Reyes said, considering he was well aware of the benefits that come with becoming a New American. With citizenship, he's able to vote: "It's important to be a citizen so people can hear your voice, and you can participate in elections."
It alleviates the worry of traveling outside the U.S.: "It's a little hard leaving the county not knowing if you're going to return or not."
And, Reyes said, it removes the possibility someone comes to his home and takes him away, just because he's an undocumented individual.
"I felt something beautiful," Reyes said of his naturalization ceremony last month in Grand Junction. "The possibility to complete that cycle and say, 'we got here — we're here.'" He was joined by his family — his wife (who also went through the same process to become a citizen), and his five children.
Mireles was well aware of the benefits, too. He knew he wanted a voice. He knew he wanted to pave a path for others. And, he knew his vote during the 2021 presidential election would count, following years of anti-immigrant policies brought forth by former President Donald Trump's administration.
"I got to fire the President of the United States this past year," Mireles said. "That's a big benefit. I can make a change."
The path to citizenship isn't a simple one, said Karen Sherman Perez, HAP's civic engagement and development coordinator. That's due to, in some cases, long processing times, and high financial and personal costs. But there are other requirements to become a citizen by naturalization:
• Lawful permanent resident (LPR) for five years;
• Have continuous residence in the U.S. an an LPR for the past five years;
• Physically present in the U.S. for at least half of the five years before applying;
• Have lived in the USCIS district or state in which they're applying for at least three months;
• Pass a test on speaking, reading and writing basic English;
• Pass a test on U.S. history and government;
• Have good moral character;
• Accept and understand the oath of allegiance to the United States.
For non-English speakers, that process can be daunting, Sherman Perez said. As of 2019, there are approximately 9 million eligible LPRs for naturalization in the U.S., and at least 100,000 in Colorado. HAP has a running list of eligible LPRs in Montrose, and occasionally reaches out to see if they're ready to apply.
"We find that there's a lot of older adults, older immigrants who are eligible but they're nervous because they don't speak English, or nervous about taking an exam that includes oral questions," Sherman Perez said. "And then there's the interview, and if you're not comfortable speaking in English, it's going to be nerve wracking."
There are some exemption levels for older immigrants. Individuals aged 50 with 20 years as an LPR may qualify for an exemption from the English language test component. It's similar for people aged 55 (15 years as LPR) and 65 (20 years as LPR).
"(Immigrants) might wait 30 years to take this next step because they don't feel comfortable," Sherman Perez said of LPRs preferring to wait to avoid the test.
An additional barrier was added when, under the Trump administration, the USCIS Application Support Center in Grand Junction closed in August 2020, Sherman Perez said. The center provided several services to immigrants on the Western Slope, including extensions to permanent residency, biometric appointments and application interviews, to name a few. Now, with the nearest center in Denver or Aurora, several hours away, there's an added burden — individuals might have to take time off work, seek childcare options, all while adding costs to their process.
United States Sen. Michael Bennett sent a letter to former USCIS Acting Director Kenneth Cuccinelli in 2020, asking Cuccinelli to reconsider his decision to close the ASC in Grand Junction. Cuccinelli's office, in a letter, responded, explaining the decision was necessary due to "operational and financial constraints," and the need to "allocate resources to best serve all applicants" made closing the location the best course of action.
HAP is advocating for the office to be reinstated. For now, HAP's focus centers on helping individuals with DACA applications (Deferred Action for Childhood Arrivals), program renewals, adjustment of status for lawful permanent residency (green card) and naturalizations. HAP is also part of the New Americans Campaign (NAC), a national collaborative network that helps provide local organizations with resources and knowledge to help LPRs overcome barriers to complete citizenship applications.
An emphasized focus and priority, though, is citizenship.
"It opens the doors to so many other opportunities, and one of HAP's goals is to promote the active civic participation of our community," Sherman Perez said. "When an individual takes that step and becomes a New American, they have the right to vote, the right to run for elected positions in our community."
More than a dozen pro-immigrant bills during the 2021 legislative session passed, rolling back restrictions for immigrants statewide. One bill replaces the term "illegal alien" with ""workers without authorization" as it relates to public contracts for service; another prohibits someone from threatening to report to authorities an immigrant's citizenship in an effort to extort; lawful presence is no longer a requirement for professional licensing; and, in late-June, Gov. Jared Polis signed House Bill 21-1150, creating the Office of New Americans (ONA).
ONA's main priority, according to a summary of the bill, is implementation of a statewide strategy to facilitate economic stability and promote successful economic, social and cultural integration by investing in the success of Colorado immigrants.
Kit Taintor, senior advisor to Polis for New American Integration in Colorado, suggested specific pathways, such as the New Americans Initiative Polis started in 2019, could help advance immigrant integration, which in turn helps with economic self-sufficiency for immigrants.
Sherman Perez said HAP is hopeful ONA can advocate for a return of the USCIS office in Grand Junction.
"That's a great thing because everybody deserves a chance," Mireles said of the state's pro-immigrant action. "Everybody has to be given a chance to have a better life."
Mireles said he's spoken with local eligible LPRs, encouraging them to apply. He said he wants them to "do the right thing," since many have said they're likely to live on U.S. soil for the rest of their lives.
"Just do the right thing, and wait for the moment, because it'll come," Mireles said. "...you just have to stay on the right path."
"Don't stop," Reyes said when asked what his message would be to eligible LPRs. "Keep looking for help."