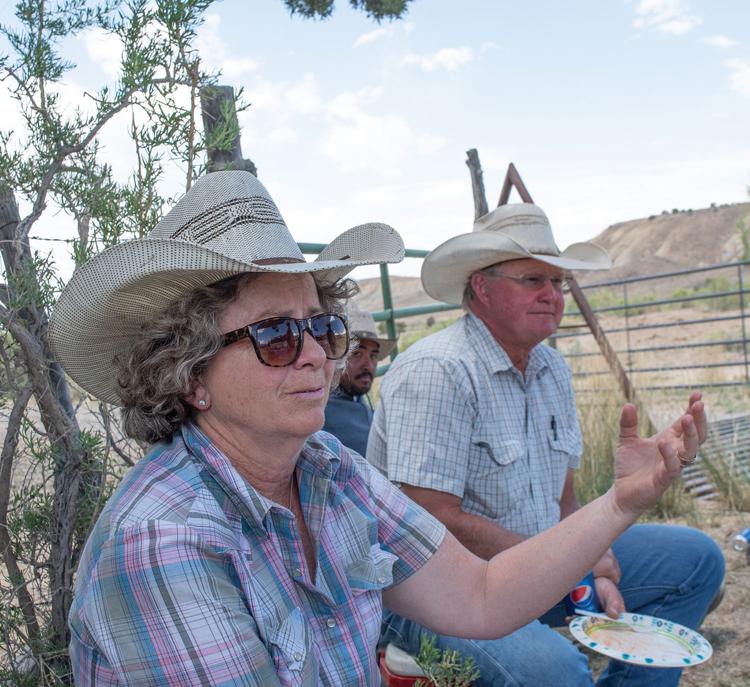 If you were going to pick a year to begin service as president of the Colorado Cattlemen's Association (CCA), 2020 probably would not be your first, or even 10th choice. Shrinking market prices, beef processing bottlenecks, everybody and his brother trying to get cows off public land, people pushing wolf reintroduction, COVID-19, and constant battles to hang on to water rights keep a cattleman's (or lady's) head spinning.
But here she is, Janie Van Winkle, madam president. And she is not even sure when she will get sworn in.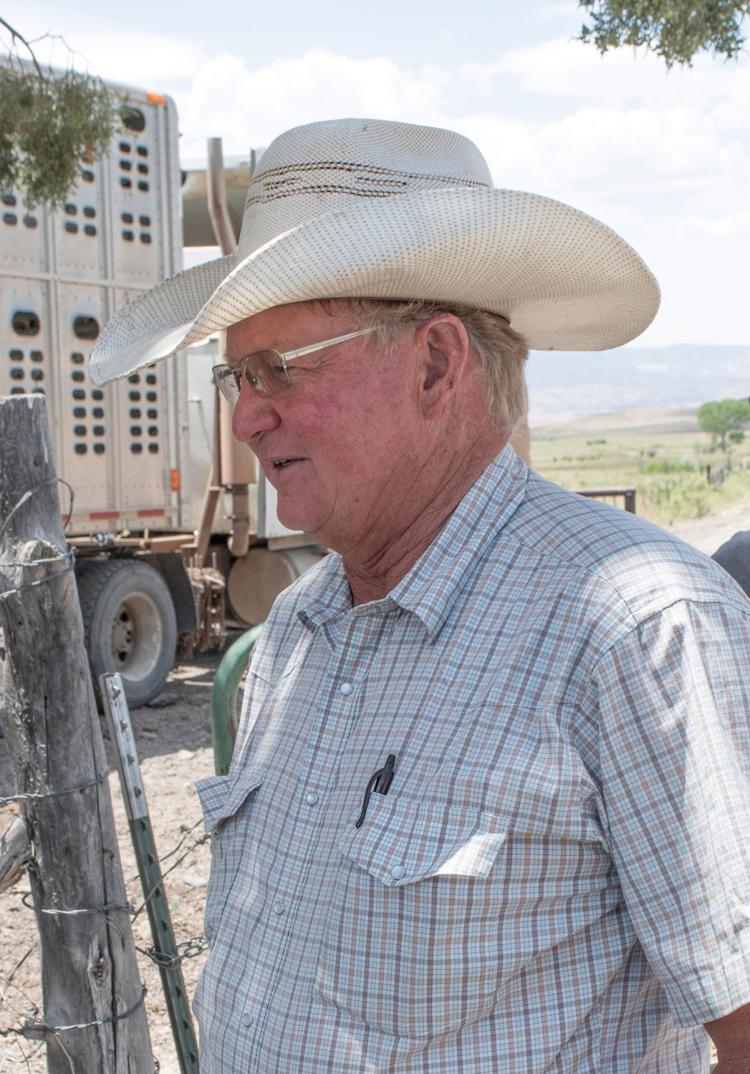 "We are supposed to transition in June," she said. "But we don't really know when our first in-person meeting is going to be."
Right now, it's email, Zoom, and cellphone. Her minute and data count are out of sight. And all that comes on top of being a full-time cattle rancher with her husband, Howard, and their son, Dean. They run the 5-Diamond outfit, a far-flung collection of leased land, grazing permits, and headquarters in Fruita. Dean also has his own brand that he husbands while helping his folks. He is in the process of finishing his degree in animal science at Kansas State.
We caught up with the Van Winkles at their loading pens on White Water Creek Road, about five miles east of U.S. 50, 20 miles southeast of Grand Junction. It was moving time for about 550 Charolais (and a few red Angus) cow/calf pairs (1,100 animals) as they boarded the bus for summer ranges on the Grand Mesa and the Uncompahgre Plateau.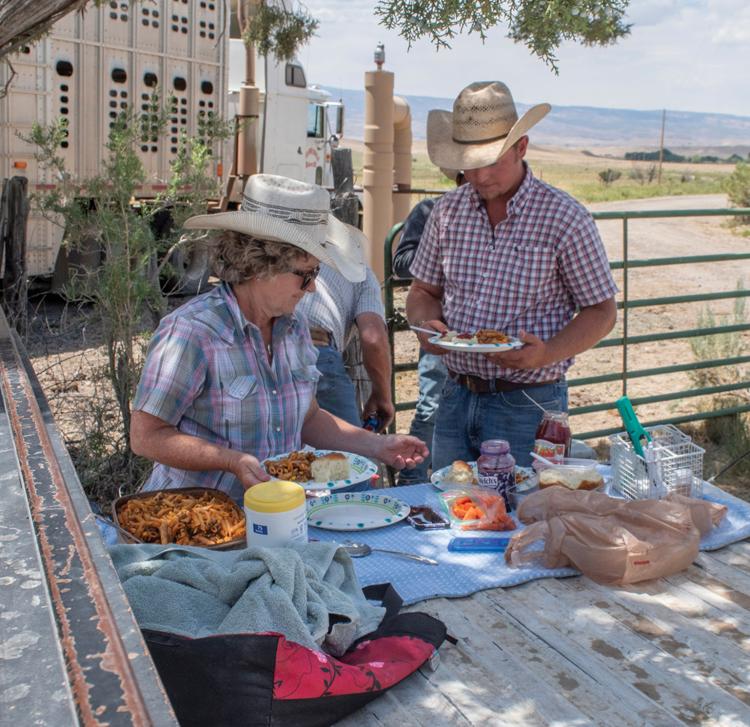 But first things first. It was lunch time. Mrs. Van Winkle, since the day she was born in Nucla, wanted to be nothing but a cattle rancher. Right behind that was running a restaurant. She did that while she and Howard were building their cow/calf outfit. And it shows. The 2020 version of the cattle drive chuckwagon is the tailgate of a Chevy pickup, where she laid out a piping hot pasta dish and homemade yeast rolls with butter and jelly, with saucer-sized cookies for dessert.
"I did a lot of things while we were getting the ranch to a point where it would support us," she said. "I had a Nick-N-Willy's Pizza franchise for 10 years. I sold it in 2015 and that's when Howard and I went to ranching full time." Howard worked in the automotive business, including for a Chevy dealer and having his own auto repair shop.
Well, that explains the pick-up and the insulated pizza delivery bag that kept the pasta hot during the hour-long ride to the loading site. While we enjoyed the pasta, we talked about ranching, beef and wolves, among other things.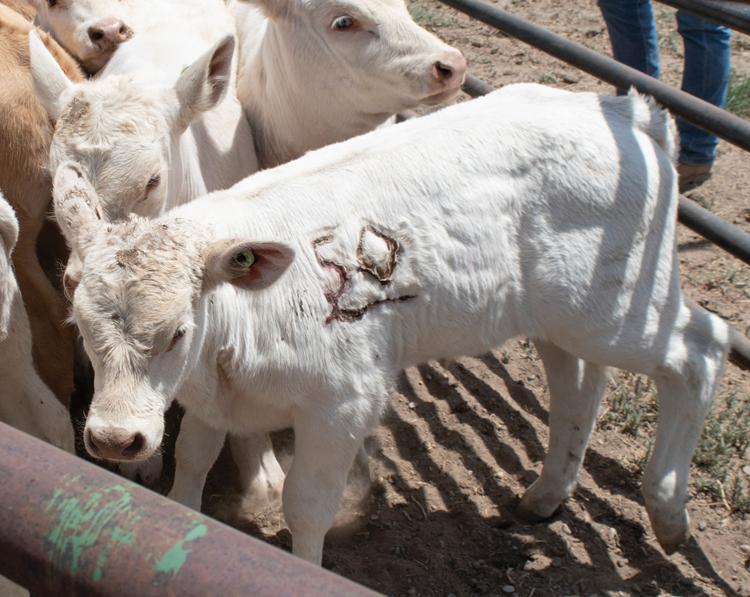 It took Janie and Howard 15 years to build their ranch brand to a viable self-supporting business.
"I had 20 Charolais cows and Howard had 20 sheep," Van Winkle recalled. "We worked our day jobs and we spent the nights and the weekends building our cattle business."
The Van Winkles see themselves as people in the cattle business.
"There is a difference between a cattleman and a cowboy," said Janie, no offense to cowboys. She explained that the cattleman works to preserve the heritage of the cattle industry, as well as to be a steward of the land, and to run a profitable business. It is a business that requires discipline, hard work, and dedication.
With the market in disarray, the Van Winkles are among the leading-edge producers who are trying to educate consumers as they try to produce market-ready meat that has a solid program of herd health behind it.
"Growing healthy cattle is a key," said Janie.
"We have a herd health program in place," added 32-year-old Dean. "That includes excellent forage, mineral supplements, and vaccinations."
The Van Winkle outfit treats their animals as kindly as they can. Stressed out stock does not produce good meat. For example, when prodding the animals through the loading pens and chute, there are no electric prods or whips. Rather, the cowboys use a long-handled rubber "fly-swatter" sort of tool with which they pat the animals to guide them. It appears to work just fine.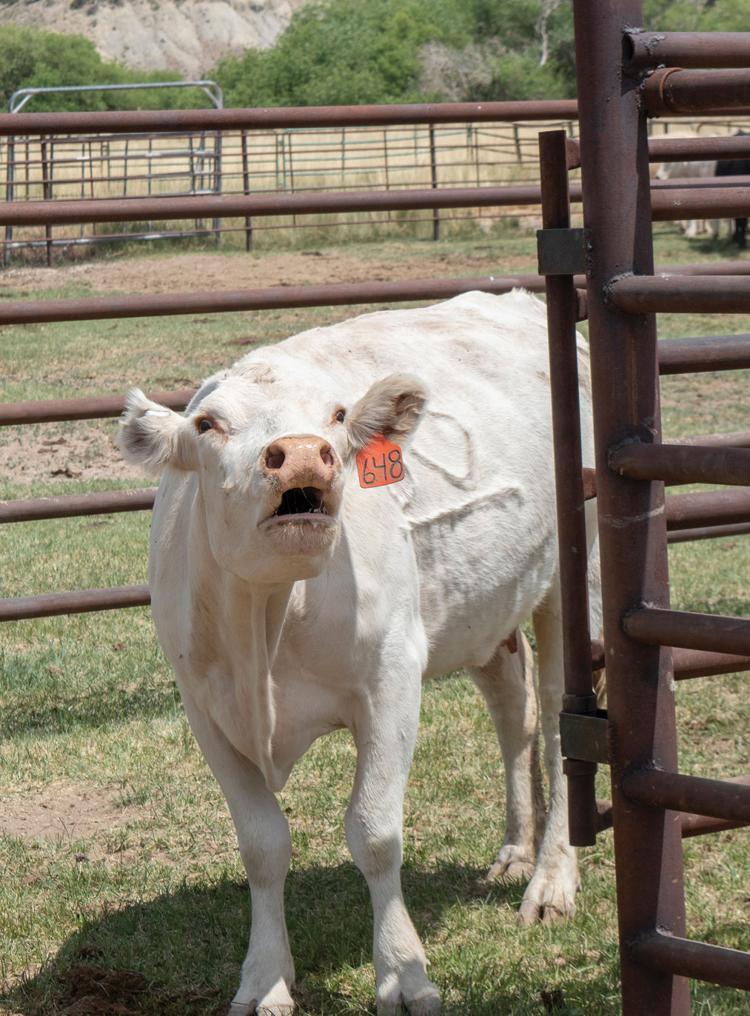 The Van Winkles are already into selling part of their herd in the direct-to-consumer market. Janie says that she has 1,200 pounds of beef sold for fall delivery, with more to come.
"I get phone calls, Facebook messages, and emails wanting to know if we have beef for sale," Janie said. Dean said he has had people come up the ranch drive on Whitewater Creek Road looking for meat. Dean lives on the Summerville Ranch, which the family leases from the City of Grand Junction. They also lease the Anderson Ranch. The city owns both for the water rights.
"The thing people have to understand is that there are basically two kinds of beef — commodity and premium," said the new CCA honcho. Commodity beef is what you usually buy frozen or packaged in the grocery store. Premium beef is what the Van Winkle herd health program produces, which is better suited for direct-to-consumer and commands higher retail prices.
The beef the 5-Diamond ranch sells direct is finished on alfalfa and grain, which is grown with no chemicals. "More consumers know to ask about that or look for it on the label," Van Winkle said.
Like everyone else in the cattle business, Van Winkle is concerned about the processing bottleneck and the prices processors pay producers. But she also knows that she and other producers selling a few steers to local consumers is not going to pay the bills.
"I think the system needs investigating, but I don't think it needs replacing," she said.
The Van Winkle team agrees that the pandemic exacerbated the problem with plant closures, which put kinks in the food chain. For reasons yet to be defined, all that put the pricing structure in disarray.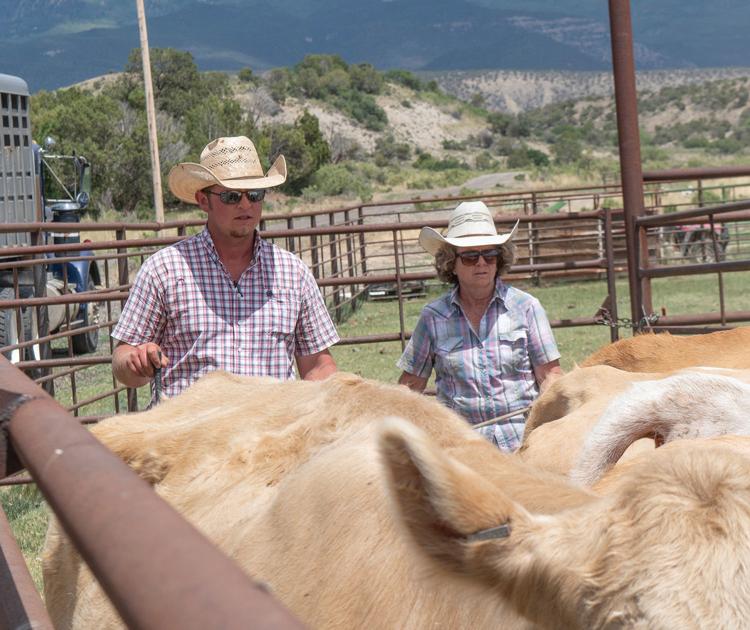 Does the new president have an agenda for CCA?
"I would like us to help connect consumers and policy makers to producers in ways that will ensure a better business environment for livestock producers. This includes education and communication with consumers and helping producers understand all segments of the supply chain to ensure success for all sectors. I would ask policy makers to ensure that a free and fair market is allowed to operate to benefit all sectors," said Van Winkle.
She thinks that it is going to take everyone in the cattle business working together to solve the issues.
"We haven't talked about wolves yet," Janie said as Dean, Howard and their helpers, Eduardo and Manuel, head to the loading chute, munching the cookies that followed the pasta lunch. With that, madam president made a statement that has raised eyebrows in some circles.
"The wolf reintroduction plan is not fair to the wolves," she said. Taken as a sound bite, the reaction is typically, "Who cares if it is fair to the wolves?" But Van Winkle said that we already have wolves in Colorado and bringing in some interlopers isn't fair to those that are already here. Look closely and you see a little twinkle in her eye.
"Wolves have been in northern Colorado for a long time; that has been proven. Colorado Parks and Wildlife is managing the situation. We just don't need more being forced on us," Van Winkle said. She also mentions the fact that the state budget is a mess and there is no money for further management of wolves or payment to stock producers who lose animals to them.
As the driver backs the Van Winkle tractor-trailer to the chute, Janie adds a piece of romance to the five generation, 5-Diamond story.
"My great uncle registered the 5-Diamond brand on Feb. 14, 1910," Van Winkle said. No one really knows the significance of the simple numeral five, followed by a diamond shape. She thinks it may have something to do with a card game. In 1951, the brand was gifted to her mother, Martha Bell Craig, upon her graduation from Unaweep Summit School. Janie's mom passed it on to her.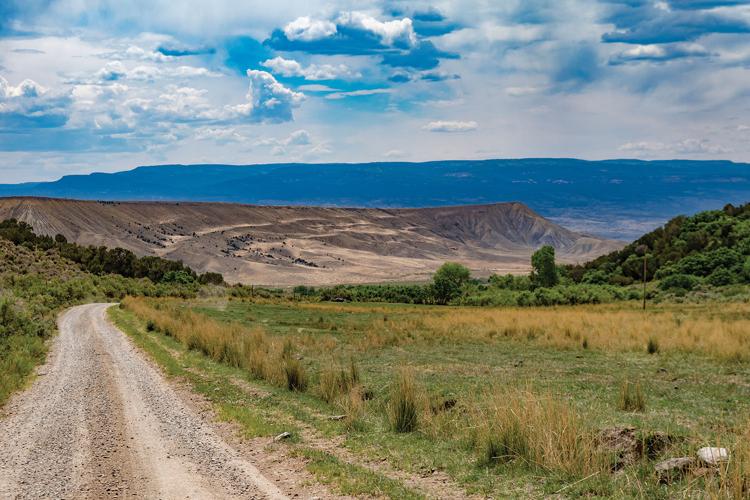 With that, Janie Van Winkle cleaned up the "chuck wagon" and hustled off to join her husband and son as they began to guide a couple of dozen Charolais calves up the ramp. This load went for a 45-minute ride west to the edge of the Uncompahgre Plateau. Once they leave the truck they will "hoof it" up a steep trail to the Van Winkle range.
The Uncompahgre summer range is a series of allotments, through which the stock will be rotated to maintain the quality of the range grass.
"It is pretty dry up there this year. We're going to have to keep an eye open," Dean said. "We will probably rotate them more quickly to keep the grass in good shape."
That said, the 5-Diamond grazing plan is such that each of the pastures eventually gets an 18-month rest from any grazing.
Contrary to what many believe, the cattle on summer ranges are not "on their own." The Van Winkle hands will be checking on their health and well-being and moving them when the range dictates. When you consider that part of the herd is on Grand Mesa, the other part on the Uncompahgre Plateau, and one of the family is lending her talents to the CCA, there is most likely no ocean cruise on the schedule.
And what does Howard have to say about his wife's new task?
"A great opportunity and challenge for Janie, less help on the ranch for me," he said with a grin.