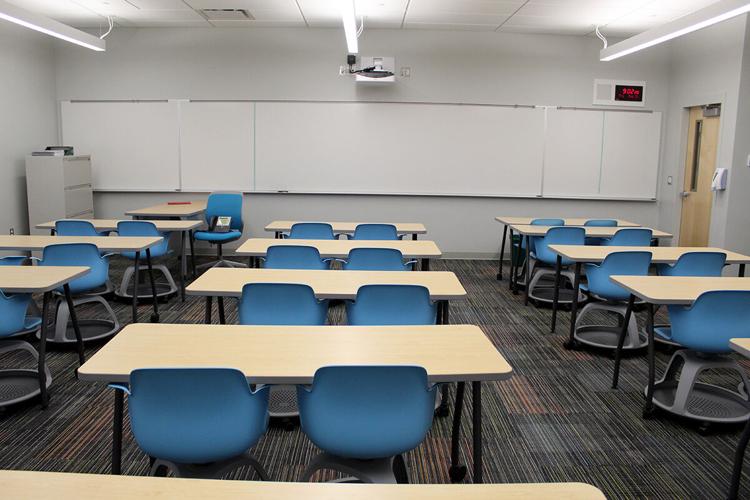 Montrose County School District released its Return to Learn plan for the 2020-21 school year on Friday, giving families, students and district staff an opportunity to review the district's back-to-school protocols.
All schools will begin on Thursday, Aug. 27. Once families and teachers complete their surveys, each school's administration will communicate with families about the first day of school schedule and events by Aug. 14. Once students' schedules are completed, families will be notified.
The district acknowledged the concerns of parents in sending their students back to school and the concerns of teachers educating students during a pandemic. From those conversations, the district developed three principles to guide their plan.
— Public health recommendations will guide the district's Return to Learn plans
— Both in-person and online learning options are available
— Online instruction will be better than last spring
Staff completed the Online Readiness for Blended & In-Person Teaching (ORBIT) program throughout the summer to develop teachers' teaching styles to present high-quality online learning for students.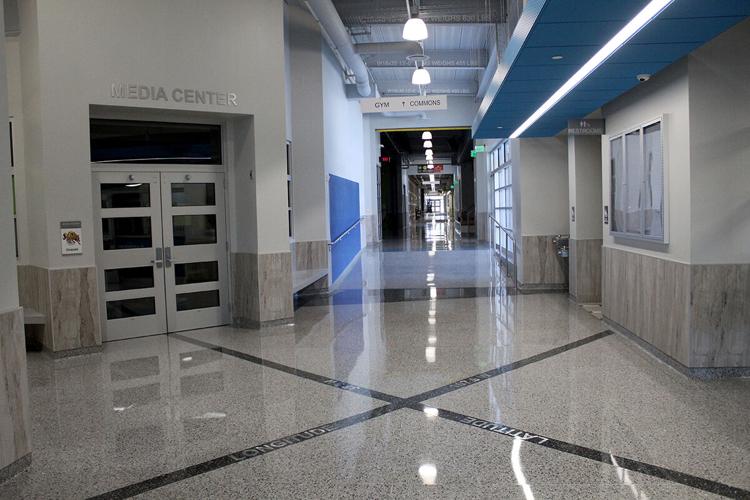 "Throughout the summer, district leadership has reviewed the most up-to-date local, state and federal public health recommendations," Superintendent Carrie Stephenson said. "We've met with parents, teachers, community members, small business owners and local medical and mental health providers to ensure we have the answers families need to make informed decisions regarding their child's education and well-being."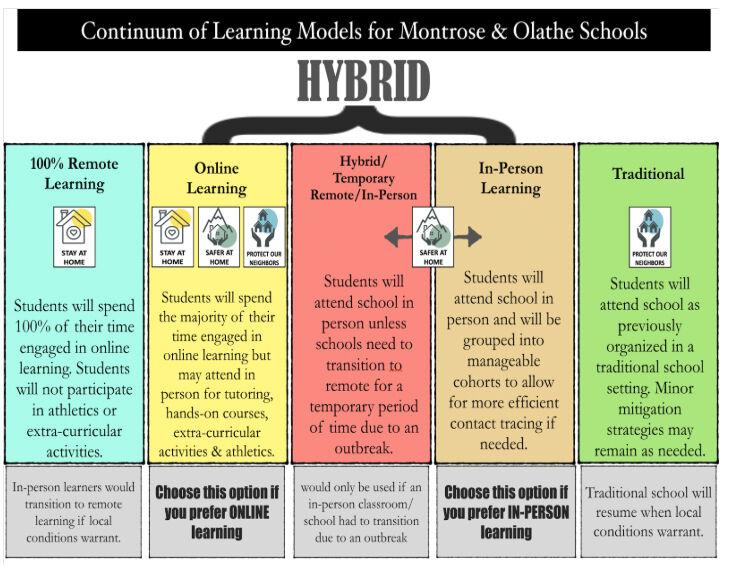 Return to Learn under state orders
MCSD's Return to Learn Plan follows the guidance and phases from the Colorado Department of Education and Colorado Department of Health and Environment, which is based on three phases: Stay-at-home (high COVID-19 incidence in the community), Safer-at-home (moderate COVID-19 incidence in the community) and Protect our neighbors (low COVID-19 incidence in the community).
During a Stay-at-home order, MCSD will offer educational opportunities through either 100% remote learning or online learning, allowing for in-person tutoring, hands-on courses, extra-curricular activities and athletics. Under the Safer-at-home order, MCSD will operate in a hybrid or in-person learning model. The hybrid model allows students to attend school in person unless schools need to transition to remote learning for a period of time due to an outbreak. In-person learning permits students to attend school in managed cohorts to allow for efficient contact tracing, if needed. The Protect our neighbors order allows students to attend school in a traditional setting with minor mitigation strategies in place.
For families who choose online learning for their child, MCSD has developed various scheduling options to meet students' needs.
Students can learn completely from home, schedule in-person tutoring sessions with small groups or one-on-one and participate in hands-on courses like arts, music, P.E., robotics, engineering, wood shop, science labs, auto mechanics and welding/machining.
There will be dedicated MCSD teachers for students who choose the online option to ensure the quality of student learning is comparable to students who are receiving in-person instruction.
Students will have differing starts to their academic year based upon their grade levels.
For kindergarten students, the first days of school will be staggered, with small groups of students coming to school, instead of an entire class. Kindergarten students are not scheduled to begin full days of school until Tuesday, Sept. 1.
Preschoolers will return to in-person learning at all three sites (Olathe Elementary, Johnson Elementary, and Montrose). Students are not required to wear masks except during the screening process when they arrive at school. Students are encouraged to wear masks during instructional time. All adults will wear masks. To reduce the spread of germs, students will wash their hands frequently. Parent volunteers will be suspended for the year.
Elementary students in kindergarten through fifth grade can learn in-person or online, five days a week. Families who elect for their child to participate in in-person learning can expect students to be kept in cohorts with access to specials and recess time.
Middle school students in grades 6-8 also have the option of in-person or online learning. Students will take classes on a modified schedule with three to four classes per day, depending on the week. Middle school administrators will communicate student schedules, which will be set up with alternating subject content weekly.
Within the plan, it states, "If 25% or more of middle school families choose the online option, each and every student who chooses in-person learning will be able to attend in-person, five days a week … If less than 25% of families choose the online option, the in-person students would need to be separated into two cohorts to offer a hybrid learning experience and meet social distancing needs."
This is also true for high school families.
High school students in 9-12 grades have the option for in-person and online learning. Peak Virtual Academy will continue with high school schedules as it has previously. Olathe and Montrose high school students will see changes for open campuses, lockers, students schedules and access to off-campus activities.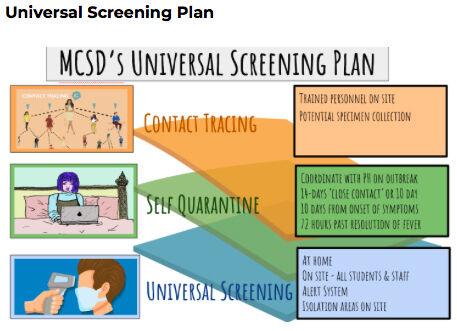 MCSD will follow the universal screening plan, including a temperature check at home and a daily on-site screening procedure. Students and staff will be screened with a touchless thermometer and symptom questions prior to entering school daily. Anyone with a fever (100.4 degrees or greater) will be screened again and quarantined until a family member can pick them up.
Symptomatic staff and students will quarantine for 10 days following the onset of symptoms and 72 hours follow the resolution of a fever or a negative COVID-19 PCR test.
The district will use contact tracing to ensure that public health can work with the district to determine who else may be at risk of contracting COVID-19.
Learning environment modifications
Staff and students will be trained on appropriate behavior and practices for instances where social distancing in buildings cannot be attained. All students are required to wear a cloth face covering during their screenings.
Preschoolers through fourth grade students are encouraged to wear masks and fifth through twelfth graders are required to wear masks during the school day. Special education staff and families should plan for the viability of masks, personal protective equipment and social distancing.
Staff are required to wear a cloth face covering while on duty. Staff are not expected to wear a mask when working in a solitary space, but must have a mask on their person, should someone enter the space.
While the district is taking steps to prepare for both in-person and online instruction, Stephenson said, "We've missed the children of Montrose County School District beyond measure and we're excited to welcome back students and staff to the joy and passion of learning. We can't wait to see you."
MCSD staff will select their preferred work model, either in-person or online. Surveys are due Aug. 5.
Students in grades 6-12 are also asked to complete a survey to share their thoughts about the plan.
"Your responses will help us organize appropriate numbers of staff and resources to meet both online and in-person learning needs and allow us to reopen in a way that meets the health, safety and developmental needs of our children, economic needs of our community in a manner informed by science, logic, consideration and care," Stephenson said.
As the district publishes its instructional plan for the school year, Stephenson said, "Our hope is that the information will allow you to make an informed decision regarding a safe and healthy return to learn for your child's upcoming school year."
Read the full plan at here.