Hopeful to finish off an undefeated season and come home with a state title, the moment didn't come to pass for No. 3 Montrose (18-1). Behind Elijah Knudsen and a strong defense, No. 5 Mead (15-3) defeated the Indians 68-44 on Sunday in the 4A state title game.
There were plenty of moments when Montrose cut the deficit to single digits during Sunday's contest. The Indians entered the second quarter with a 21-6 deficit, and stormed back to cut Mead's lead to 27-23.
"I was proud of the way we fought back and cut it to four at half," Montrose coach Ryan Voehringer said. "We had some crucial turnovers to start the second-half and they extended the lead to double figures and we just could never recover."
In the third quarter, it was 29-25, and Montrose was within striking distance. But turnovers, and Mead's Knudsen and Marcus Santiago making it rain from three, helped the Mavericks gain a huge lead with 41 second-half points.
"Mead was great tonight on both ends," Voehringer said. "Credit to coach (Darin) Reese and his kids. Their defensive pressure stifled us all night, especially on the perimeter."
The Indians never had a lead during Sunday's contest, and were held to their lowest scoring output this season. They shot 35% from the field and were 1-of-7 from three.
Montrose also had 17 turnovers and just three assists, a season-low. It's the first game this season the Indians had under 10 assists.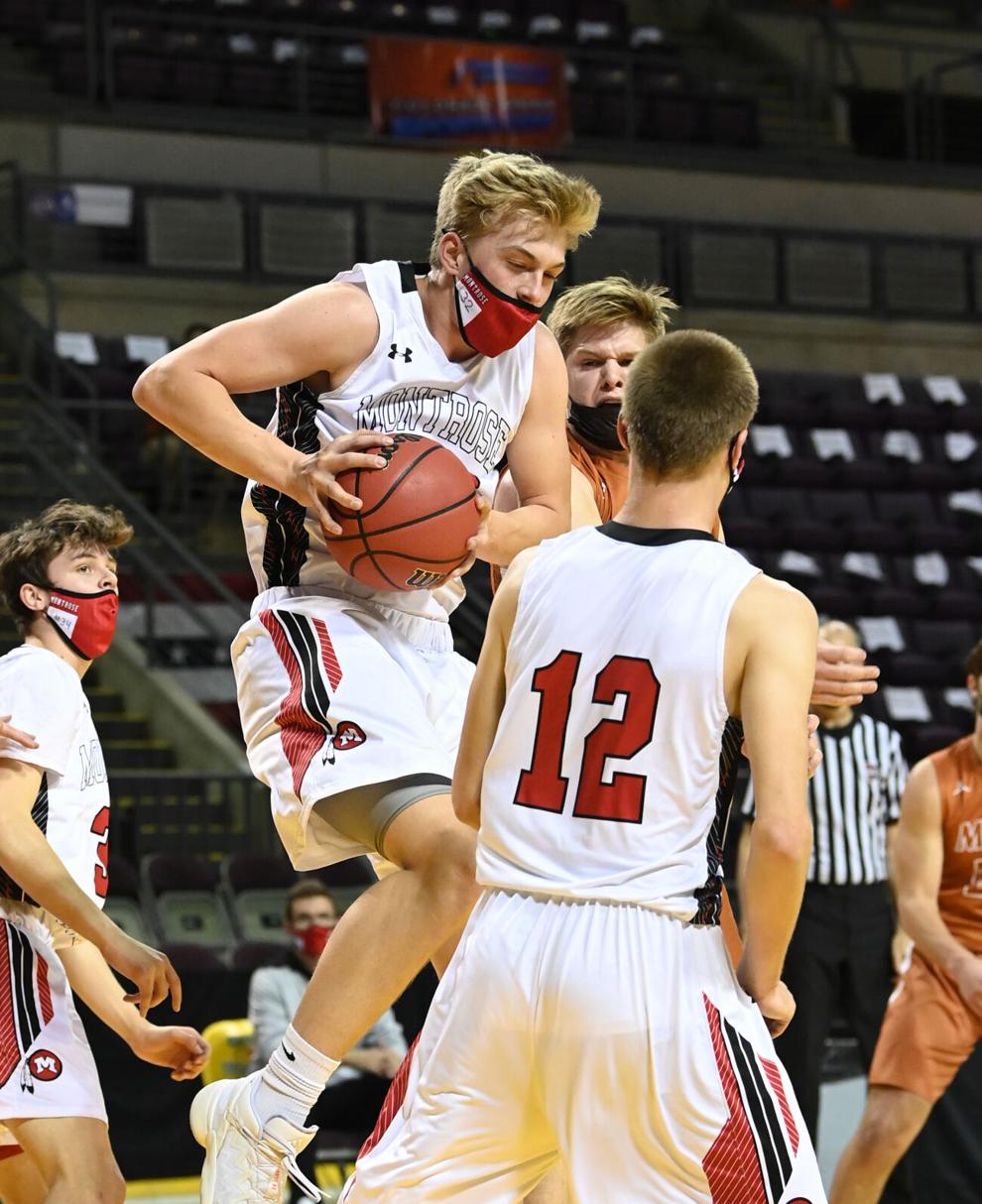 Knudsen played as advertised during the title game, scoring 30 points on 12-of-24 shooting with four three-pointers. He came in averaging 18 points, and there's a reason why. The junior converted a pair of step-back threes with his quick release and consistently attacked the lane for layups.
"They were very good offensively," Voehringer said. "Especially Knudsen. Great guard who can score off dribble and shoot it from deep."
He put his offensive abilities on display quickly, guiding the Mavericks with 13 points as they pushed to a 21-6 lead after the first eight minutes. Mead's defense, too, was stifling, limiting Montrose to 30% shooting in the period, and little opportunity for perimeter shots.
The Indians responded in the second, though, scoring 17 and holding the Mavericks to six points. But Mead's defense clamped down, pressuring Montrose on the outside. The Mavericks competed for most of the game without 6'9 JP Shiers, who, after getting called for three fouls in the first, picked up his fourth early in the third.
The foul trouble allowed the Indians' Ashden Oberg to find some open room in the paint, as he scored a team-high 17 points. Luke Hutto, too, had some soft touch finishes, scoring 13 points, and point guard Trey Reese added eight points on 3-of-8 shooting.
After entering the fourth quarter down 10, Montrose couldn't hold off Knudsen and Santiago, with the latter scoring 13 of his 18 points in the period, nine of which came from the perimeter. Mead went on a 10-0 run in the first 1:06 of the quarter.
The extended run eliminated any chance for a comeback for Montrose, who finished the season 18-1 and are the 2021 runner-ups.
"I told the guys that I've never been more proud of a team in the 17 years I've been a head coach and that I loved them," Voehringer said of his postgame message to the players. "What they accomplished this season was remarkable and they have nothing to hang their heads about.
"Obviously not the ending we wanted but what a great ride. I also want to thank the entire community of Montrose for all its support this season."
The title win is Mead's second in program history, and its first since 1957.