This past winter, 11-year-old Ollie Graves and his dad, Spencer, would head out to the local skate park in Ridgway around mid-morning and start the lengthy, time-consuming task of clearing out snow and ice that engulfed the park so Ollie could get some practice time on his skateboard.
At one point, the ice was so thick that Spencer hooked up a pair of blow torches on propane tanks to diminish the ice patches. "We had two flamethrowers going at times to de-ice the thing so he (Ollie) could get his lines in," Spencer said.
Eventually, the two were able to clear up the park some, and would only need to shovel snow as it dropped over the winter. In all, the two estimate putting in 70 total hours all winter to keep the park clear and skateable.
After all, nothing was going to stop Ollie from getting on his board.
"I was really working at it in the winter," he said. "It was fun. It's kind of what you have to do around here when it's a little colder than the California sunshine."
Ollie's commitment and determination has led him to the 2021 USA Skateboarding National Championships, a competition that features some of the best skaters in the country. Any skater in the U.S. could participate, with no age limit. The competition, traditionally in-person, is currently virtual due to the pandemic. After submitting an open qualifying video submission, Ollie advanced in the competition and reached the quarterfinals, securing a top 30 spot at just 11 years old. (He placed fourth among all men's park qualifiers).
On Saturday, he found out that he reached the semifinals, climbing into the top 20 which includes 12 top ranked Americans who will skate for the national team.
Now, Ollie will submit a semifinal video submission, hopeful to reach the top eight. And there's gravity to being named one of the eight finalists that will compete in the finals in May. Points toward the World Skateboard Rankings and Olympic qualifying will be awarded to the finalists. At the 2021 Tokyo Games in Japan, men's and women's skateboard park and street events will make their Olympic debut.
No matter where Graves finishes, though, he understands already placing in the top 30 before semifinals, at such a young age, is a feat he wasn't sure was possible.
"He's earned it," Ollie's mom Katie Graves said. "He is a unique 11 year old… he has an adult mentality, and he's determined and focused and driven, and that has been the case since he was born."
A "competitive little soul"
Graves first started skateboarding around 3 years old, and started to push himself as a skater at 7. There wasn't any magic wand or stroke of luck that enabled him to learn the craft so quickly. The more he skated, the more he got used to it. He was gifted a skateboard during Christmas one year, and started to ride it around. Once the family moved to Colorado, he pushed himself some more.
"He's a very competitive little soul, so as soon as he started competing, and realized how much he wanted to win and be on top, that really was the motivation for him," Katie said. "Not everybody has that self-determination, and he does."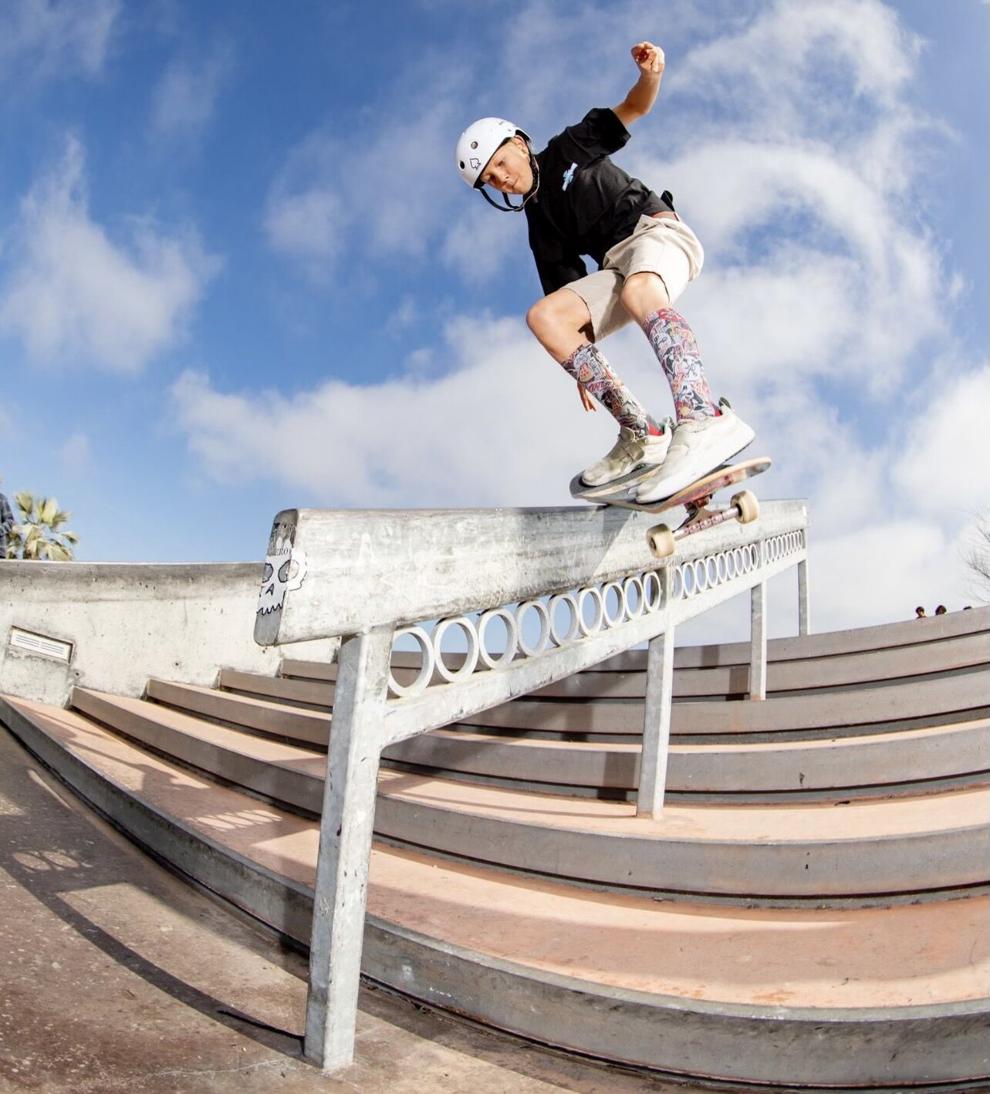 Graves eventually entered his first competition, the Hot Wheels Junior Series in Orange, California, when he was 7. He was nervous at first, but those nerves quickly took a step back as the competition started.
"I definitely knew when I started that this was where I want to go in my life," he said.
He's now participated in about 10 competitions within the Hot Wheels circuit, and twice in the GrindForLife series, where he was crowned first place both times. He's competed locally, too, in Telluride, Gunnison and Grand Junction, in addition to some more out-of-state locations, like Phoenix and New Hampshire.
Though Graves can skate park, he does just fine with street skating, too, placing first at a contest in the California Amateur Skate League. He also took first in the sponsored 12 and under division for street and bowl.
One of the more exciting moments, he said, was when he won $250 at a contest in Grand Junction.
That taste of initial victory, though, merely scratched the surface of where Graves wants to take his journey with the sport.
"I don't want to be a pro and be successful," he said. "I want to keep on going. Tony Hawk, he went pro and didn't stop. He kept going, doing different tricks. He's 52 years old and is still doing tricks that he was doing when he was 15. That's what I want to do."
Skaters in larger cities typically reap the benefits of having sunny weather and some of the best parks to skate on. Even parks in Denver, Arvada and Golden, places where Ollie has skated, feature prime places to rip some runs.
In Ridgway, however, conditions are different. The concrete is rough and it's a tougher park to skate. It doesn't have a street course, and it's "old and pretty gnarly," says Spencer of the park that doesn't even have a name. "That's how small it is," Ollie said.
But it doesn't matter, he adds. A park's a park — the prime place to continue working on his craft, and what's helped him become the skater he is today.
"I come home, get ready, and skate a really gnarly park, but it's making me a better skater, so it's a good park," he said. "I wouldn't be where I'm at without my park."
That park is where Graves has learned some of his best tricks, including a 540, where the board does a 360 flip but turns for another 180 degrees. It's a trick he nailed a few months ago, just in time for the championships.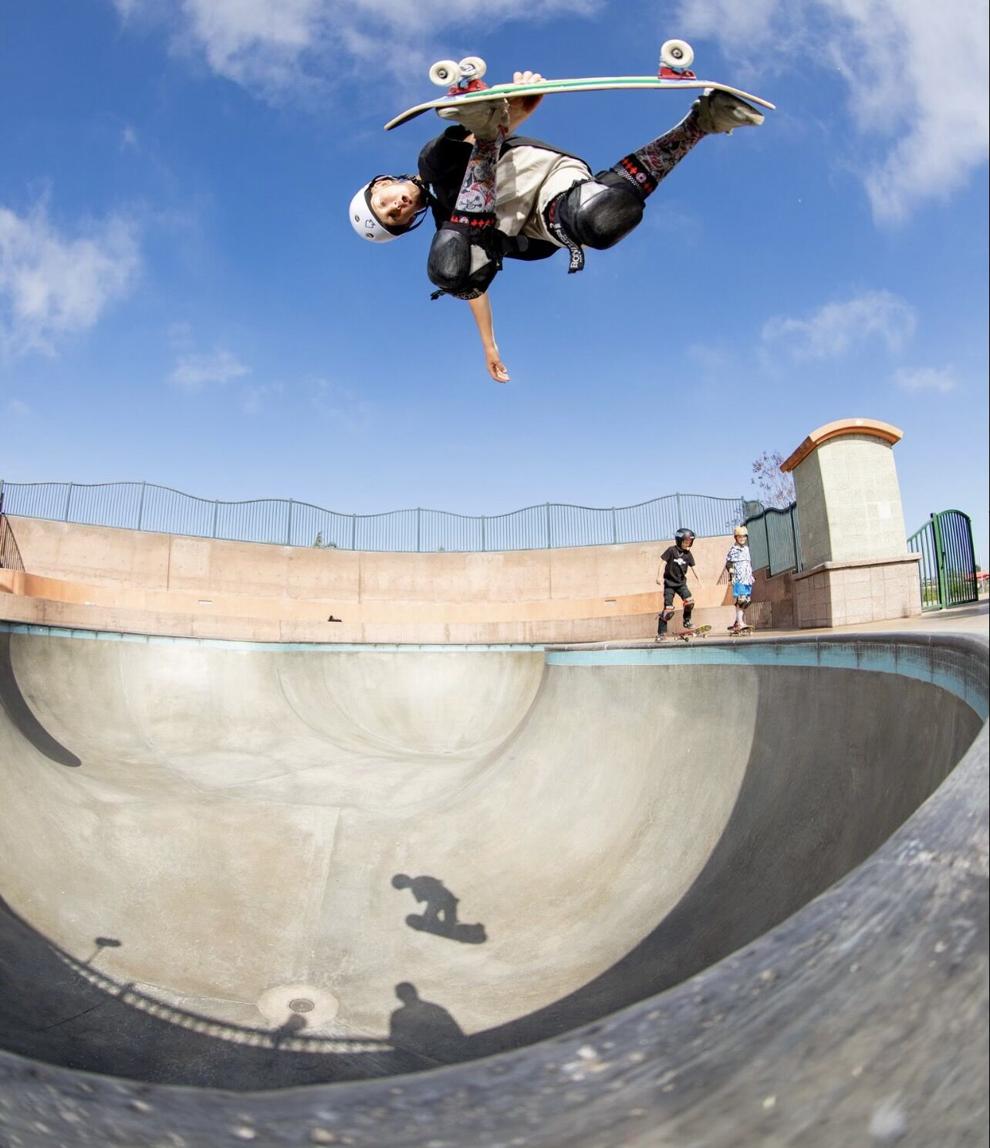 Other tricks he's perfected are a frontside 180 and frontside flip, among others. Growing up at the park in Ridgway means skating in locations with better conditions, like in California and Florida, comes easier to Graves. It helps that he spends around three to four hours a day skating. And even when he's not completing some lines, he's breathing, thinking and consuming the sport, scouring Instagram during his down time to see what his peers are accomplishing, riding the family's mini-ramp or continuing to formulate plans to build a vert ramp nearby.
"If he's got his goal to do something, he won't stop until he reaches that goal... I don't think that's going to change," Katie said. "He'll slam his body on concrete 100 times until he gets what he wants."
Ollie isn't the only one in the family with some skating chops. Ollie's brothers, Cole, 13, and Tristan, 9, also skate, and sometimes ride together. Cole and Tristan can hold their own, says Spencer, who films Ollie's contest entries and videos for Instagram, and also shoots for Cole and Tristan. 
Before submitting an entry for the USA Skateboarding National Championships, Spencer and Ollie talked through what the latter's run would be, piecing it together as Ollie practiced each trick he would showcase before completing the full line.
He's filmed the boys so much that he knows what exact moves they're going to make during the line.
"(Filming and helping) is my connection to these guys," Spencer said.
The brothers learned how to skate from Craig Wasserman, who owns The Drop in Telluride and conducts skateboarding camps throughout the summer. (Ollie is the only team rider for The Drop, and gets his boards from Wasserman.) Mutual Friends in Grand Junction, another local skate shop, like The Drop, has also played an integral role in growing skateboarding on the Western Slope.
The trio don't just skate, either. Cole surfs and snowboards, Ollie, like Cole, likes to snowboard. Tristan has already won some skateboarding contests of his own. They all play lacrosse and football at Montrose High School. And Cole, as the eldest, has fit that big brother mold.
"He's guided them and encouraged them and has been a big support," Spencer said.
Tristan, at 9, like Ollie, has quickly morphed into a talented skater himself. "He's a shredder," Ollie said of Tristan.
All three ride for Pro-Tec Helmets, and the pair have rooted Ollie on during his run in the current competition.
"As a dad, I'm super proud and I love that I get to watch it unfold," Spencer said.
"It's been an interesting journey with all three of the boys," Katie said. They are their unique selves, and it's important as parents to support that, and be a part of that without interfering too much.
"We're all happy for Ollie because he works so hard."
Ollie has peers he looks up to, some of whom he now skates with, like Zion Wright and T-Mag. It's come full circle, as many, like Wright and T-Mag, were skaters Ollie watched when he was younger.
Though at times he emulates what other skaters are doing, Ollie's focused on what he can control. He wants others to see his skating and see that it's his style.
"Of course I look up to their skating and want to be as good as them one day, but at the same time, I want to be a different skater so people can see me as me," he said.
He doesn't necessarily specify his goals. He's already a flow rider, considered a stepping stone of opportunity for an aspiring professional skateboarder, for skateboard companies Powell Peralta, Bones Wheels, Bones Bearings and Independent Trucks, and he's motivated to accumulate funds for his vert ramp by selling ice cream and popsicles this summer.
No matter what happens on Saturday, finals or not, he's confident his story is just starting.
"I don't go (to competitions) because I have to," Ollie said. "I go because I want to have fun and pursue my dream. It's fun to me."
To view some of Ollie's skateboarding, visit his Instagram page @olliegraves_.
Editor's note: This story previously said Chris when referring to Ollie's older brother. That is incorrect. It is Cole Graves.