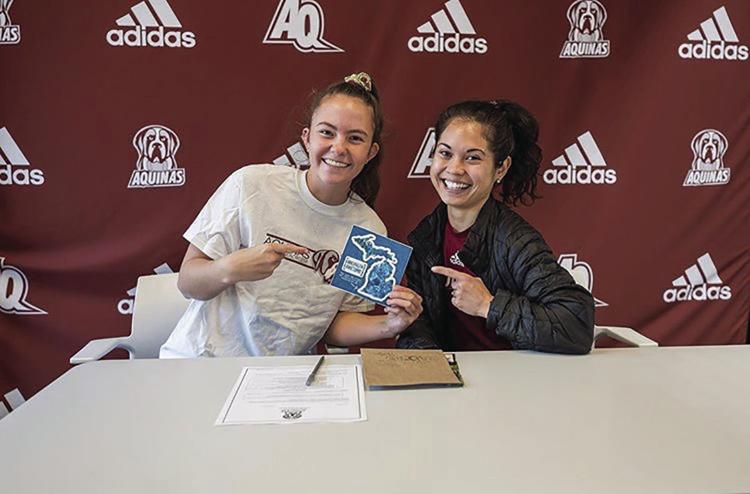 Before entering her freshman year at Montrose High School, Kennadie Minerich had a goal: become a three-sport varsity starter.
Now a senior and ready to graduate, not only did Minerich end up being a varsity player, but she started in all three sports with immense success — basketball, softball, and lacrosse — all four years of high school.
"I'm a very competitive person, and I wanted to prove that to everybody else," she said. "I wanted to do what not a lot of people have ever done before. That's what ended up driving me to go play for Telluride so I could accomplish that goal."
"She wasn't going to be satisfied unless she was a starter, and she did that. She did that all four years," said Paul Minerich, Kennadie's father.
Since MHS didn't have a girl's lacrosse program until Minerich's junior year, she had to play for Telluride High School her freshman and sophomore seasons. Her senior season in lacrosse was cancelled due to COVID-19, but Minerich already exceeded the goal she set out to achieve.
"It means a lot," she said. "It definitely means a lot that my parents were right there by my side for that. My mom was the one driving me to and from practices all the time and my dad was the one getting me onto all these club teams to play at higher competitive levels. So, it really means a lot that I was able to accomplish that with them."
Her lacrosse success caught the eye of Angelica Gero, the head coach of women's lacrosse at Aquinas College in Grand Rapids, Michigan. Across three seasons, Minerich scored 153 goals. She scored 67 times her junior season at MHS, which placed her sixth in the state.
Later, Minerich accepted an offer from Aquinas in the fall, setting a path to play lacrosse in the National Association of Intercollegiate Athletics (NAIA) association.
"I can't wait for Kennadie to join us," said Gero in a press release that announced Menerich's signing. "Her tenacity and passion on and off the field are going to make her an outstanding asset for our team."
"Lacrosse is what I wanted to play at the next level, and I also felt that Aquinas was going to be the best fit and the place where I would've been the happiest to continue my athletic career," Minerich said.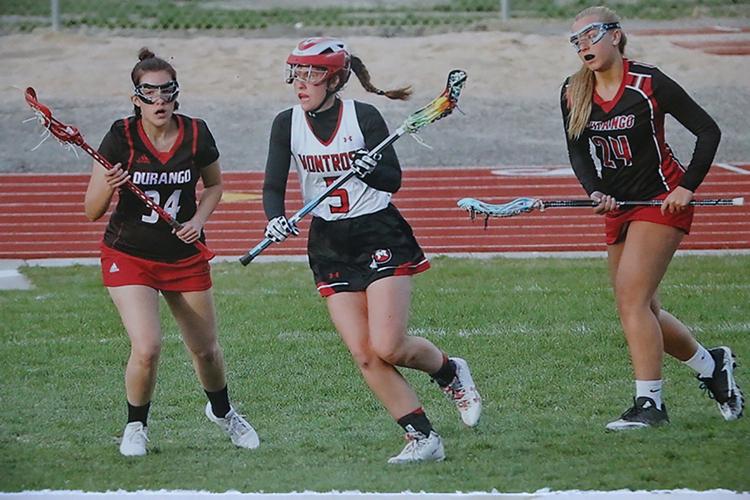 "I'm looking forward to the increase in competitiveness. I know everybody there has the same drive as me, so to be on a high forming team is really exciting," she added.
In basketball, Menerich was a three-time first-team All Conference selection and an All-State honorable mention junior year. She was voted by coaches to play in the All-State basketball game last year, and again this year for the 2020 All-State games held in July at Colorado State Univeristy's Pueblo campus.
Softball was no different. Minerich was a four-year All-Conference selection.
Off the field, she took care of her studies, finishing with a 4.11 GPA.
"You're really proud," said Paul when speaking about Kennadie's accomplishments. "As a parent, you're pretty stoked to see it. She's got great enthusiasm. I've enjoyed watching her play, not just because of her successes, but playing the game the right way. It's important too and that stood out to me."
Kathie Minerich, Kennadie's mom, saw the accolades pile up, witnessing closely how much work her daughter would do year-round to become a better player.
Watching her perform the way she did wasn't a surprise for Kathie.
"She puts in so much time and effort out of season that it surprises us, but it doesn't totally surprise us because she puts in the work," Kathie said. "You're not going to get better unless you do reps, and you need more reps then what you get at practice and she was committed to doing that."
Not only would Kennadie be honing her craft in-season, she would work to improve in other areas for different sports, no matter the season. She wanted to play with and against older competition. An offseason didn't exist for the senior, who wished to avoid any rust preparing for a new campaign.
Her drive, motivation to improve and understand the multiple sports she played in, and humble nature has helped Kennadie become one of the most accomplished student-athletes to play at MHS, Paul believes.
"She had, in my opinion, and which several other coaches have shared, the "IT" factor," he said. "That's the intangibles that I don't know that you can coach. IQ for the game, instincts, and visually seeing how a play is unfolding and what that play might become has helped her become successful."
"If you're willing to work harder then the next person, your opportunities are greatly enhanced."
Kennadie's effort and personal motivation has helped her reach the stage she's at now. An athlete can only go as far if they themselves put in the time. But it's a family effort, said Kennadie, that's helped push her to the next level.
"One hundred percent, without my family I would not be where I'm at today," she said. "My parents were at every single game, and my family was always behind me, supporting me. So it really was a family effort."
Kennadie's now preparing her lacrosse game for next season. It's a demanding sport, physically and mentally, especially cardio wise, she said. But being involved in the action, witnessing and being a part of her teammates' success makes the sport a special one, even after those long sprints in game.
"What gets me going every time is the chance to see [my teammates] goal, or an assist on goal," Minerich said. "When me and my teammates can thrive, it really excites me, and it makes all that running worth it."