Following a community survey among Montrose County School District staff, parents and students, a new school calendar will be implemented for the next two school years (2021-2022 and 2022-2023).
With three calendar options — traditional, social emotional wellness and outdoor recreation — after tallying the survey results, MCSD chose the outdoor recreation calendar (now referenced as the "official school calendar"). The calendar was chosen using the combined results, which revealed the calendar as most preferred among survey participants. The calendar also allows for a later start date (Aug. 16 for staff, and Aug. 19 for students), a concern in some feedback, as well as honors the preference of participants who preferred the traditional calendar.
The swap in calendars comes as MCSD sought out a collective community voice in the new calendar, a practice that hasn't been done in several years.
"Montrose County School District values the voice of our families and stakeholders and Superintendent Dr. Carrie Stephenson continues to prioritize engaging staff, students and families in district planning," MCSD said in a provided statement.
Each calendar offered a different way to approach the school year. Traditional, however, was the same, except that Martin Luther King Jr. Day would be observed and an off day for students and staff.
"Social emotional wellness" offered some options for both staff and students, as the calendar would have used full days of professional development for staff, and extended breaks in October, November, December, March and April. This calendar was heavily favored among students, staff and parents, with 44% of all participants selecting it as first preference. The calendar was especially favorable among staff, as 57% selected it as their first choice. Thirty-nine percent of parents had social emotional wellness as choice number one, and likewise for students, who were at 46%.
The majority of staff, as second preference, chose the "outdoor recreation calendar," which will feature three-day weekends during the second and third hunting seasons, a time, MCSD said, where families take a vacation regardless of what's listed in the school calendar. The calendar also has opportunities to take extended weekends (with some listed as "no school" on Mondays) throughout the school year, and still features time off for Thanksgiving break, winter break and spring break. It will honor MLK Day.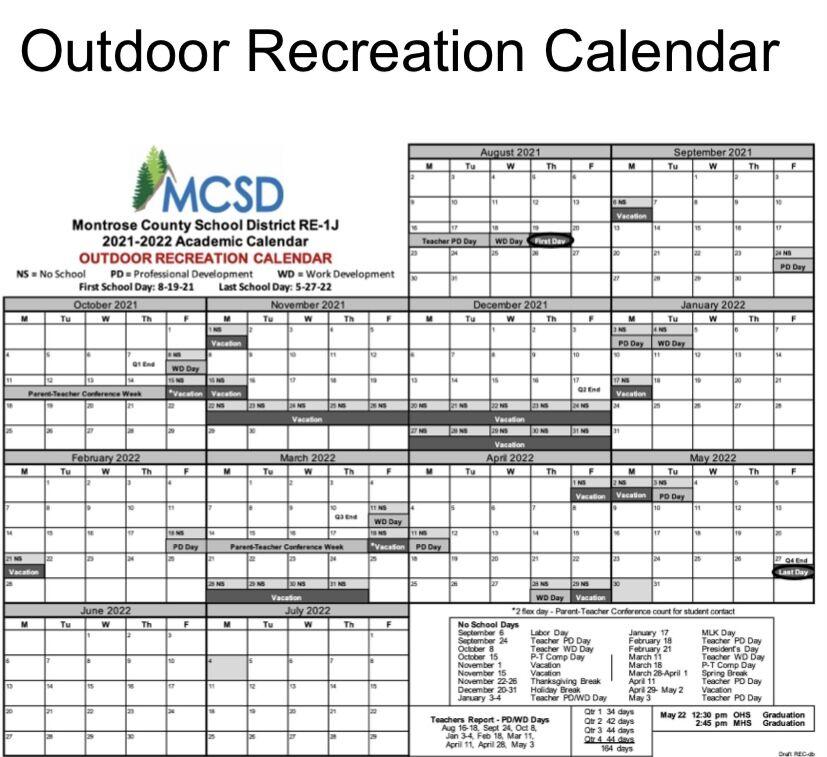 Students and parents, also, opted for the outdoor recreation calendar as their second choice, with each garnering 43% of the vote.
When combining first and second preferences for all votes, outdoor recreation garnered 38% of the vote, in front of social emotional wellness (35%) and traditional (27%).
POLL: Do you agree with MCSD's decision to offer extended weekends during hunting season as part of the new school calendar?
Middle school students accounted for 57% of the vote among all students (high school students made up 42%). While additional feedback responses from the students varied, many said additional time off from school such as three-day weekends (beyond traditional breaks) and deviating from online learning were on their wish list. Others were fine with the current calendar, and some thanked the district for the opportunity to provide feedback.
Additional responses from parents to the calendar committee also varied, though some expressed concerns with the social emotional wellness calendar, citing childcare challenges, too much time off, while others said it could lead to increased productivity and beneficial to have more breaks to aid the students' mental health. The extra time off during hunting season was a hit for both students and parents.
Feedback from staff, from which the majority came from elementary (43%), was mixed, as there was a blend who preferred different calendars.
With the new calendar adopted, the following school year will start Aug. 19 and end on May 27.
Josue Perez is a staff writer for the Montrose Daily Press