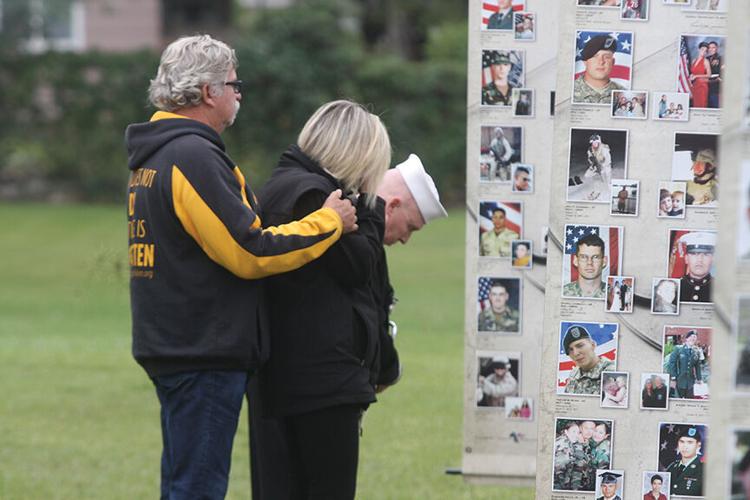 On a cold, brisk morning in Montrose on Friday, several local leaders, first responders and community members gathered behind the Elks Lodge for a ceremony honoring the men and women lost 19 years ago during 9/11, and those who have served and died since. Those in attendance included Montrose County Commissioner Keith Caddy; State Sen. Don Coram, R-Montrose; State Rep. of District 58 Marc Catlin; and special guest speaker Kayla Holst, public affairs officer for the Grand Junction VA. Each gave a speech during the 40-minute ceremony.
Near the tail end of the ceremony, during a musical interlude featuring a voice over and the song, "I'm Already There" by Lonestar, it was difficult for the local leaders, and many in the crowd, to hold back emotion.
For Holst, who served from 2005-2013 in the Marine Corps, the song instantly clicked, as it was heavily played when she and others were deployed in 2006, and consistency played at VSOs.
"It reminds me of leaving or coming home, and it's emotional," Holst said, near tears.
Though the morning had somber moments, it wasn't without a fiery speech.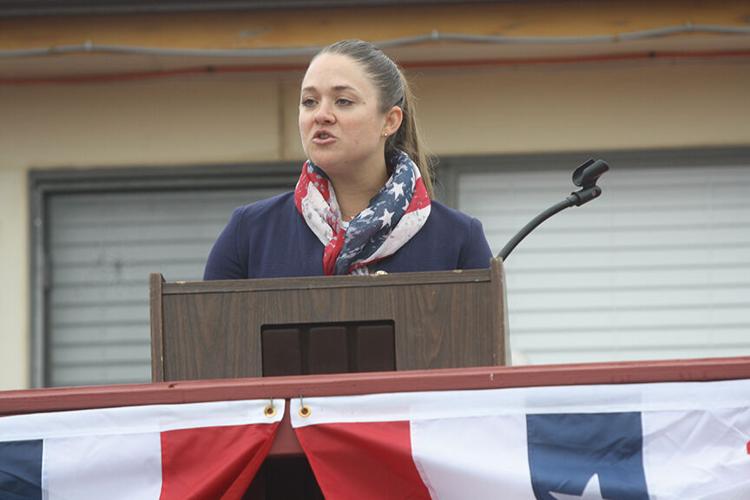 "Today was the worst day that I know of in my life as an American. People would attack this country for what we are, who we are and how we are, thinking that they can knock us down like they can knock down a building. Surprise. The worst day led to some of the most together days that this country's had in a long time. As those buildings fell, we stood up as one and said, 'no, this will not stand. You will not bring us down.' And everyone of us felt that. It was an amazing feeling that we felt kinship with the [people] that had died, with the people that had survived, the people that decided they would change their life that day. Join the military and go make it get even. I was proud to be an American that day, and I've been proud to be an American since that day," Catlin said during his speech.
Catlin, and Caddy, went on to thank the Montrose Police Department and other first responders for their service.
During the ceremony, Paul Chamberlain performed the national anthem and attendees participated in prayer and a moment of silence.
Mathew Gallegos, Elks Lodge manager and event coordinator, said he was moved by the ceremony.
"The ceremony was emotional throughout," Gallegos said. "It's really about letting people know what the ultimate sacrifice was for our freedom. Each panel and each picture tells a story out there and people need to know and need to realize how powerful it is and how important those men and women are who gave their life for our freedom."
Coram and Caddy also spoke about the importance of 9/11, a day that not only brings somberance, but a passion for the freedoms many soldiers and Americans fight for.
"It's a day much like Dec. 7, 1941. We were hit unexpectedly, and we needed to take those guys out," Gallegos said.
Age 15 in 2001, Holst remembers the fear that rippled through the country of a potential additional attack. She, and several others, were moved to enlist, and it's why she agreed with Gallegos, stating that America back then, and now, is going to fight for its freedom, something she additionally touched on during her speech.
"[9/11] means courage, pride and we're not going to go without a fight," she said.
Following the event, Mark Stallins, co-founder and vice president of the non-profit National Honor Tour, played "Taps" for Noala Fritz, a Gold Star Mom and on-site representative who travels with the Remembering Our Fallen Memorial.
Fritz lost her son, Jacob N. Fritz, a first lieutenant who was executed while in POW status in Iraq. His photo was on one of the walls.
Fritz, moved to tears, said the moment brought back a flood of memories.
"Watching him grow up and living on the farm and being able to follow his dreams and having those dreams cut a little bit too short, but yet knowing his goal in life," she said. "He always wanted to be a leader of men. He was able to reach his goal and achieve that goal. His fellow soldiers all said he was one of the best officers they ever worked with."
Stallins later performed a few more times following the ceremony. He said the Remember the Fallen Memorial is equivalent to the Vietnam Wall. For him, with a memorial of high pedigree, the act of performing for families is one he's more than willing to do.
"To give these guys and their families a little bit of help and show someone cares enough to give that to them, it's huge," he said. "It's a mission."
Tina Hall, a Montrose resident, worked to hold back tears as she went to honor her brother-in-law Curtis R. Hall, who she called her "little brother." Curtis was a member of an Explosives Ordinance Disposal Unit in the U.S. Navy and died in 2007 while serving in Iraq.
"Super proud; super proud of Curtis and his sacrifice," Hall said.
Hall's son, Ethan, was 3 years old when Curtis died. Curtis, posing for a picture with the younger Ethan, held him up on his soldiers. Recently, after Ethan graduated from Montrose High School, he enlisted, and before leaving, posed for a picture with his niece, emulating the photo taken years ago of Curtis and Ethan.
"He was so proud of this country, and we're so proud and respect him and his sacrifice," Tina said. "You think of the love they have for this county and how important it is."
Fritz added the day helped her reflect, and left her hopeful there could be less division amongst the population, and more unity.
"I wish we could go back to as united as we were. I thought that was very poignant — that we need to become united," Fritz said. "The young men and women that are on these tours, there's no discrimination whether it's age, race, sex or religion or political party. They're all united. … I just want us to remember that these brave men and women, and even those that were unsuspectingly killed in the towers, they do that because they love America. We love America and we want to stay free and enjoy our freedoms."