What's happening in the Montrose real estate market is mirroring the boom in most markets across the country: inventory is tight and wealthy out-of-town buyers with deep pockets are pricing out locals desperate for a home.
According to recently released data from the Colorado Association of Realtors, the median sales price of $367,000 is nearly 30% higher than in June of last year. Only a month and half's supply of homes is on the market, compared to over four months at this point last year.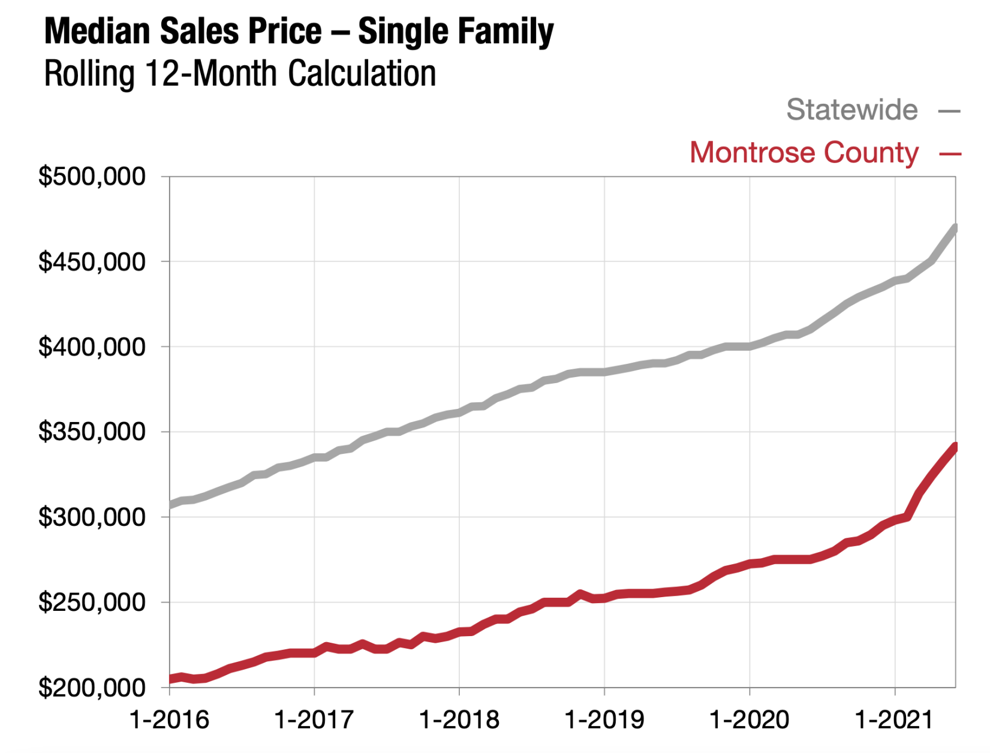 Only 106 single-family homes were available on the market, which is less than half of the 230 available in June 2020. However, this is an improvement from just three months ago: only 82 homes were on the market in March. (Note: data from the Colorado Association of Realtors do not include property sold directly by owners.)
Meanwhile, available rentals are few and far between, which is leaving many home seekers without anywhere to go in the area.
Ongoing housing issue proving difficult for locals
Debi Harmon, a Montrose real estate agent, said first-time home buyers often start looking for a home with enthusiasm, but become discouraged and frustrated by multiple rejected offers and lost bidding wars.
"It's really tough for somebody first starting out, trying to buy a house," Harmon said. "My heart really hurts for that buyer pool."
For example, Harmon has already written six offers for a client with a "healthy budget" that has been beaten in a bidding war every time.
Valerie Meyers, another local realtor, advised buyers to connect with a real estate agent, get pre-qualified in advance for loans if needed and brace themselves for quick decisions and competition in the fast-moving market.
Sellers who cash out to the highest bidder can also face unintended consequences.
"They are getting caught up with the dollar signs on what they can get out of their property, but I have seen that in the end when they've had to move into something else, their situation is more grave than if they would have stayed where they were at," Harmon said.
Big city residents are flocking to rural areas. Is the trend sustainable?
Meyers said that a "growing number of people" from larger cities have been moving to Montrose to work remotely. At the same time, "we are also seeing many locals move from living 'in-town' to move to the 'country' on an acre or more."
In the 81401 ZIP code, approximately one-third of single-family homes were purchased above listing price in June, according to MarketTrends Premium. The proportion of homes above listing price rose to 44% in 81403 and over 50% in 81425, the ZIP code where Olathe is located.
Despite the difficult market for buyers and sellers, Harmon hoped that the chaotic market would cool down eventually.
"At some point in time, this will balance itself out and adjust. But I don't have a crystal ball to know when that's going to be," Harmon said.
Anna Lynn Winfrey is a staff writer for the Montrose Daily Press.