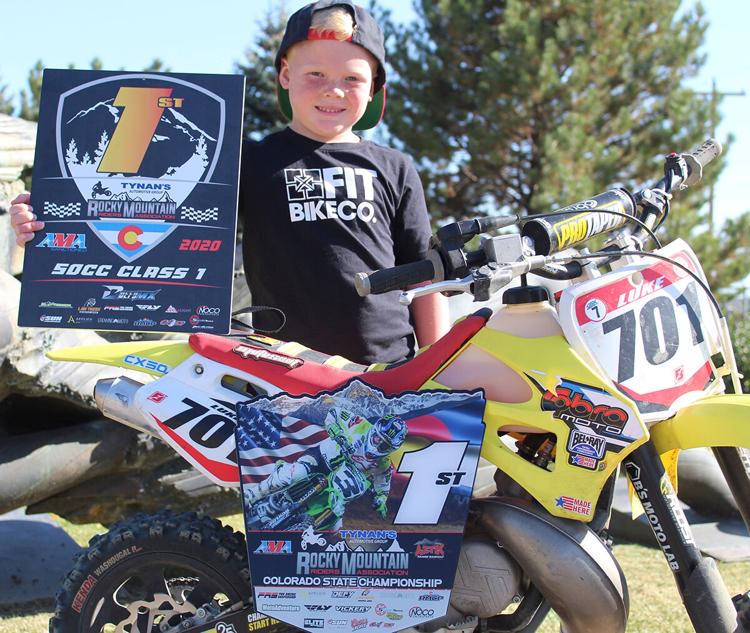 It all came down to this moment as Noah Luke revved the throttle on his Cobra Jr. 50cc Moto at the starting line.
Luke, 6, of Montrose, had been racing since July in various races across Colorado as part of the 2020 motocross (MX) series, a part of the Rocky Mountain Riders Association. He had finished in the top five in the previous four events and had a shot at becoming the state champion in the Class 1 — 50cc 4-6 year-old limited.
He competed at the VMX MX event in Mosca, finishing second and first in the two motos and earned 28 points to start the series. Then he competed in the IMI Motorsports MX in Dacono, earning 29 points with his fourth place finish. Luke then competed at the Honor Farm Motocross Park MX in Pueblo, finishing third and earning 27 points. Sweney Cycle Park MX in Brush was the fourth race in the series in early October. Luke continued to climb back up the leaderboard, finishing second overall and adding 32 points to his total.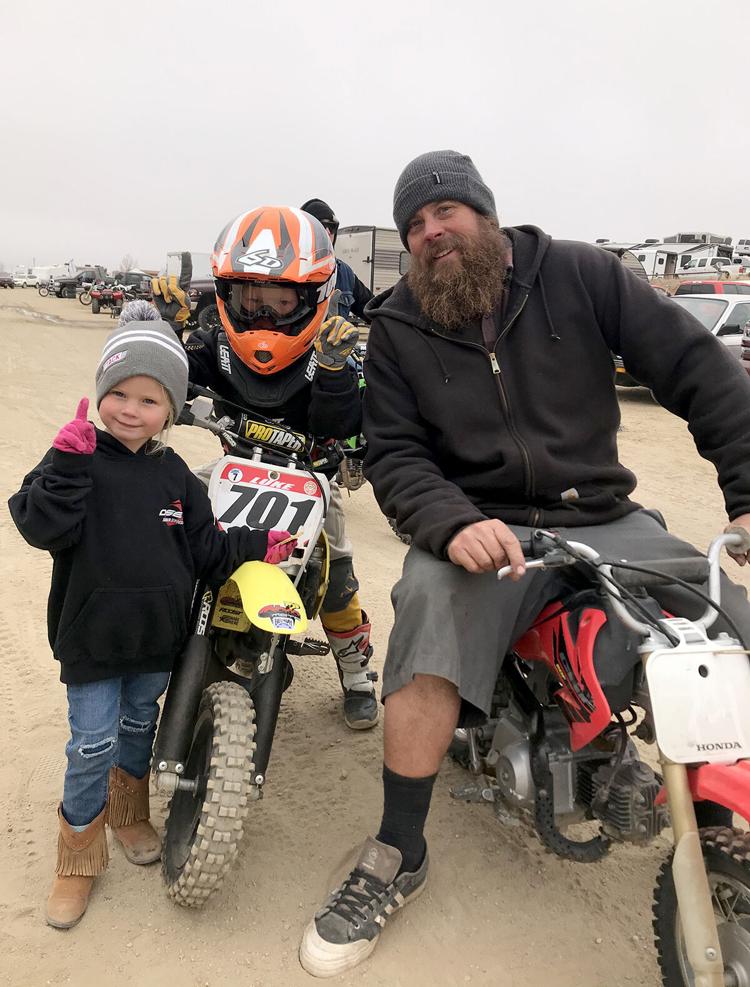 The 2020 RMRA was unusual with COVID-19-caused restrictions reducing the number of races competitors ran in the series. Typically, Luke competes in 10 races.
Arriving in Colorado Springs on Saturday, Oct. 17, Luke and his family prepared for the final race in the series. In Luke's 4-6-year-old age group, he had been competing against 14 to 17 athletes on the track all season.
"There was only a 7 points lead coming into that championship race," said Luke's father Kevin. "It was kind of do or die sort of."
Luke's friend Kahne Paulsen of Pueblo West was close to Luke in points and had to cross the finish line first in both motos to win. While his parents knew how their son had to finish to have a chance at the championship, Kevin said they didn't talk to him about it.
"Usually in motocross there's a good point lead by the end of the series," Kevin Luke said. "We didn't talk to him much about it because we try not to let anything get in his head."
Noah Luke, 6, of Montrose, competed in the RMRA Colorado series and was named the Colorado state champion in Class 1 - 50cc 4-6 Limited.
Luke completed practice runs Saturday morning, but he said the actual race is different.
"By the time I'm on the track, the track is completely different from practice (because of maintenance)," he said. "Practice is just to check out the track."
Ahead of every race, Luke's parents, Kevin and Courtney help him get geared up.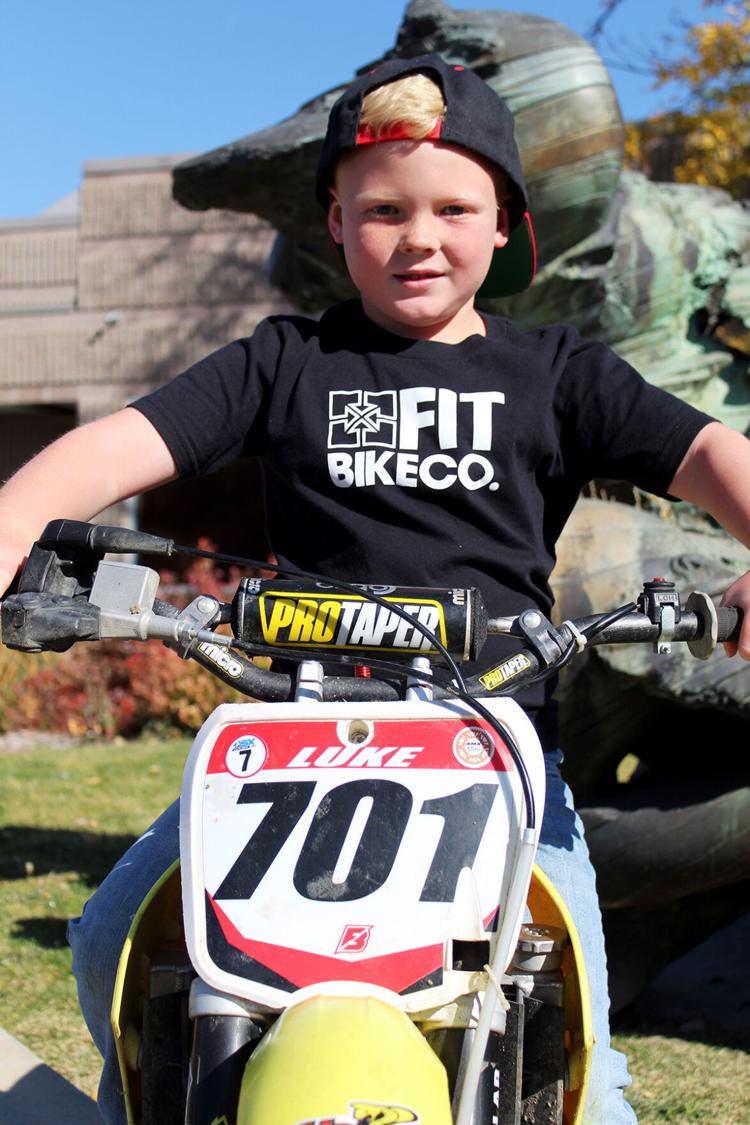 "He's pretty much born for it," Kevin Luke said.
Once he's on the track, his family cheers him on, even his little sister Cassidy, who is the family cheerleader.
"It's fun, and exciting, but it's definitely nerve-racking at times," Kevin Luke said. "His mom doesn't like to watch sometimes. It's pretty intense for little guys; they're fast."
Riding around the court at speeds between 25 and 30 miles per hour, Luke goes over 10 to 15 foot jumps and sharp corners. While he stays focused on his race, Luke said there are times when he gets scared.
"When I'm upside down and also when kids come in passing me super aggressive and I think he's going to do something, and sometimes when I'm super high in the air I get scared," he said.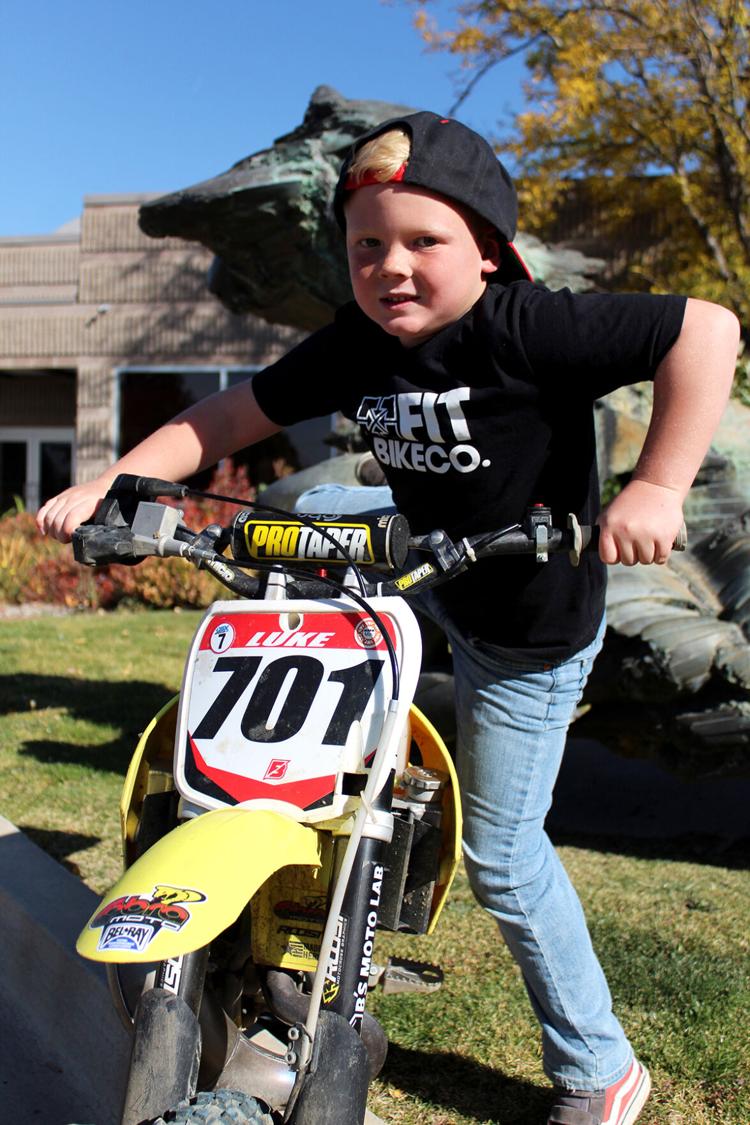 He competes on the American Motorcyclist Association tracks.
"He races on the AMA tracks, which are those big, rutted, nasty tracks," Kevin Luke said. "There's a big chunk of kids who spend more time laying down than they do up."
Sunday had arrived and after finishing first in the first moto, Luke had one final race. Rolling his Cobra moto to the gate, he was pleased with his starting position.
"He likes to be to the left of what they call the dog house," his dad said. "The dog house is where they drop the gate."
Luke added, "I don't like to be right next to the dog house because it's really hard to get out."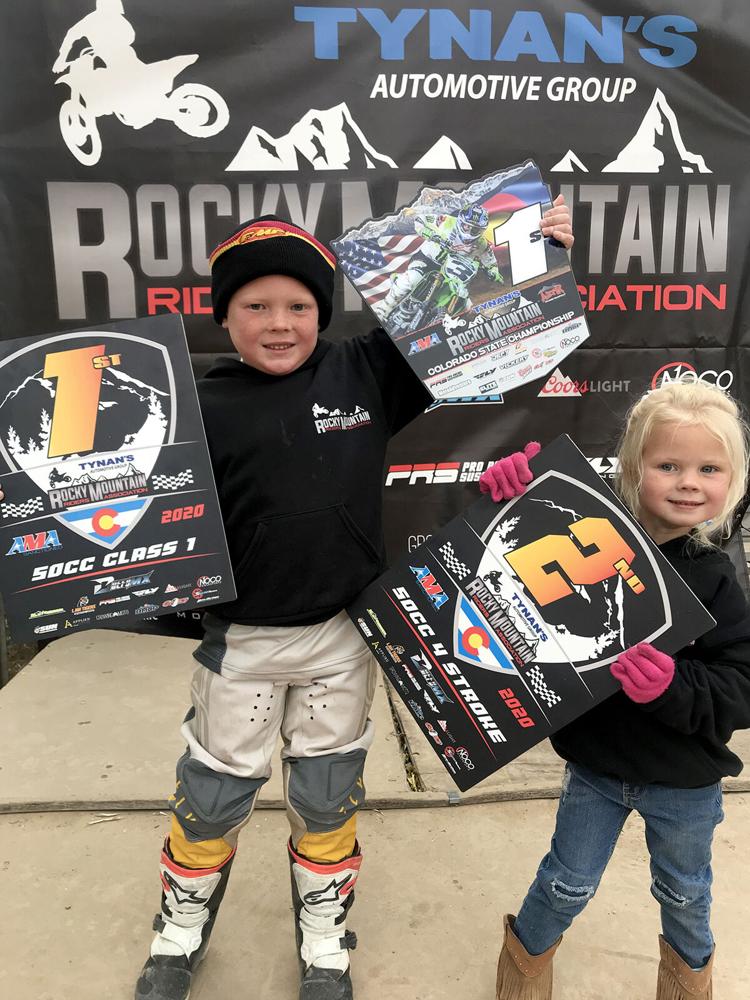 "I beat Kahne into the first turn and he got me into the second turn," Luke said.
The race was going to be close. Pedaling the throttle through the turns, Luke could see the finish line and his friend.
"I see the checkered flag and my buddy Kahne, who was with me on the track … but he gets too excited and pushed too hard and went down on both of the motos."
Luke crossed the finish line ahead of the rest of the field, winning the state championship in his class.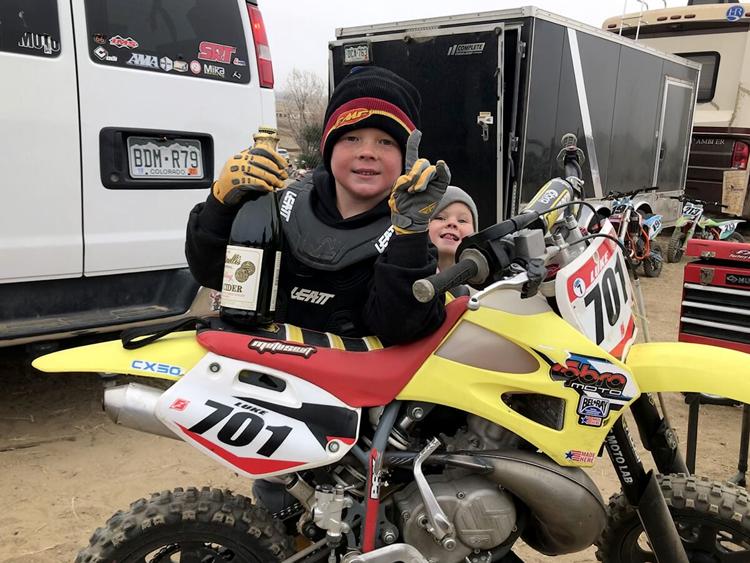 Surrounded by his family, Luke popped a Martinelli (apple cider) champagne bottle in celebration.
"I got a champagne bottle and I got to spray it," he said. "I'm still happy about (winning) and I'm always going to be."
He kept the champagne bottle as another trophy as he carried his 50/cc Class 1 first place trophy and his RMRA Colorado State Championship first place trophy. Luke will add those trophies to a collection of over 100 he has won since he started racing at the age of three.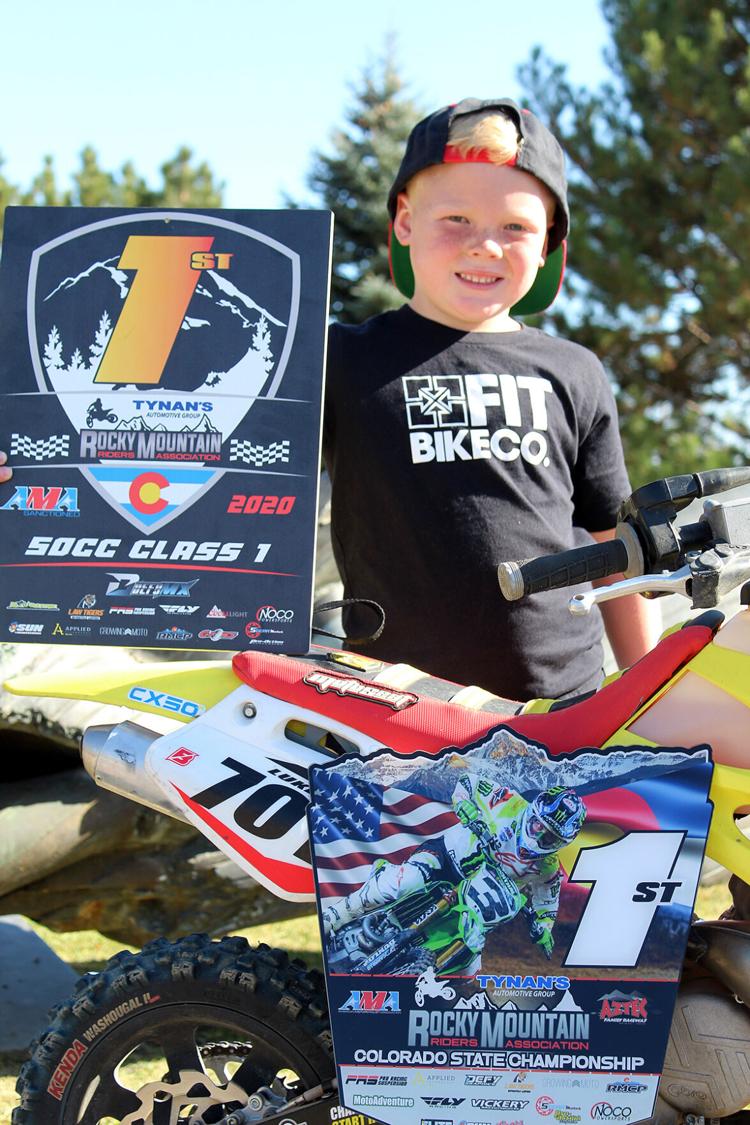 Luke's next race will be on Halloween in Lakeview. He also hopes to compete in the Arizona Open on Dec. 3.
As he prepares for next year's series, Luke plans to enter into the senior class 7-8-year-old 50cc class. A senior motocross bike is fitted with bigger tires than the ones he is currently running. While he continues to practice and becomes more comfortable with the tire size, Luke is keeping his goal set high for the senior class.
"I'm still going to get the championship."