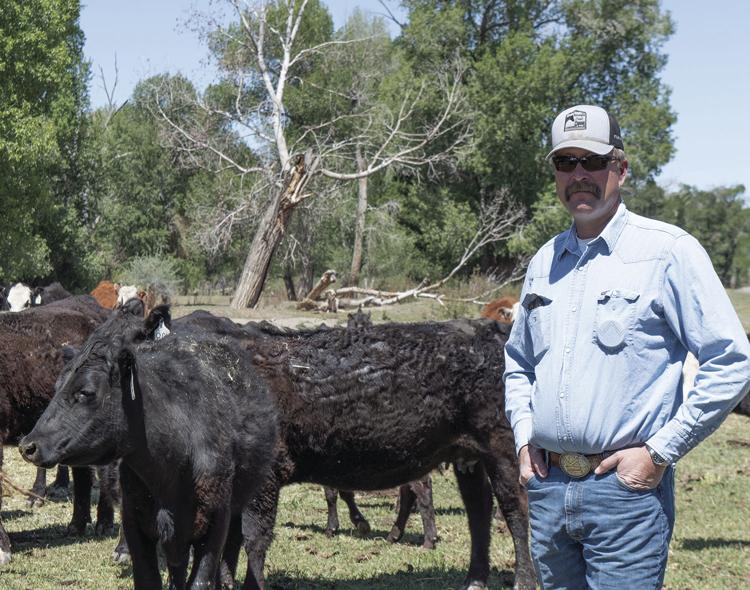 If you hang around older farmers and ranchers, you are bound to get a worthwhile "wise saying" now and then. The one for this week comes from Jay Jutten, a fourth-generation Uncompahgre Valley cattleman. Jay was counseling his son, Daris, who was a bit concerned about how much water they had one Spring.
The senior Jutten tried to ease his son's concern by telling him, "Son, remember, you are always one day closer to rain."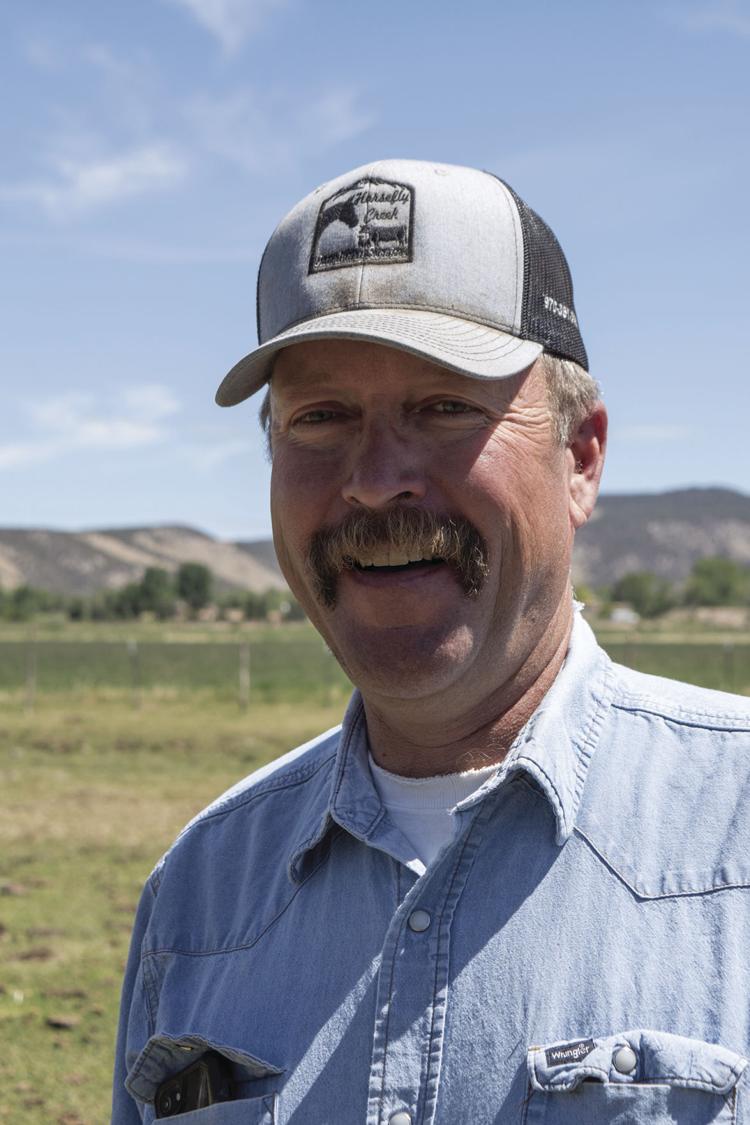 Daris, now the boss of the Lazy K-Bar outfit, across the river from the thriving metropolis of Colona has Dad's voice in his head as the 2020 spring slides from near normal to the first call for water use cuts for this year from the Uncompahgre Valley Water Users to drop usage to 90 % of normal. Earlier in the Spring UVWUA manager, Steve Anderson, told this reporter that cuts were likely this summer but at that point he thought it would be July before it became necessary.
"I'm on the board of the water users and we just had our first call to cut use," Daris said. He added that having to cut water to the irrigated pastures and his feed grain crops places a much higher value on the summer range.
"But we are getting our butts kicked up there too," he said.
The Jutten family owns 7000 acres of summer range that runs up the side of Buckhorn Mountain. He said the mid-range areas at 7,000 and 8,000 feet are very dry. "Up higher, toward 9,000 feet, it's not bad, but if we don't get some rain it won't last."
If the upper range shows overuse, Jutten and other ranchers will be left with no option but to bring the cows back down and feed them in the irrigated pastures or give them stored hay and grain.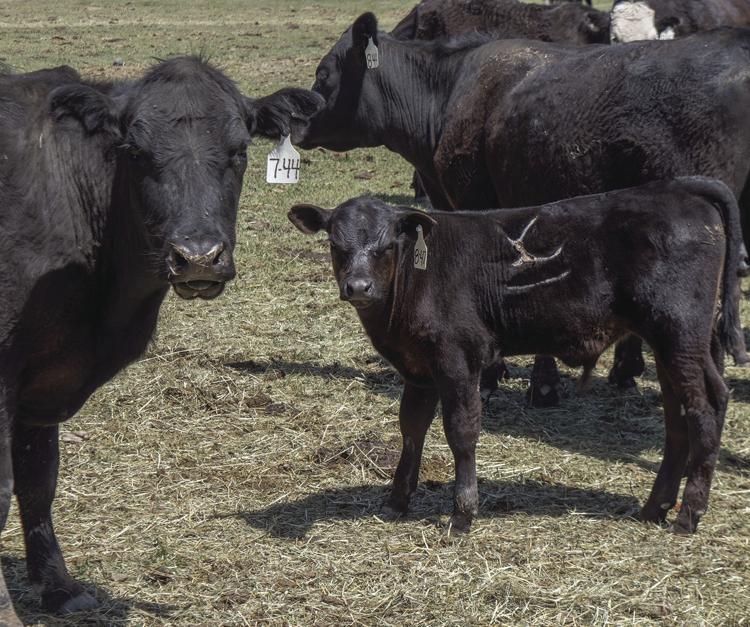 "In all the years I have been here, I have never had to bring them back home, even in 2018," said Jutten. The 2018 season is the worst the Lazy K Bar boss has ever seen. His face clouded over when he said he doesn't want to see that again.
The problem of dry summer ranges is epidemic in Western Colorado now. What started out as a year with a nearly normal snowpack and some extra rain in early spring has become a serious problem. A "sneaky drought" is what the Gunnison Basin managers call the situation that is robbing runoff and leaving reservoirs at unhealthy levels. Reports of poor conditions in the higher elevations are coming from all quarters.
"The spring grass came up really good, but it is starting to dry badly. If we don't get some rain, it will die out. Awful situation," said Boyd Blackburn, who works for Cornerstone as Ranch Facilities Manager up on Horsefly Mountain. Blackburn said that the stock ponds are all full at the moment, at least giving the cattle drinking water.
Robbie LeValley, Delta County administrator and North Fork rancher said Tuesday that conditions are dry and listed as severe drought, and that is what they are seeing on their outfit.
"A dry fall in 2019 followed by low snowpack at the lower elevations and then very little rain in April and May has led to low forage production for the rangelands," LeValley said.
In addition, the cold nights have not allowed some of the grasses that normally would be taller to reach full height. Higher-elevation grasses are achieving moderate production but will need rain to continue growing.
"We have turned our cows out on the BLM permits, but they are moving through pastures sooner than normal," as a result, LeValley said.
That means that the range will not have enough time to regenerate, unless there is some serious rain.
"We are concerned that we are looking at similar challenges to what we faced in 2018, possibly worse, because much of the area is still recovering from 2018," Janie VanWinkle (VanWinkle Ranch) said.
"Having said that, the good news is that we have not had 45 days of 85-plus degree temperatures, so grass has a decent start. However, wind hasn't helped the situation," she added.
"Our managed rotational grazing system has saved our bacon (or beef) before, and I think we will manage through this as well. It takes more focus, time, effort, and resources. We are concerned about cattle prices this fall, due to a backlog in processing because of COVID issues," said VanWinkle.
The outfit's decisions are made around water daily. Van Winkle said her heart is telling her that we are in for another hard water year.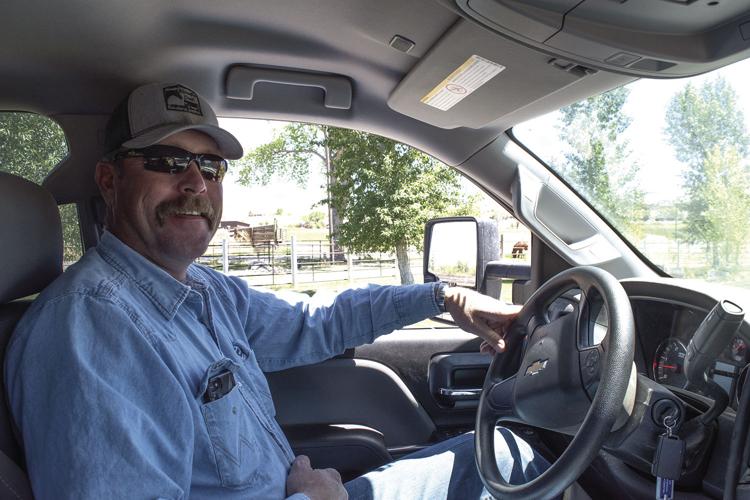 Along that theme, Jutten will take his stock up to the range next week and at the same time he will start hauling water for them to drink. Over the years, the Juttens have developed water on the summer range by managing Burro and Billy creeks, as well as others. They have head gates, ditches, and measuring devices in place.
"But our water rights up there are junior rights," said Daris, referring to the hierarchy that determines who cuts back first when water gets short.
And with the first call for cuts coming from UVWUA, those junior rights are the first that Jutten must cut. He was headed up on Tuesday to drop the gates.
Meanwhile, Jutten is proceeding on Dad's assumption that there is rain in the future. He really has no choice. He thanked his great-great grandfather for his foresight. Without it, his situation would already be a disaster.
Gerard and Wilhelmina Jutten arrived in the Uncompahgre Valley in May of 1882. They came straight to Colorado from their native Germany, on the advice of a relative who was working at the Matchstick Mine near Silverton. As fate would have it, they never saw their relative when they got here. He was killed in a mining accident while they were en route.
Nonetheless, the Juttens set about to raise cattle. They were quite successful as generations kept Gerard's project alive. At one point the herd reached 12,500.
In the early days, there was a stockyard next to the Denver and Rio Grande Railroad, near Colona. The local ranchers, like the Juttens, delivered their cattle to the yard, which was barely a mile from the homestead.
One of Great-Great-Grandpa Jutten's early goals was to acquire as much land as he could. First, it was the 600-acre homestead near Colona and eventually the 7,000 acres that runs up the side of Buckhorn Mountain. Now, the Juttens also own a patch of land in the South Shavano Valley. That's where they grow corn and hay.
"We grow and process all of our feed," Daris said.
That and owning the range land, such as it is at the moment, makes life a little easier for this rancher. But there is still the matter of the price that they get for their stock.
The Lazy-K-Bar runs about 400 mama cows in a cow/calf operation.
"The calf crop was very good this year," Daris volunteered while standing among several dozen mamas, including a couple with twins.
But, Jutten said that there is nowhere to sell them at the moment, so he made the decision to keep the calves rather than sell them at a big loss. He said that he just can't sell them for what the market will pay without going in the hole.
"So, I will breed the heifers. Then we'll finish the 45 steers and sell the beef ourselves," he said, outlining his response to the marketing mess the beef industry is in as we speak. He will be slaughtering this fall and then Homestead Meats of Delta will do the USDA inspected processing.
"I did it once before," Jutten said. "I put an ad on Facebook and sent out some emails and I sold out."
He knows that the move is not the long-term answer to his and other producers' problems.
While the water problems and the market prices are on his mind, Jutten tries to stay positive.
What does he do for fun or to relieve the stress?
"I run a cattle ranch," he said. "I would be devastated if I couldn't keep doing what I am doing."
And cows are pretty much what the whole family does.
Beginning with Gerard and Wilhelmina; and then great-grandparents, Joe and Daisy, followed by grandparents, Bill and Louise; then Dad Jay and Mom Pam, who are still active in the ranch. Now it's Daris and Nikki.
Daris' sister, Kelsey Castle, and her husband, Jeremy, run a cow outfit. Sister Erin Luttrell, and her husband, Zane, don't do cows. Zane runs Rocky Mountain Aggregate. But they do have a son, Cole, who hangs out with Grandpa Jay and they spend a lot of time on the ranch.
To tie things up in a neat self-sufficient package, the Juttens have their own vet. Nikki Seehafer DVM is Daris' wife. She runs the Horsefly Veterinary Services, specializing in big animals.
There is an old saying that goes "Lord willin' and the creek doesn't rise" when indicating a hope that a certain thing would happen. For ranchers and farmers in Western Colorado, we're changing that a little this year to, "Lord willin' and the creek does rises before summer."