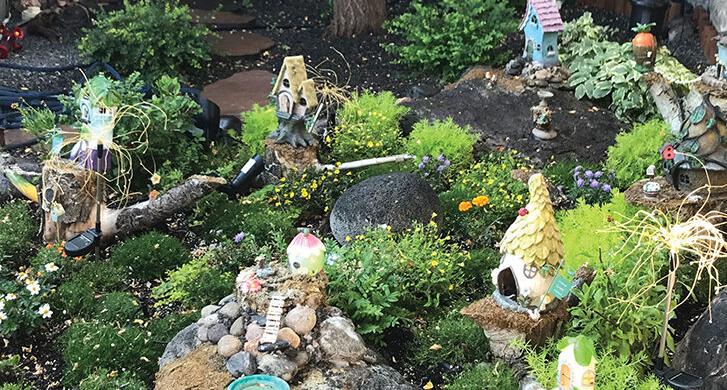 In this crazy time of wearing masks and muffled talking through plastic barriers, isn't it great to have a place to retreat to and gain a sense of normalcy! There's nothing better than stepping into your private landscape and getting the relaxing feeling of ahhhhhh.
I'm so fortunate to have a great job that takes me to so many interesting gardens. This past week I "worked" in a backyard with paths that meandered through the trees and flower gardens. There were no straight paths in this garden, only paths that meandered, encouraging one to slow down, enjoy the plantings, and explore what's around the next bend.
Around one turn was a large bird feeder. A rose garden greeted me at the next bend.
I know large mass plantings of flowers can be gorgeous but there's also something special about little pocket gardens hidden throughout the landscape. This garden was such a joy to be in. As I "worked," the neighbor's cat came over to keep me company. Apparently I wasn't the only one who enjoys this garden.
I have another client who has a prayer garden. Once again, winding paths lead through the trees and small plantings, but this trail leads across a dry streambed with a bridge. After taking an enjoyable stroll, the reward is a secluded pocket garden with a bench for quiet reflection and figurines. This little area then opens up to a fantastic vista.
Another backyard garden I visited was small, but that didn't limit the creativity revealed in this landscape. The space has several fruit trees, small container vegetable gardens and flower gardens.
To take advantage of the small space, espalier pruned apple trees grow flat along the garage wall. These were not only taking advantage of the small space but added interest as they tastefully incorporated the garage into a feature that becomes part of the landscape.
Another one of my favorite gardens contained a fairy garden tastefully placed in an alcove near the front porch, where it welcomed visitors.
In case you don't know what a fairy garden is, they contain little miniature items fit for a fairy (or even hobbits). They give the impression of being inside a tiny, whimsical little world. Fairy gardens have really caught on and I can see why. They're just plain fun! And what a great way to stimulate the creativity of kids and get them out into the garden.
But why limit all the fun to just kids? Fairy gardens can be as much fun for adults as they are for kids! In fact, it might be a fun project to do at a retirement community. These little miniature gardens can be created in containers: a pot on a table or an old wheelbarrow built into an area near a tree, or in any small space in your landscape.
One thing all of these gardens have in common is that none of them were created overnight. These gardens were developed gradually over a period of years and apparently with love. As people discovered what gardens fit their needs and their vision, new plants and hardscapes, such as statues, rocks, and birdbaths were incorporated. It's nice to have an idea for the landscape in mind before planting a bunch of trees, but letting the landscape grow along with new ideas and plantings is fun.
I know that it's often a lot of hard work up front when building a garden but the rewards are well worth the effort. I'm sure any avid gardener will tell you once the initial hard work is completed, gardening can be so relaxing! It becomes a getaway and a place to enjoy the slower and quiet things in life.
I was working at the Montrose Botanical Gardens the other day and just enjoying the plants, the quietness, the insects and birds and fragrance of the roses. This is a great place to get away and relax. If you haven't visited the gardens in a while, you should stop by, relax and enjoy. You might even pick up a few ideas to incorporate into your own landscape.
I think if you love gardening and desire a personal retreat, just make the most out of what you have. Be creative and watch the garden grow along with your imagination. There's no better time than the present to begin.