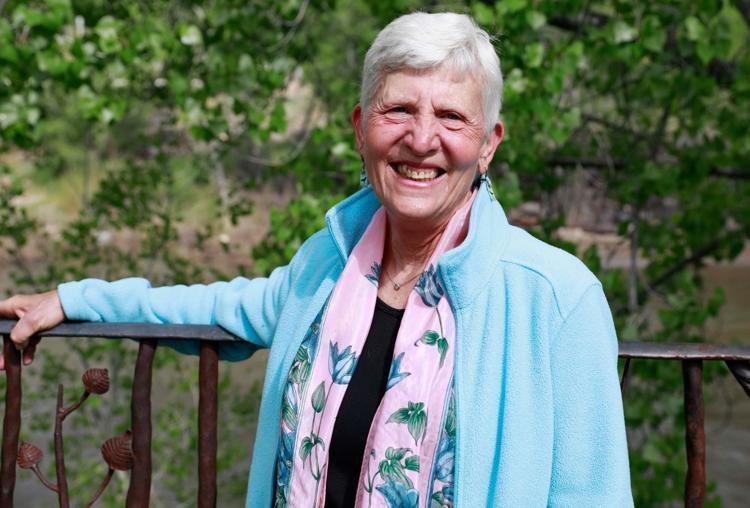 Mary Bachran is blazing a bright new path as the first female mayor of Paonia.
With only two years under her belt as an elected official, Bachran quickly moved from valued board member to mayor-pro tem. She defeated former trustee Bill Brunner in the April election making history in a town full of western "vim and vigor."
"Paonia has such a unique character to it, it's this mix of cultures there are the old time miners and cowboys... but also it's all these organic farmers, non-profit and entrepreneurs... it's such a great group of people set in this gorgeous piece of the country," Bachran said.
"I love Paonia because I like small towns. I've always had a preference for small towns versus larger urban areas, I've lived in both," said the Grand Junction girl who spent a year in the Big Apple. She confessed to being terrified the whole time.
Now 18 years later, Bachran can look back over the tough years in Paonia after a number of the coal mines closed. She watched the economic collapse and the physical toll. With that backdrop Bachran, reaching her 69th birthday, will step into an equally tough situation beneath the shadow of COVID-19. Her core value of helping others will certainly be put to the test.
"People need help, being kind and helping people through adversity is not a bad thing. I look to the common good. We need to take care of everybody in this town, and if we can all share, we can all do better."
As a registered independent, Bachran said she doesn't see "political affiliation, she sees people affiliation." That philosophy was often on display as she and former Mayor Charles Stewart often ran counter on a number of issues, including the controversial role of the oil gas industry in the North Fork Valley.
Despite their political and ideological differences, Bachran and Stewart found a way to make it work on one of the most interesting town boards in Delta County.
"Yeah, Charles and I disagreed on lots of stuff, but I really admire his work as mayor because he took over during some of the hardest times. And he really worked hard to keep that board under control. He trained everybody how to behave properly," she said.
Bachran won't have an easy first term as Paonia pulls out from beneath the global pandemic crises in the days, weeks, months and years ahead.
"We absolutely have to look at the financial impacts of this and what it's going to do to the town. At this point, it doesn't look like we're going to have problems but that doesn't mean they won't show up in a little while, so we have to keep a really close eye on the financial health of the town."
Bachran wants to see Paonia businesses open up safely and 'not in a crazy manner' saying her concern is the health of the people first and then the economy.
"There has to be a decent balance, we can not have the disease running rampant through this town. Our hospital would not be able to take care of it. We've done a really good job of keeping that covid ward empty and I would like to see that remain the same."
Bachran expressed a growing concern about the summer and fall festivals and how the organizers can move forward in light of the virus.
"The festivals are such a huge revenue generator for this town, and if we can't have them, I am not sure what we're going to be able to do to supplement our sales taxes."
Undaunted by the potential negative effects of COVID-19, Bachran is embracing the future and the inevitable change.
"We are in a space now where we can start really re-doing things, so let's figure out better ways to do things, different ways to do things," she said. "I think the whole Zoom meeting thing has opened up the possibilities to people who never thought they could telecommute. That's such a nice piece of our little economy here. I would love to see people be able to do that, to come here and raise their kids in a safe beautiful place and still work at their jobs."
Bachran said she's looking for ways to bring more people off the highways and into town. Long term she would like to attract some form of small manufacturing that's 'compatible with the ethos of the town and area' in hopes of having year round sustainable employment.
As mayor, Bachran will rely heavily on the expertise in the room and look to find the best solutions for Paonia. As for being the first female mayor, she freely expressed her enthusiasm and optimism.
"I like to see women in government and the more women the better. I am really proud to be the first female mayor of Paonia. Women bring different views, it's not hierarchical, it's more collaborative and we need more of that in government," said Bachran who is leading a 50/50 gender board.
"As mayor, I think we can make Paonia, as a destination spot, even better. I think we can improve the economy and the living conditions for people. But, we need to work together, we need to put our differences aside and come up with the goals we want to see and work toward it 'hand-in-hand'."