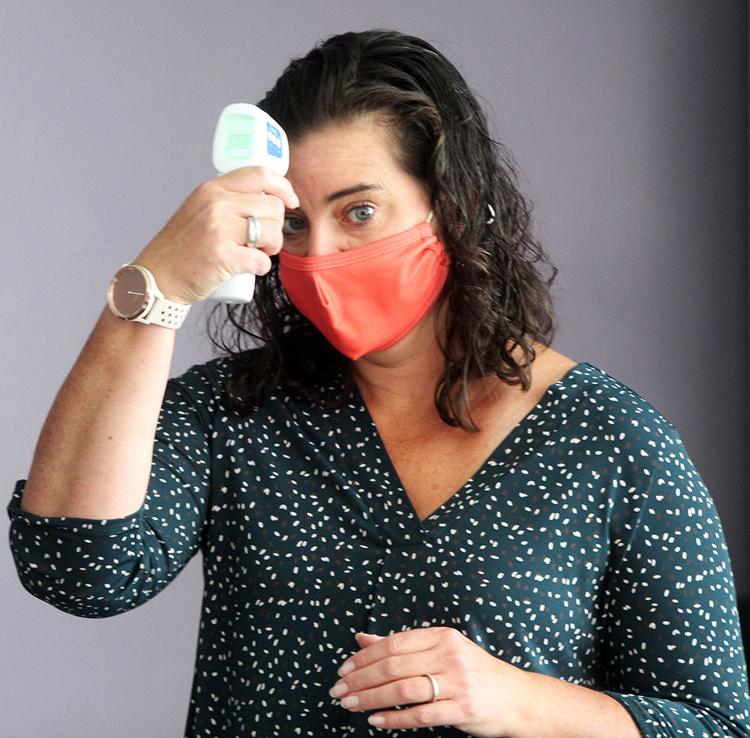 Montrose County School District teachers and paraprofessionals completed various training sessions as staff prepare for students to return to the classroom for summer school.
MCSD summer sessions include READ Act, Early Childhood Center, and special education Extended School Year summer school services.
"The big message is we're ready to take care of them and to continue learning and having fun," said MCSD Superintendent Carrie Stephenson. "This is just a different change for us, but we're going to get through all of this."
Prior to participating in three 20-minute sessions, early childhood staff went through a coronavirus screening to check for temperature, cough, shortness of breath and other symptoms. Staff completed the drive-thru screening on the east side of the Early Childhood Centers office at 9:30 a.m. Thursday.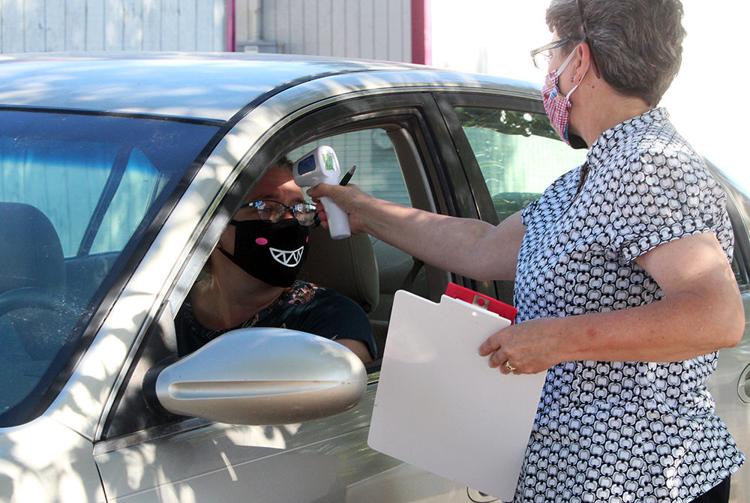 Penny Harris, director of the Montrose and Olathe Early Childhood Centers, was the designated screening coordinator of her staff. After taking a person's temperature, she recorded it onto a sheet, which will be entered into a spreadsheet so the district can keep a log for their records.
The drive-thru system will be the same for families when they arrive to drop off their children for summer programs. Screeners must wear personal protective equipment (PPE), which consists of a mask and safety glasses and staff and students must also wear a mask and follow social distancing when they are screened.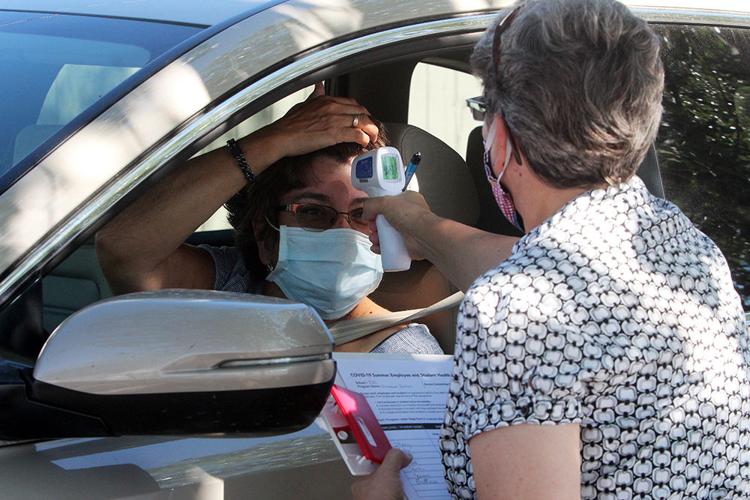 "For us when we start summer school, our employees are going to pull up to our ramp and we will come to them and we will do this exact process," Harris said. "Our parents are going to do that and we will screen the kids at that crosswalk and then we'll have another one behind the building."
Once students are screened, Harris said staff will take the students inside the fence until all the students have been screened. From there, teachers will walk with their students into the classrooms.
Harris shared how the priority for preschool teachers will be different this summer.
"For us, it's important to know that the priority isn't necessarily ABCs and 123s, but it's really about relationships for us and building those relationships between the kids as well as between the adults," she said.
Within the district's Return to Work and Summer School plan, which was released earlier this week, it states, "Staff or students with a temperature of 100.4 or greater will not be allowed to participate."
Staff or students exhibiting coronavirus symptoms cannot return for 10 days following the notification onset of symptoms and 72 hours following the resolution of fever without fever-reducing medications.
Although the district is welcoming students and staff back into buildings, no walk-in visitors will be allowed during the summer.
This plan is an addendum to the district's Emerging Infectious Disease Plan, published in March.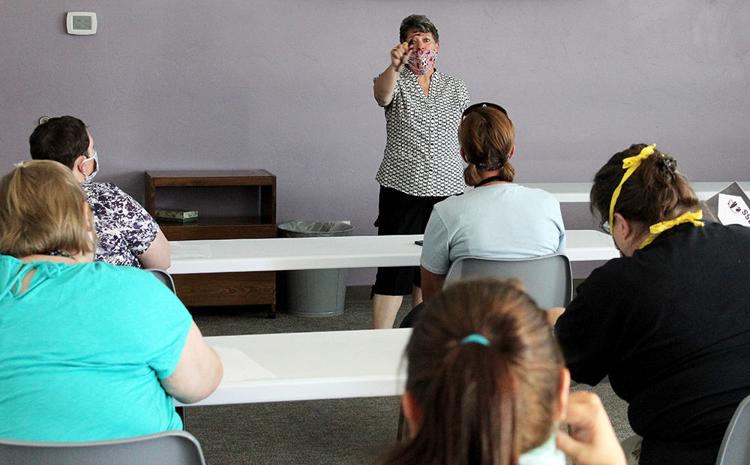 During the training sessions Thursday, Jennifer Suchon, a pediatric nurse practitioner, assisted with the screening and conducted one of the training sessions. Throughout the screenings, Suchon said a teachable moment occurred where some staff members screened with a high 98-degree or 100-degree temperature. Staff were asked to get out of their vehicles and go inside for a few minutes before their temperature was taken again.
"This is a perfect teachable moment because it happened once with high school coaches," Suchon said. "You were just hot sitting in the car."
The training reiterated information within the district's plan, trained staff on proper sanitation practices for surfaces and COVID-19 questions.
Within the plan, it states, "MCSD believes our staff is a team that benefits from the social interaction of the in-person work environment and our summer school families' academic and social emotional needs are equal to or greater than the risks associated with gathering students in classrooms."
Despite the challenges with planning for in-person work and summer instruction, the district is confident that staff are disciplined and committed to ensure the health and welfare of staff and students.
Each building will have a designated workplace COVID-19 coordinator, who ensures protocols are followed and reports those efforts to the MCSD director of safety and security James Pavlich. The coordinator will designate a couple COVID-19 screeners from staff members, who will be trained by MCSD nursing staff.
In-person office work will be staffed at 50% capacity to maintain proper social distancing and mitigate exposure risk and to not exceed the space's capacity. All staff are expected to wear PPE at work, wearing masks during in-person engagements. Employees are required to have a mask on their person while at work, even when in their private offices. Staff are not expected to wear masks when in their offices, unless another person enters that space.
Following the use of meeting spaces, it will be disinfected between groups daily.
As staff prepare to welcome back students in the Early Childhood Center Tuesday, the district encourages students to bring a personal water bottle with their name on it. Communal eating spaces (break rooms, office coffee makers) as well as drinking fountains will be closed and turned off. Drinking fountains that allow students to fill water bottles will be on. Students will be served and eat within their student pods.
The plan also outlines the district's expectations of students to wear masks.
· P-5: Students are encouraged to wear masks during in-person instruction or group activities that make social distancing improbable
· 6-12: Students are required to wear masks during instruction that requires them to violate the social distancing requirements and during arrival and exit from classrooms and the building
Extended School Year special education services staff and families are asked to plan for the viability of masks, PPE and social distancing wherever possible.
Summer in-person classrooms will not exceed 12 participants, which includes staff. Students will also have student instructional pods of no more than 10 students that they will work with everyday. This is similar to the sports protocol. Pods will make contract-tracing easier in the event of contagion spread with the hope the district can limit the spread to avoid a total shutdown of instructional services.
To maintain pod separation, student instruction pods will arrive and exit on a schedule. This will also allow staff to disinfect shared spaces between use.
Along with keeping students and staff socially distanced, the plan outlines how teachers will promote good personal hygiene practices with students (handwashing, hand sanitizer and mask use).
"MCSD believes personal hygiene should be treated as another 'fundamental skill' for students and staff members with an emphasis on hand washing and teachers are expected to teach and supervise it on a daily basis."
District office operations resume July 7.
Read the full Return to Work and Summer School plan here.