Tyler Morales remembers a familiar moment in his third year with the after school program. Teaching a sports activity class, Morales saw how one child always had his shoe untied. Eager to change that, Morales showed the child how to tie his shoes, something he picked up quickly.
"When you're doing stuff like that, you just don't really think that it's a big deal," Morales said.
The child's mom, during pickup, came out and approached Morales. He was unsure if something was wrong.
But the mother thanked Morales, and explained she had worked time and time again to teach her child how to tie his shoes.
That small, but impactful act was the moment Morales realized helping kids and students in the community could be his calling.
"That moment hit me," he said. "This is what teaching is. It doesn't necessarily have to be academic. It's caring about what you do and showing others that you could achieve the smallest things."
The moment helped continue to spark what's now been a 15-year journey for the current site coordinator for the After School and Summer Enrichment Programs at the Montrose Recreation Field House. Morales was approached to run the programs, an idea he quickly accepted.
Under his watch - and that of his staff - the programs have helped students in the community learn nutrition literacy and education and participate in building a community garden, all while providing a space for activities and time for the students to catch up on homework.
Partnerships, too, have aided the programs in its pursuit to help the programs grow.
"At the end of the day we have one goal, and that's to create an enriching program for these kids," he said.
Morales has attributed the growth of the programs throughout the years due to word of mouth - parents and families, through surveys, describe how beneficial and supportive have been for the kids. (Morales would go review every survey and highlight ideas, feedback from the parents.)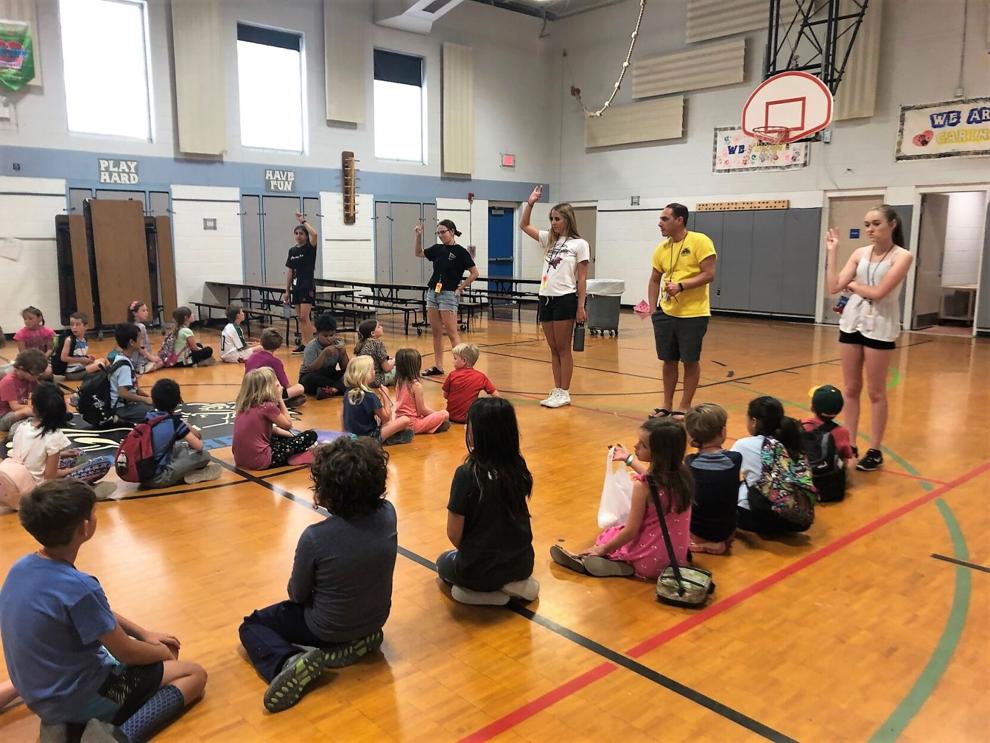 And it has growth from within, too. Mackenzie Lyons, a former program participant, returned to work on staff and is now one of the program leaders. "She knows the program intimately and knows what works and what doesn't work," Morales said.
Her experience has helped as the program has evolved under Morales' tutelage over the years. By making a profile on GoNoodle, an online resource that gives teachers several videos to use as a "brain break", student participants can participate in healthy activities like Yoga or dancing, with the focus on self-care and being active.
And as the program has grown, Morales feels like he has evolved alongside it. Channeling adversities while keeping a sharp focus on the program itself is a process that's become easier, he said.
"No matter what adversity either the world's going through or you're going through, you can always pick yourself up for the greater good, and knowing that you're doing something bigger for other than yourself.
"Me growing somewhat in all these layers of program development, I come to appreciate that there's still kindness in the world and there's still humanity," he said. "The 'treat others like you want to be treated' is still there, these kids are receptive of that, and knowing that still exists makes me proud. It makes me happy with what I'm doing and keeping that alive."
Some of that compassion and focus came from Coz Cisneros, a former program manager. When Morales was 18, Cisneros believed that he could take over the program as its manager. Morales took that as a sign of trust, and knew he couldn't (and didn't want to) let himself, Cisneros and the kids down.
"He gave me a platform to do that, and hopefully I can continue to do that wherever I go,' Morales said. "... He was really teaching me things that I didn't even pay attention to at the time."
Through all the experiences and moments, Morales is excited about the program's future, and hopes it maintains its quality that provides the kids a service they can enjoy while learning a variety of skills. But as long as the program leaders continue to receive support, the goal of enriching students will remain.
"I know it has a lot of future and has a lot of potential to grow even bigger," Morales said. "For now, the aspects, characteristics and dynamics of the program, we're not so burnt out all day, and I think that's what keeps the quality of the program running."
The quality of after school and summer enrichment should only increase, as an $80,000 grant from the National Park and Recreation Association will help the Montrose Recreation District in its focus to help reduce childhood hunger, food insecurity, as well as increase access to healthy foods in low income areas with the goal to expand healthier and enriching lives for the youth in Montrose.