Originally, Dee Coram and Phuong Nguyen's plan was to open the Coffee Trader in California.
That's where their eyes were set.
But a stop in Montrose changed the trajectory of those plans.
"The plan was to come up for the summer, and it turned into a really long summer," Coram said.
It's been 22 years since Coram and Nguyen opened the first Coffee Trader in Montrose. The two started the business on a "shoestring" budget, and today, have five locations (three in Montrose, one in Grand Junction and another in Gunnison).
And developing such roots in Montrose means Coram and Nguyen have given back to the community in more ways than one.
"I've always been a believer you can't just take in the community you're part of," Coram said. "You have to give back and make it better. Phuong and I have that thought process that you need to be good citizens of your community.
"It's the ethos of the Coffee Trader — be involved in it as much as we possibly can be."
Involved is an understatement. Coram, Nguyen, Dave Bowman, Lu Anne Tyrrell and others brought to life Main in Motion, a summer staple in Montrose for years. The idea for Main in Motion came from its founders seeing an opportunity, a "fun event that would bring people together," said Nguyen, who added the birth of Main in Motion wouldn't have been possible without the work of Tyrrell.
In May 2001, Tyrrell accepted the position of Main Street director for Historic Montrose Downtown. At the time, Montrose was one of four communities to receive the Main Street program designation, designed to revitalize community main streets.
Tyrrell knew Coram and Phuong, and in 2002, Coram approached Tyrrell with an idea: fusing art and music together on Main Street.
Tyyrell shared the idea with the board, which started to fundraise for the event. The Montrose Daily Press offered marketing assistance.
The event would allow downtown businesses an outlet and opportunity for the community to visit those stores. It was also an opportunity to bring live music to the scene, and Coffee Trader became one of the first locations in Montrose that hosted live music.
At the time, a young Jordan Carls, who worked at the Coffee Trader as a barista, performed at the garden of the coffee shop. Carls was a young, "musical prodigy," Coram said.
(Today, Carls is the founder and owner of Precedence Music Academy on Main Street.)
Eventually, Main in Motion won a Governor's Award for Downtown Excellence.
"Phuong and Dee were both very, very invaluable," Tyrrell said of the duo's contribution to Main in Motion.
The Montrose Food and Wine Festival, which Nguyen was a founding member of and benefits charitable organizations, including the Black Canyon Boys and Girls Club, was another startup that helps the community to this day.
"It's a lot of people who saw an opportunity for a fun event that would bring people together, and at the same time, would be beneficial to charitable organizations," Nguyen said of the Food and Wine Festival. "... charitable events can be fun and beneficial at the same time. We wanted to bring something a little different."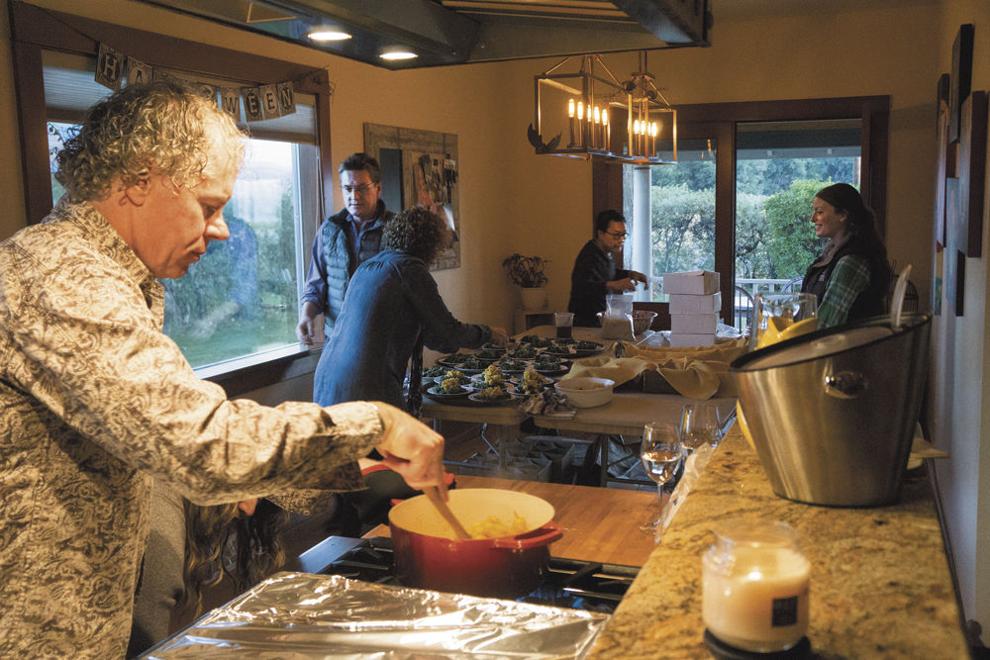 Coram and Nyguyen were also participants of the Kit Faragher Foundation, a memorial foundation to raise scholarship money for students, for eight years. The foundation helped students head to college, and it wasn't limited to just four-year programs. Students could go to a trade school or other universities with shorter tenures, as long as they excelled in their studies since the scholarship is based on scholastic achievement.
At first, the foundation was able to give away $2,000, but as it grew and came to fruition, eventually began to give away four $10,000 scholarships, including one guaranteed to a Montrose student.
"Scholarships are something we think is a big benefit to the community," Coram said. "We try to be involved in charity as much as possible."
The duo, too, have assisted the Black Canyon Boys and Girls Club, as well as CASA in Montrose, either donating money for an event or raising money to fund the organization.
They've participated in countless other events and helped other community organizations, so much so that it's like "clockwork," Coram said, as those organizations know that they can count on Coffee Trader's stewards to lend a helping hand.
"When people live in a community, I think it's a responsibility to give back," Nguyen said. "It's a privilege to live in such a great community. It's a responsibility to look where you're at and see how the community provides for you and see how you can give back. It needs to be a symbiosis relationship, and it has to be sharing and giving.
"I think that's what makes Montrose so special. It's a very generous community to be in. We're just a small part of the incredible amount of generosity that is Montrose."
That mindset helped when the pair participated as part of a committee that helped Montrose become recognized as an All-American City in 2013 (Coram said current City Manager Bill Bell was a driving force in making that recognition a reality). The award recognizes "communities that leverage civic engagement, collaboration, inclusiveness and innovation to successfully address local issues," according to the National Civic League website.
The ethos of the company, Coram said, isn't just instilled at the Montrose locations. The spots in Grand Junction and Gunnison, too, have that business philosophy: be a part of the community and treat customers with respect.
"We continue to emphasize those basic rules and basic beliefs that you treat others with respect," Nguyen said. "People don't have to get coffee. What we have is not a coffee business, it's a relationship business. It's not transactional, it's relational, and I think that's the secret to our success — not treating the business as transactional."
The COVID-19 pandemic has altered plans for organizations who traditionally host large-scale community events. Coram and Nguyen are looking forward to the return of those types of events.
Until then, they'll continue serving the community, through generosity and, of course, the coffee.
"The type of place that we live in, it is a generous community, so you have to find ways to use the generosity to help others," Nguyen said. "You know people, you know your neighbors, and what creates that for you. You can't just go into a community and take its generosity. You have to create that generosity and you have to find a way to give back. It only works if it's a two way street — you benefit from the community so you have to give back to the community.
"We're very lucky to be (in Montrose). It's what we call home."