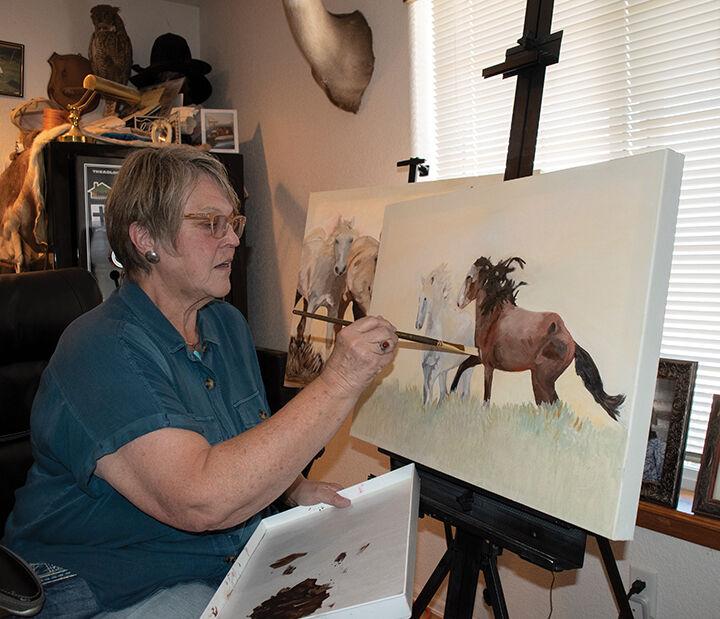 The Humphrey family brand is the H-Lazy-J, but there is nothing lazy about these two 68-year-old sweethearts who have been married 48 of those 68 years.
They are Dan and Susan Sanburg Humphrey, who are both retired, but you wouldn't know that unless they happen to mention it between brushstrokes on one of Susan's paintings or during Dan's reloading of another precision rifle round.
And, yes, Susan is a member of the pioneer Sanburg family, who came to Colorado in 1894 and founded the legendary Sanburg ranch in Bostwick Park. She is the great-great- granddaughter of Olaf and Carolina, who came to Montrose in 1910, by way of Leadville (1894), where the Swedish immigrants met and were married. They lived in Montrose in a family-built home, which still exists at the corner of Woodgate and Otter roads. Three generations later, Susan was born in Montrose and grew up here.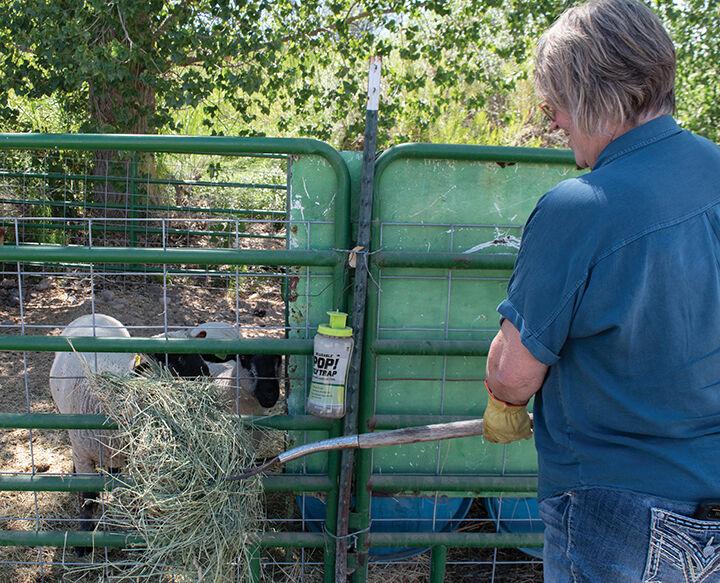 Susan's life was, and still is, tied to the farms and ranches of the family. Her "little brother," Kurt, still operates the original Sanburg outfit in Bostwick Park. She has two sisters, Colleen and Kama. While it is her heritage, she and Dan aren't actively involved in farming anymore.
"We rent out our land to other growers and we help the grandkids with their 4-H projects, that's about it," Susan said.
They still keep their brand, which she says they bought in a silent auction.
"The 'J' fits because it is Dan's middle initial. It is also similar to my dad's brand, the H-Lazy-V," explains the lady who was one of those ranch wives who had a job in town to help support the ranch family. She worked for City Market out of the Hotchkiss store for 31 years.
"The staff was mostly women, about 90% of whom were ranch wives or kids. We went to work in the market, the husbands and brothers worked the farms," she said. That is, with the possible exception of her mother Ellouise, who was lauded as one of the great farm and ranch cooks on the Western Slope.
"She worked on the ranch and cooked for the crews. Both for the H-Lazy-V (Bostwick Park) or others, and she ran the house," Sanburg recalled. She says it was Dad's job to run the outside operation. "That's pretty much the way it was in those days." That is not to say that Mom couldn't handle a pitchfork or brand a calf, if need be.
"Mom taught me how to cook everything. She was amazing. She was also tough. My younger years were filled with learning," she said. She especially recalls her grandfather, Clarence, and her father, Milton, who spent hours talking to her about anything and everything, and showing her how to do everything, including how to ride a horse."
Formal schooling for Susan was graduation from Montrose High School and a few semesters at Mesa State College (now Colorado Mesa University) in Grand Junction, where she got an AA degree in nutrition. By age 20, she and Dan were married and had started up their unlazy lives. There was farming and ranching and work at the market and an outfitting business that they operated for 40 years.
"We outfitted and guided for hunters looking for deer, elk, bear, turkey and bighorn sheep," said Susan as we gazed at the amazing collection of mounts, including a group referred to as a North American Grand Slam for sheep hunters. That means that one hunter, in this case Dan Humphrey, took one of each North American sheep species in one season. That's no easy task, considering the hunts take place from Alaska to southern Arizona.
Thanks in part to her father and grandfather, loading a pack string and leading them out to the high-country habitat was something Susan enjoyed.
"We really did our absolute best to give them a chance to take what they were after. We worked hard and we had fun. We met some great people," said Mrs. Humphrey, sitting next to an easel loaded with one of her works in progress, an oil on canvas of a pair of Sand Wash wild horses. You see, the ranch lady always was an artist, it just took her a while to discover it.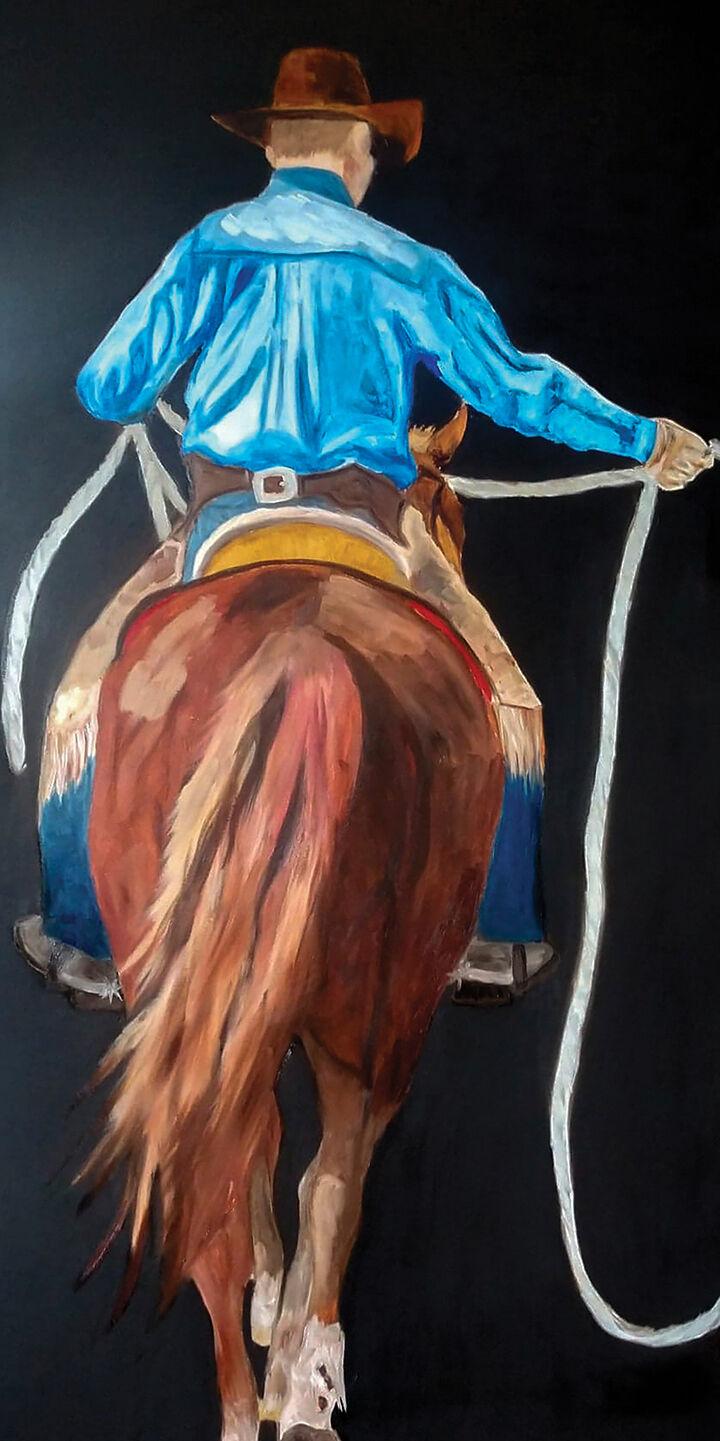 "I was on a tour in Washington D.C.," she began. "I was headed for the Smithsonian and my friend sort of shanghaied me and we ended up at the National Museum of Art."
"I came away a different person," she said, eyes widening like a child seeing her first banana split.
Susan didn't know anything about painting or other media, but she owned a camera and lived in one of the most photogenic places on the planet.
"By then, I was travelling around the state a lot for City Market and I started carrying my camera everywhere I went," she recalled. She taught herself the basics of photography. She started in film and then came digital photography. She was unleashed.
Evenings and early mornings will find her in Yankee Boy Basin, up at Taylor Lake, on the Big Cimarron, in the Black Canyon or three hours north at Sand Wash, where there resides a large band of wild horses, most of whom she knows by name. The names were given them by a group of women who advocate for the existence of the horses.
"My favorite is the San Juans, I never get tired of shooting there. And next, it's Sand Wash," she said. "I know the horses are a problem, there are too many on the BLM range and they are competing with the sheep herders who own the permits and who need every blade of grass they can find. I love to see them and photograph them, but the herd needs to be reduced. I am okay with that."
These days, Susan Sanburg Humphrey is what many would call a digital artist, who, besides using the magic of digital photography, also goes analogue as she learns how to put oil paint on a canvas. It's a challenge.
"I threw away my first 20 pictures. They were embarrassing. I am starting to feel as though I am making progress, I even like some of my work now," she said. And there is a reason to like it. She is presently working on a series with the Sand Wash horses as subjects.
To move herself along her new path, Susan found a mentor in Peggy Judy, an accomplished and well-known artist and art instructor up on the North Fork.
"She has taught me a lot — basics, some techniques, composition," Susan said.
But we don't see any paintings of mountains.
"I have not done any mountains yet, I am kind of afraid to," Susan said. Could it be that her own fabulous photos of her beloved San Juan mountains have her a little intimidated? "I'll try it one of these days," she said.
Meanwhile, the governor's work from home orders were no big deal, since she and Dan had been doing it forever. They share the only ammo hand loading/digital artistry studio in the world. While Dan reloads his favorite prairie dog round, a Fireball .221, Susan color corrects her most recent San Juan images or works on her current painting. They have a trip to Alaska planned for August.
And she has at least one serious bucket list item yet to experience.
"I want to photograph the swamps in Louisiana. I have a guide picked out who takes you through the Atchafalaya Refuge in a pireaux (boat)," she explained. "He poles the boat and doesn't make ripples. Some of the photos I have seen are just gorgeous."
That is next year's trip.
Meanwhile, back home, the Montrose County Fair comes up next week and Susan is a little bummed that she can't watch the grandkids sell the sheep that she has a personal stake in. The fair is closed to everyone, except the immediate family of the competitors.
'At least they get to show and sell," said the grandma as she drops a pitchfork full of hay into the trough of the two impatient sheep. They are two of four on the place, all 4-H projects.
And how about that niece, Anabel, back for another grand champion?
"Chewy was a great steer, but I think the one this year is even better."