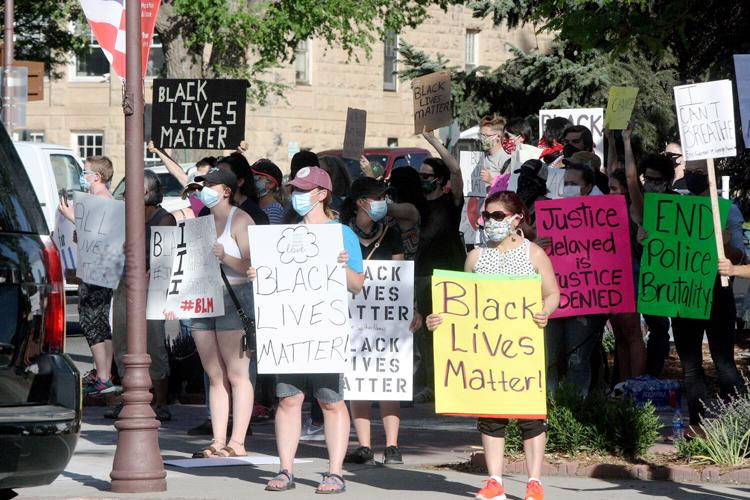 Protesters gathered at Demoret Park in Montrose for the second day in a row on Tuesday following the death of Minnesota man George Floyd last week. On Monday, around 20 people were out protesting. Tuesday, the crowd hovered around 100 people, and was much more lively with chants of "What's his name" and "No justice, no peace."
Around 5 p.m., the crowd was at its peak, taking up space on both sidewalks next to the park. Cars drove by and honked in support. The protesters lifted their arms and wailed back in acknowledgement.
Residents from Montrose made up the majority of the crowd, whose chants grew louder as more people filed in to protest.
Travis Bisbee, a Montrose resident and small business owner, led the crowd through chants of "Say his name," "No justice, no peace" and "I can't breathe" for most of the evening.
Bisbee, a white male, made it clear his intent wasn't to bring attention to himself. Rather, prior experiences led him to be passionate on Tuesday.
In 2015, Bisbee resisted arrest at a party. He was given the opportunity to reform, go through probation and take classes. Now, Bisbee describes himself as a regular citizen in the community.
After seeing what had happened to Floyd, the events hit home, Bisbee said. Even though Floyd wasn't seen as a threat and didn't show signs of resisting, he didn't share a similar fate, he said.
"I honestly feel like the only reason I was given that opportunity is because of the color of my skin," Bisbee said. "So it hits home really personal for me. [Floyd] didn't show the level of resistance that I myself gave.
"Seems pretty obvious that there is reform needed," Bisbee later added. "I feel like if his skin color had been lighter, or mine had been darker, either one of those situations would have been different."
Residents in the crowd held up signs that read "Black Lives Matter," "Justice for George Floyd," and "I Can't Breathe." The Black Lives Matter movement has swept across the nation with protests against police brutality in all 50 states. Crowds have protested peacefully, including in Montrose, but some areas, like Denver, have experienced vandalism and destruction of property.
"I do agree that more measures need to be taken against the protesters to make their voices heard, but the other half of me is saying that you don't need to riot," said Raul Lemus of Montrose.
Lemus silently held his hand up during the peaceful protest. Lemus came to protest injustice for the black community as he hopes to help spark change.
"I know I've seen it first hand, and I want to make a change," Lemus said.
Chucky Photon, a Montrose resident, was at the protest on Monday. He said he was "disappointed" to see a violent response from police officers in response to protesters in other states, but nonetheless, was out to support and show solidarity for the black community.
"There are a lot of people who are unheard, so I want to speak up for them," Photon said on Monday.
Tuesday's protest wasn't without its critics. A few passersby voiced their displeasure from their vehicles, but it only ignited the crowd further.
The crowd featured some returnees from the protest on Monday, Kit Johnson of Montrose among them. Johnson recalled the 1970 Kent State shootings of 13 unarmed Kent State University students by the National Guard, four of whom were killed, and which ignited protests at college campuses around the country. Johnson was a college student in Denver at the time.
She also recalled the 1967 Detroit riots.
"They all looked like what we're seeing now," Johnson said on Monday. "Violence and fires. It's very hard to see it again.
"Accountability needs to change, we all need to work together," Johnson added.
Photon said he saw the protests over the weekend, and it reminded him of the 1992 Rodney King riots.
"To look back on that, and know that was within my lifetime, and nothing has changed," Photon said. "We never should have stopped protesting."
Local residents plan to protest on Saturday by marching through downtown Montrose. Local law enforcement was invited to join the protestors.
Montrose Police Chief Blaine Hall said he supports people exercising their First Amendment rights and that although he understands why other agencies in the nation might have officers participate in demonstrations, his officers will simply be keeping the peace at the local rallies.
"I am definitely against racial injustice, however, our job for that day is to keep the peace and that will be our main function for the day. … I've been assured the rally on Saturday will be peaceful, that the individuals attending the rally plan on following the law, and we support them in doing that," Hall said.
The chief also commended Tuesday's rally for having been peaceful. "People are exercising their First Amendment rights, and I support that. This is a serious topic that needs to be addressed in our nation, but it needs addressed with more than just discussion. Our police officials need to take action and get rid of officers that engage in this type of activity," he said, referring to racial bias and excessive force.
"The way that our agency is going to show that we support this is by completing a thorough and proper hiring process, by ensuring there is accountability in our agency, by identifying the precursors of racial injustice and excessive use of force issues, investigating and ensuring that any officers that engage in racial injustice don't have a place in law enforcement, period," Hall said.