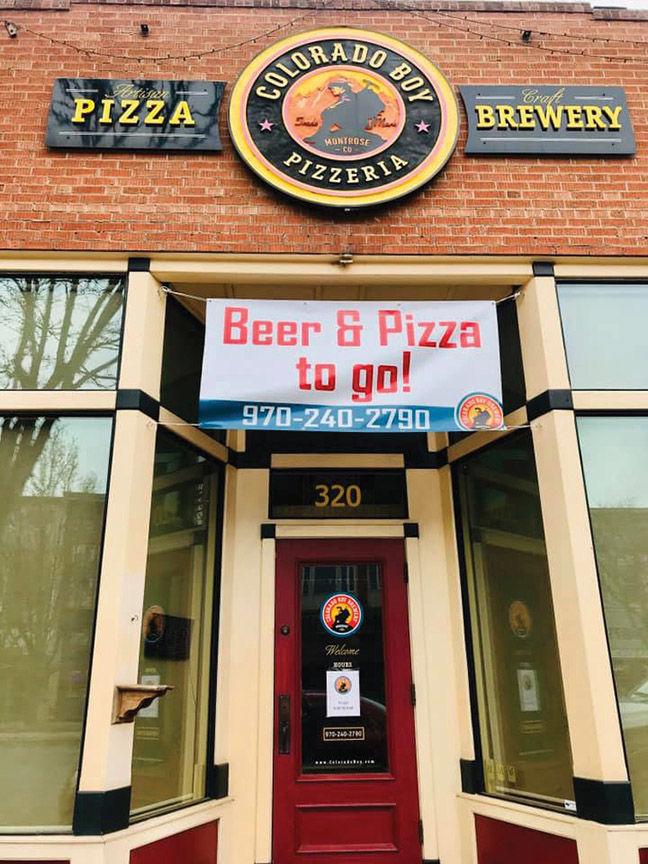 At Tuesday's city council meeting and Wednesday's weekly business update, Montrose leaders discussed reopening protocols for restaurants. One of the major concerns, however, was the restriction on outdoor seating due to liquor licenses.
"When a business applies for the license, if they don't intend to [serve alcohol] with outdoor seating when they apply, they have a map of the premise where the alcohol will be sold and consumed," said City of Montrose Director of Business Innovation and Tourism Chelsea Rosty. "Serving on the sidewalk in front of business would not have been part of their original license."
Because restaurants will need to make adjustments in the future, such as spacing tables apart and moving tables outside, many are planning to expand their seating to sidewalks, alleys and parking lots in order to seat as many patrons as possible while maintaining social distance. However, many restaurants' liquor licenses do not extend to those areas.
"The natural thing to do is to increase the space, where these services can be offered. We've been thinking about ways to help businesses legally do that, especially when it comes to alcohol consumption, and safely do that," Rosty said.
If restaurants are able to reopen and still want to serve alcohol in expanded outdoor areas, they will need to get a premise amendment to their liquor license, a process that goes through the state.
"Those things are all possible, but it takes permitting, it takes an expansion of the liquor license because there is a footprint of where liquor sales are permitted at this time," Rosty said. "We will have to go through the process to get that permitted, but know that the city is wanting to help with that and expedite that, but it is a state process."
If, for some reason, restaurants are unable to obtain a premise amendment, the city is also looking at getting a liquor license for a particular street or area that would be closed down and used for general outdoor seating.
"People would be able to pick up [their food], walk over to the closed down street and consume both the food and alcohol there," Rosty said.
Although nothing has been approved through the city or county, Rosty said that the city is also looking at the possibility of helping businesses with their premise amendments, including guidance through the process and potentially assisting with the fees for the amendment.
"We are working really hard to interpret the liquor laws to these pieces so people can enjoy their beverages and serve on premise, or while we have the luxury of take-out alcohol and what that looks like in public spaces," Rosty said.
As of May 20, dine-in at restaurants is still prohibited. The reopening of restaurants will begin either if Montrose County is granted a variance from the Safer-at-Home order, or if restrictions change at a state level. Gov. Polis will decide if restaurants can reopen on May 25, and after June 1, the state will decide if Safer at Home can be modified to phase in further reopening.
Based on the current draft of the restaurant guidelines, outdoor and indoor dine-in service can be held with limited capacity. Tables must be at least eight feet apart and parties must be limited to six people or less, in addition to screening employees, using masks/gloves, taking sanitary measures, using reservation systems and eliminating as many shared surfaces as possible (using paper menus and replacing tablecloths between guests).
Stakeholders can provide feedback on the draft guidelines until May 22. Until a decision is made at the state level, Rosty said that restaurants should continue to brainstorm ideas for expanding their seating areas and preparing for the possibility of reopening with restrictions.
"[Restaurants] should be thinking about ways they can expand their capacity. How can they make their capacity larger so that 30 percent encompasses a bigger number of patrons?" Rosty said. "I would encourage them to think about other areas inside their restaurant where people could possibly consume beverages or food, like turn a waiting area into a table."
Meanwhile, local government continues to work toward reopening businesses. Montrose County sent a request for variance to the state that includes reopening restaurants, but has yet to hear back.
"I think the community should know they have two local governments that are advocating on behalf of the businesses and the community that wants to patronize our restaurants," Rosty said. "I know it seems like it's taking forever, but we're working really hard to try to speed up that process as much as possible."