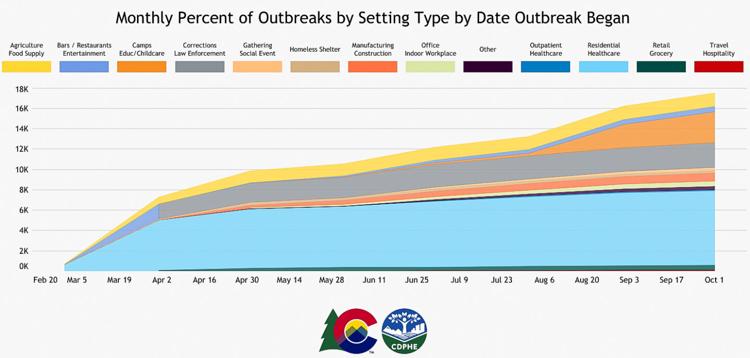 Colorado is entering a third wave of the coronavirus pandemic, and state officials continue to express concern about Colorado's COVID-19 epidemic. All this comes as many school districts across the state are welcoming middle and high school students back to the classroom for full-time in-person instruction.
What does this latest coronavirus spike mean for school districts, and how are those districts working with local public health officials to safely welcome students and staff back in-person?
The Centers for Disease Control and Prevention offers a continuum of risk based on learning models and mitigation strategies schools decide to implement.
"In general, the risk of COVID-19 spread in schools across the continuum of virtual, hybrid, to in-person learning with the risk moderated for hybrid and in-person learning based upon the range of mitigation strategies put in place and the extent they are conscientiously followed," according to information on the CDC website.
The lowest risk is a learning environment in which students and teachers engage in virtual-only coursework, activities and events. The CDC places in-person only learning, activities and events within the higher-to-highest risk range. Activities the CDC classifies as the highest risk in its model include:
• Students and teachers engage in in-person only learning, activities, and events;
• Students mix freely between classes and activities;
• Students and teachers freely share objects;
• Students, teachers, and staff do not/are not required to follow steps to protect themselves and others such as proper use of face masks, social distancing, hand hygiene;
• Irregular cleaning and disinfection of frequently touched areas.
Welcoming students back full-time
As school districts continue to welcome students back for in-person learning, the CDC offers some healthy behaviors for reopening schools during the pandemic at https://tinyurl.com/y343ye4b.
Data from the Colorado Department of Public Health and Environment (CDPHE) have shown a shift in where outbreaks are occurring, since the pandemic began last spring.
At first, the state was reporting the majority of coronavirus outbreaks at long-term care facilities like nursing homes. After the initial spike in March and April, those numbers have largely leveled off. During the summer, outbreaks have risen most prominently at schools and educational facilities. Those numbers continue to show a positive trend and account for over 10% of the state's total outbreaks as of October.
Governor Jared Polis said he could order schools closed again to get coronavirus cases under control.
"I know we are all very tired of the virus," Polis said. "Fatigue is setting in. That's why we're seeing these numbers increase. But the virus is not tired of us. It's still deadly."
But many school districts have welcomed students or are making preparations for students to return full-time to school, including the state's largest district — Denver Public Schools.
The Denver Post reported most Denver-area schools have begun in-person instruction despite the rising number of coronavirus cases. DPS welcomed elementary students back for full-time, in-person instruction Wednesday, Oct. 21. Its reasoning was younger students having a lower risk of severe COVID-19 illness and a need for in-person instruction due to challenges with distance learning.
Douglas County School District in Castle Rock welcomed elementary school students back for in-person instruction on Monday, Oct. 19, despite the district's metrics for tracking community conditions calling for a hybrid format. The district is also working on a scenario for welcoming back middle and high school students.
On the Western Slope, Delta County School District recently announced the transition to 100% in-person learning for high school students, starting Monday, Oct. 19.
"We are exercising this flexibility, as intended with our restart plan, while monitoring the public health situation within our communities, ensuring that students are successful in their academics," Superintendent Caryn Gibson said in a letter to students.
The district plans to operate in-person learning unless it or Delta County Public Health determine a need to quarantine.
"When a quarantine is instituted, the impacted classes/school will conduct distance learning as outlined in the 2020-2021 restart plan," Gibson said.
The high schools will also shift back to a hybrid learning model if the community spread increases to a threshold where public health and the district believe the change is needed.
Within the letter, Gibson cited multiple reasons for the transition to in-person instruction:
• DCSD staff have protocols and procedures in place to provide a safe, healthy, and caring learning environment.
• During the first seven weeks of the 2020-2021 school year, elementary and middle school students have returned to 100% in-person learning with minimal disruptions due to COVID-19.
• High school teachers and students have prepared for transitions in and out of distance learning, if required due to COVID-19 quarantines.
• DCSD recognizes that a hybrid model of instruction is not ideal for all students.
• Teachers express that their pace of instruction has slowed down due to repeating lessons over two days.
• Parents report that their children are not actively engaged in academic activities for the entirety of the school day.
• Students report that there is a lack of social connection with their teachers and peers when they are in a hybrid learning environment.
"We had multiple people contact the school district from parents, students and staff to be back in-person learning 100%," Gibson said. "Others said they liked the hybrid model, but you can't have too many things going on.
"After looking and listening, we decided we were able to flex into in-person 100% at the high school level."
Seeing the data highlight students reporting a lack of social connection with others, Gibson said there is value associated with the in-person learning model.
However, if the state were to close schools again, as Polis suggested might be necessary, Gibson said it will affect students.
"If we all had to move into a distance learning model, I think there would be some sad students," she said. "Students are really doing their part to stay in school and so are teachers."
She added, "If we are forced to do distance learning, it would be tough socially, emotionally and academically on students."
Montrose County School District is in ongoing conversations with Montrose County Public Health, school principals and stakeholders about the potential of welcoming middle and high school students back full-time this spring.
"We're going to factor science and local conditions into whatever decisions we make," MCSD Public Information Officer Matt Jenkins said.
Jenkins said while the district would be glad to welcome students back soon, it has to factor in the virus and be able to prevent viral spread. The district is also taking into consideration the impacts on staff's and students' schedules to make a transition to 100% in-person learning easier on everyone.
"Dr. (Carrie) Stephenson (MCSD superintendent) commented to the board in her report (on Oct. 13) that based on our current conversations and based on local conditions presently, the way that school operations and calendars work, it just makes better sense at semester because that's a natural transition," Jenkins said.
The district acknowledged how distance learning has various impacts on students overall well being and their families, but also there is a concern numbers could go up once students return to 100% in-person learning.
"We're trying to navigate that balance and do what's best for our students both in terms of learning, their behavioral health as well as their physical health," Jenkins said.
Similar to this past summer's Return to Learn Plan, MCSD will solicit feedback from families about a 100% return to learn at the secondary level.
Katie Yergensen, Montrose County media relations manager, said the county and the district have been working in partnership throughout the entire pandemic to keep the community and school safe.
"MCSD will have to follow Colorado Department of Public Health and Education and Colorado Department of Education guidelines regarding in-person schools, as well as any state public health and executive orders," Yergensen said. "At this time there are no local public health orders in place."
According to CDPHE guidance, districts that decide to increase their in-person capacity must do the following:
• Rigorously maintain personal protective equipment (PPE) use, like masks;
• Vital for staff or students to stay home if sick or symptomatic.
The CDPHE also encourages districts to track seating charts. With between 25 to 30 students in a classroom, maintaining 6 feet of social distance is nearly impossible. By keeping a log of seating charts, districts can create a 6-foot radius around a person to determine people who had prolonged close contact.
Tracking seat charts may be a potential mitigation strategy MCSD adopts, if and when they move forward with secondary students returning to the classrooms full time.
Concern about students' well being
In addition to supporting students academically, school districts work to educate the whole child, with the social/emotional piece a part of that.
Jenna Glover, Ph.D., psychologist and director of Psychology Training at Children's Hospital Colorado and assistant professor, University of Colorado School of Medicine on the Anschutz Medical Campus, said more students are expressing mental health concerns and a need for attention from adults, parents and schools.
"Significantly more students are expressing mental health concerns during the pandemic than before," Glover said. "Youth are expressing they want adults to pay more attention to understanding their mental health needs and for schools and parents to provide space and support for youth to talk about their mental health struggles."
Glover said research has shown a significant increase in youth reporting feelings of internalizing symptoms, which include stress, anxiety, sadness and loneliness as a result of the pandemic.
"Youth also have less access to spending time with friends, engaging in extracurricular activities and developing positive mentoring relationships with adults," Glover said.
With a higher proportion of students at schools and on college campuses reporting mental health problems coinciding with less coping strategies, problems are becoming a more chronic mental illness.
"As a result, there is a need for youth to be connected to mental health professionals in order to reduce the risk of ongoing chronic mental health problems," she said.
The significant increase in mental health problems among youth can be attributed to a feeling of grief and loss around life milestones. When compared to adults, those milestones for youth are more frequent, heightening the need for social and emotional support.
"Youth are going through major developmental milestones that they have been waiting for such as attending homecoming, going to prom, or graduating from one grade to the next or from high school," Glover said. "Most adults are not experiencing this same grief and loss around major life milestones as frequently as our youth are and this loss is something that will be difficult for them to mourn and make sense of."
To cope with the feeling of loss, Glover said establishing a sense of normalcy in youths' lives can help improve their mental health, regardless of learning environment.
"Regardless if schools go in-person or stay remote, the most important thing that can happen is for parents to try and create a sense of routine and schedule for whatever format their children are learning in," she said.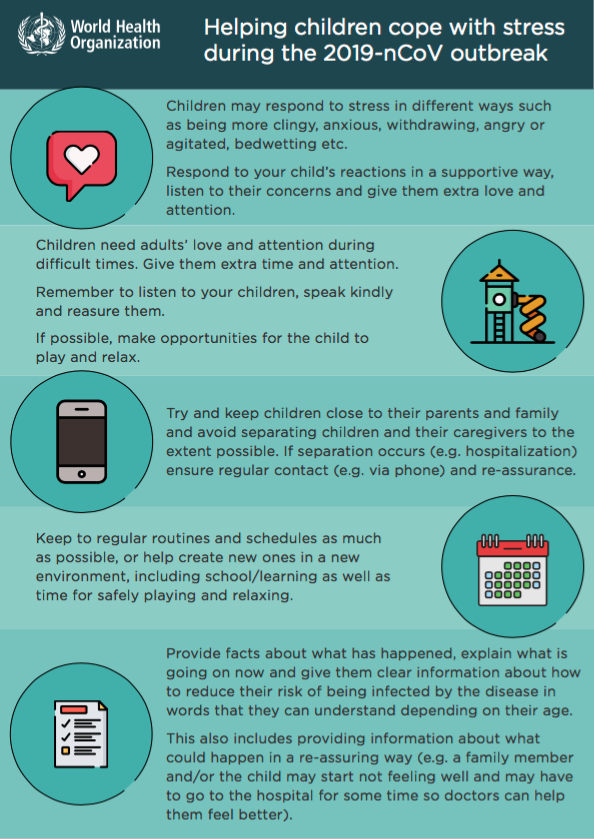 CDPHE offers resources for families about reducing fear and taking care of oneself during the pandemic, which can be found at https://tinyurl.com/yy522aaa.
As society's understanding of the novel coronavirus continues to grow, schools are prepared to flex in and out of in-person and distance learning. Regardless of the learning avenue, the districts' goals remain the same — educate students and keep students safe.
"Safety and health is a big concern," Gibson said. "When you look at the big picture and trying to help kids learn, you have to weigh it all and right now we're able to flex into in-person learning. We just have to continue to be flexible and nimble and continue to listen."