One popular local entertainment venue may reopen, if the stars align.
Misty Hunter, whose family owns and operates the Fox Theater and also owns the San Juan Cinema — closed since March 2019 due to decreased traffic — said her family is considering reopening the San Juan if moviegoing in the area increases and the industry's fluctuating release schedule normalizes.
Hunter said there is no definitive timeline for a potential reopening, but mentioned she would closely evaluate the next three months with studios expected to release several high-profile films including "No Time To Die," "Dune" and "Ghostbusters: Afterlife" as part of a packed holiday season.
Hunter added that a reopening in spring 2022 is an option, but stressed that such a decision needs to make "business sense " — increased traffic among moviegoers and stabilization within the film industry, which Hunter says is in flux due to studios like Paramount delaying titles like "Top Gun: Maverick" from Thanksgiving 2021 to spring 2022 amid a surge in the Delta variant of the coronavirus.
"We'll see," Hunter said. "There's some really good films coming out in October, November and December. This will kind of be a litmus test to see if people are ready to come back on a regular basis with some consistency."
A portion of local moviegoers have returned to view films at the Fox Theater so far this year, but the 2021 returns, through September, pale in comparison to pre-pandemic figures.
Hunter said the Fox Theater, between January and September 2021, is operating with sales down 61% compared to the same timeframe in 2019. The busiest month this year for the venue to date has been July, but it operated with sales down 60% compared to a pre-pandemic July, Hunter said.
The venue was open weekends only for the first handful of months of 2021 with capacity limited due to COVID-19 restrictions, but has largely returned to pre-pandemic programming. The Fox Theater is open Wednesday through Friday, with matinees available on Wednesday and weekends. It's closed on Mondays and Tuesdays — similar to pre-pandemic — but Hunter said showings on those days might return around the holidays.
Hunter said she and her family "looked hard" at reopening the San Juan Cinema for Thanksgiving or Christmas 2021 but later softened on the idea with moviegoing not yet near the rate it was locally before the pandemic.
The film industry has recovered some in 2021, but not before suffering some blows. AMC, one of the largest theater chains in the states, permanently closed 60 theaters. Cineworld, a global cinema chain, lost more than $2 billion in 2020 and just started to reopen its sites in spring 2021.
Navigating the pandemic hasn't been any easier for smaller, local theaters with even less resources than a juggernaut like AMC or Regal Cinemas.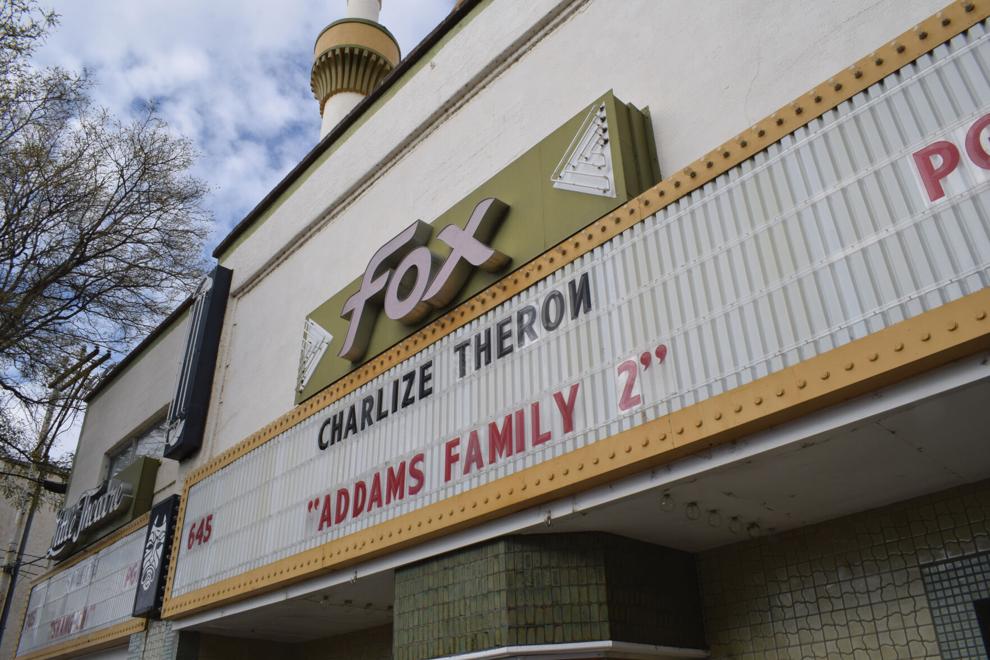 On top of studios delaying films to 2022 (and for much of 2020, delaying films to 2021), local theaters have had to navigate day-and-date releases from studios like Warner Bros., which decided to release all of its 2021 films in theaters and HBO Max, its streaming service. That means movie fans can watch the film from their homes for free as long as they're subscribed to the service.
Disney also decided to release some of its films, including "Black Widow," day-and-date in theaters and on Disney+.
"I don't know about our specific theater, but the industry in general, it's definitely had an impact," Hunter said of the studio's decisions to release films day-and-date. "How could it not? When something comes on free and you can watch it from your home with the Delta variant and things going on, the public is still not 100% on going out."
Hunter said the Fox Theater also continues to feel the effects of audiences' decisions to not risk going into a movie theater at this point of the pandemic. Hunter said the venue tends to attract more seniors compared to other age groups or a younger audience.
"Montrose is a unique (movie) market," Hunter said. "We don't have college kids and most of the young people have young families, so they're not always going out. If you were to trend what does well in Montrose as opposed to what does well in other parts of the country or in big cities, it would be a little different. It's just the nature of our population."
Hunter said she and her family haven't placed an exact threshold that would trigger a reopening of the San Juan Cinema.
"We're a business and it has to make sense. You've got to heat that auditorium whether there's two of 150 people in there," Hunter said.
She estimates costs incurred for operations on a single night could range from a few hundred to hundreds of dollars — heating the auditorium, payroll, insurance payments and property taxes are just a few of several costs that factor in.
Grants have allowed the Fox Theater to avoid any potential closure amid the pandemic and extensive revenue loss. The venue received $452,117 from the Shuttered Venues Operators Grant program, which has been used to pay back general operating expenses.
Hunter and her family also took out a $292,300 Economic Injury Disaster Loan (EIDL) at the start of the pandemic from the Small Business Administration, which can't be used to pay back the SVOG award and is a 30-year low-interest loan.
Payments are deferred for the first two years for the EIDL loan, so the Hunters don't need to start making payments until April 2022.
Despite the current landscape of the film industry, Hunter said it's the family's "hope and desire" to reopen the San Juan Cinema to give the community additional film options.
"I think it's a mix of having a stable movie schedule and people's comfortability with going back to the movies," Hunter said of a financial recovery. "Only time will tell if streaming or impact of COVID and the pandemic is a permanent change. Time will tell for the whole industry if it bounces back from the pandemic. That's the million dollar question."