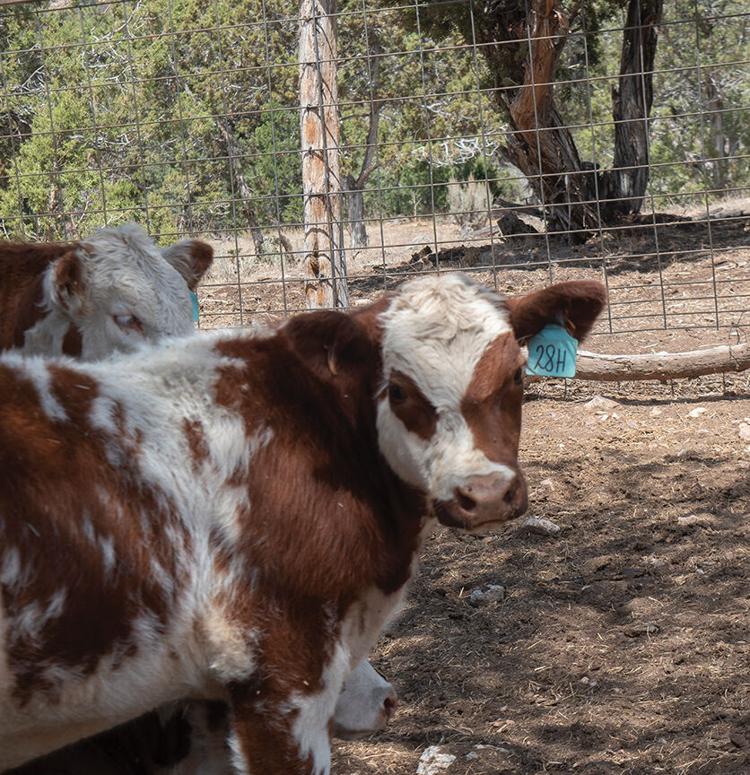 Bulls were bred with mama cows to make calves. The calves grew up to be breeders or go to market. The breeding took place on the ranch. The market animals were taken to the railhead for shipment to processors. Shortly thereafter, a bank draft went into the ranch account. That was life. Even taking some cows to a big show was relatively simple.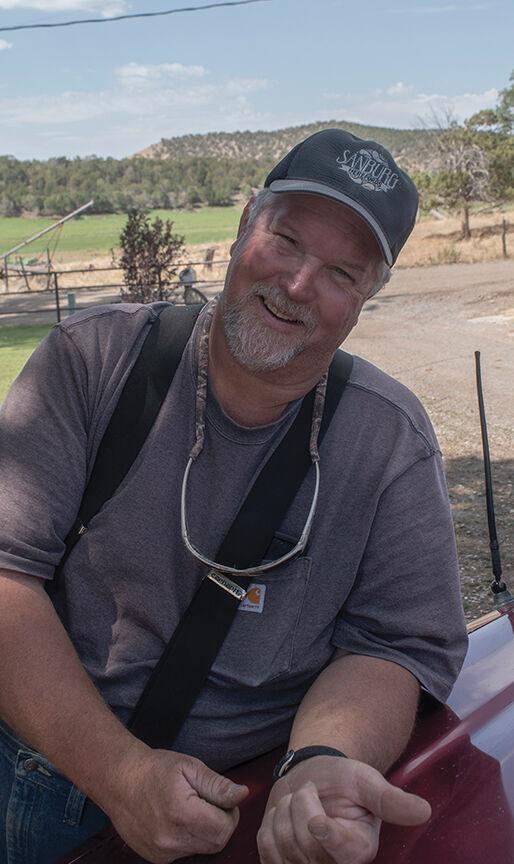 "Back in the 40s, my grandfather and his brother would take 12 or 15 head down to the Rio Grande Western Railroad siding at the bottom of the hill at Cedar Creek. They would load the cows into a car and then get in the cattle car with them. They rode in the cattle car all the way to Denver even in winter," Bostwick Park native Kurt Sanburg explained.
The Sanburg brothers were headed for the National Western Livestock Expo in Denver, in those days one of the biggest in the country. Other members of the family would load up personal effects in a vehicle and make the long drive to Denver to join Milton and Howard Sanburg for the 10-day stay.
The Sanburgs have been in Bostwick Park for four generations. The family has a huge presence on the Western Slope. It has been said that if you shout the name Sanburg in a crowd, most everybody will answer.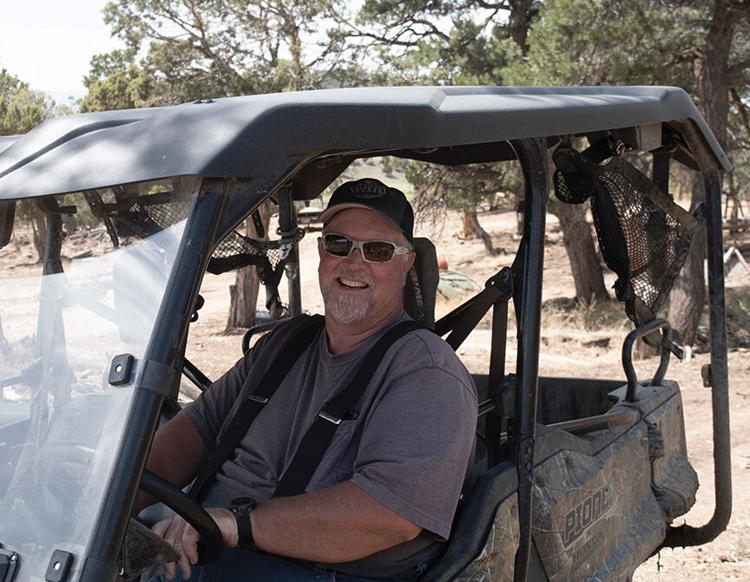 Kurt and Gretchen Sanburg live on the original ranch near the west end of the Park. They have four daughters — Caitlin and Emily who have graduated college, Gracie, who is enrolled at CSU, and Annabelle who is in seventh-grade at Centennial in Montrose. The family runs a registered Hereford breeder operation. Even at 53, Kurt remembers when life and the cow business was simpler.
Even with the regular chores on the Sanburg Ranch, it was not all cows all the time.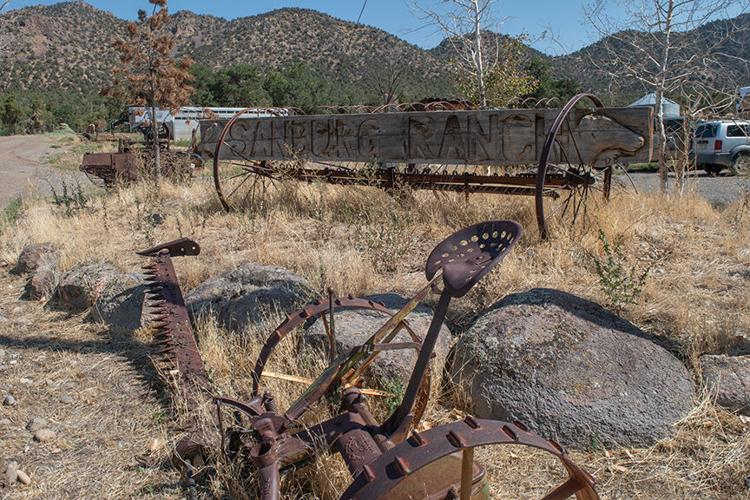 "We used to have deer hunters from all over coming to hunt on our place," Kurt said. The deer on the Western Slope far outnumbered the cattle. "We even had some of the TV shows and big magazine writers come here for the mule deer hunt." The deer hunts were also a source of income.
Kurt grew up a stockman. He joined 4H when he was 8. By 9 he was a stock judge. He worked on the family's H Lazy V outfit.
"I went to college for a year in Texas on a judging scholarship," he recalled. When he came back to the park, he worked the ranch and continued to do some judging.
When Kurt's father, Milton, passed away in 1995, it became Kurt and his mother's job to keep the ranch going. He wasn't 30 yet, but he and Gracie Sanburg took it on. Then Gracie passed on in 2009 and Kurt was on his own. Even by then, it wasn't that complicated, it meant doing what they had been doing all their lives.
Oh, that it were that simple still. Now, a cattleman has a lot more on his plate, some of it unpalatable. Perhaps the most unpalatable is constant change.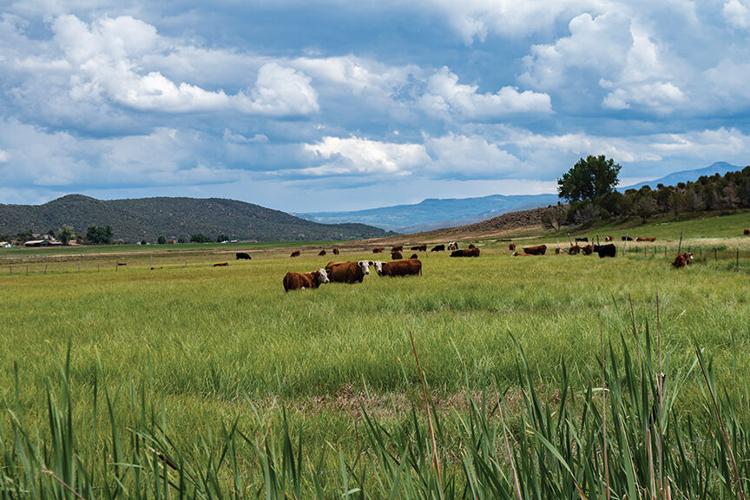 Make sure the cows have water. Feed them some hay and a little grain silage. Nurse them when they need it. Brand the calves. Be alert for predators. Get the steers to market on time. That's the way Dad and Grandpa did it.
Last spring Kurt Sanburg made a big change and offered custom grass-fed ground beef, direct from the ranch to the local market. He sold everything that he produced. That was then. Now, this lifelong rancher and Hereford breeder is thinking in other dimensions, like DNA testing, mass marketing, pulmonary arterial pressure (PAP) tests, water management, and more.
"I have picked out about 15 calves that I will feed this winter and finish for custom butchering next spring," Sanburg said. "Instead of just ground, I will be offering quarters and halves as well."
But wait, there's more. Sanburg said he is considering adding flax seed (Linum usitatissimum) to the feed this winter. Say what?
Just the changes dealt with when finishing beef cattle on the ranch, not set up to finish fat cattle, were stressful enough. Now, he's going to get involved with a new supplemental feeding program that adds more work and more expense to the process. It's about gaining an edge in the marketplace.
"Supplementing the grass and grain feed with flax seed puts Omega 3 fatty acid into the feed and that goes to the muscle tissue of the animal and to the person to eats the beef," said Sanburg, a tall guy leaning over the hood of a pickup truck, making it look like a Tonka toy.
Each of the feeder cows will get a couple of pounds of the flax meal, along with its other daily fodder. Sanburg is not the first cowman to feed flax, but for him, it is another change.
Flax seed is typically crushed to release oils that are used in industrial products. The crushed remains have been used in livestock feed. Research indicates several possible human health benefits associated with the consumption of flax. Flax contains approximately 20% alpha-linolenic acid, an essential omega-3 fatty acid. Omega 3 has a huge following of faithful who swear by its benefits.
Kurt says the research that he has done indicates that when consumers know his beef is high in Omega 3, it will bring him as much as $2 more per pound over his previous sales of standard grass-fed stock. On a steer weighing 600-800 pounds dressed out, that is not chump change.
Were it but that simple again! Sanburg said there are complications. One is trying to find a consistent supplier of milled flax. To get a decent price, he is going to have to buy a lot of it, which puts more capital at risk. He is also on the hunt for meat processors.
One thing that used to be simple is now a hassle.
"I started this month trying to get an early processing slot at Kinikin, where I did the ground beef done this year. But the next slot they have for me isn't until April 24 of next year," Sanburg said.
He was looking for something sooner. He has found, by calling several processors, including those in Grand Junction, that lots of folks other than professional cattle producers are butchering beef. And a lot more of his contemporaries are on the same bent as he.
"I was told that lots of people, who have a couple of acres, have been buying calves, one or two at the time, and they are using the processors' capacity," Sanburg said. And to be sure, there are other ranchers who are supplementing their income as the normal marketing system falls slack, bringing poor prices. The problems the cattle producers have with processors apparently are not easily solved.
On the breeder side of the operation, there is change in the wind constantly. Before, if a bull had a good reputation for producing good calves, that was enough to make him or his semen sellable. Now there are DNA tests to prove bloodlines, which also proves registration rights.
Then there are expected progeny differences (EPD) tests, which allegedly can provide deep insight into what the traits the offspring of a bull or mama cow may be expected to show.
According to Kurt, they can test for prediction of progeny birth weight, weaned weight gain, carcass ribeye, (PAP) heifer pregnancy, and a dozen more traits. When a buyer goes to a bull sale, the auctioneer will announce the PAP results of every animal which predicts its ability to stay healthy and perform at high altitudes, among other things.
"To submit an animal as a registered Hereford, there is no guess work allowed," said Sanburg. Every animal registered has been tested for its DNA history. The Hereford, Angus, and other breed associations all require DNA tests before registration.
But complicated or not, Kurt Sanburg will keep on selling cows. Bulls and beef.
"I love selling beef," he said. He also loves his calves. Typically, he doesn't get attached, but this past calving season, he broke the rule. One morning Kurt posted a calf picture on Facebook of a beautiful like newborn, with unique mask-like markings. The picture ended up in the Montrose Daily Press. He and the girls named the calf "Ledger."
"I was going to call him Joker, because of his mask markings," says Sanburg. "But the girls thought the name of the actor who played him in the Batman movie would be better."
So, Heath Andrew Ledger has a namesake and some fans in Bostwick Park, Colorado.