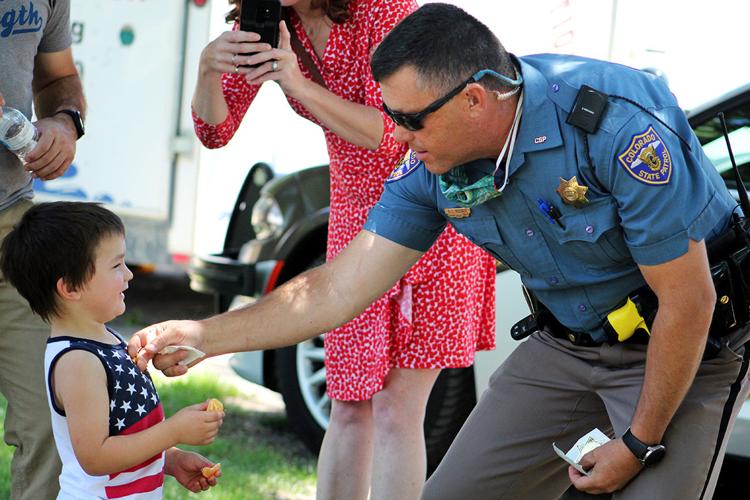 Olathe Town Park was bustling with members of the community Saturday during a barbecue to show local police and first responders appreciation amid the nationwide events surrounding police.
The smell of juicy barbecue seeped from the smokers into the air and the sound of sizzling burgers and hot dogs on the grill created the backdrop for the barbecue that former paramedic Daryl James came up with over Father's Day weekend.
"I mentioned it Father's Day morning and had 100 people message me that day wondering what they could do to help or saying it's a great idea," James said. "That made me feel a lot better about it because I was wondering how the turn out would be and I'm glad it's turning out well."
PHOTO GALLERY: Community barbecue for law enforcement and first responders
Arriving at 5:30 a.m. Saturday morning, James began smoking the meats to ensure they would be ready in time for the barbecue. With the help from friends, James prepared 100 hot dogs and hamburgers and 150 pounds of pork for the barbecue.
Darrin Westermann volunteered time Saturday to help on the grill after he saw James' social media post.
"I jumped right in and offered sponsorship, volunteership and whatever he needed," Westermann said.
The nationwide coverage over policing inspired Westermann to support James' efforts with the barbecue.
"Just the appreciation for everybody in blue," he said. "I think they're taking a beating in the press that we need to have people supporting them as openly as there are people not supporting them."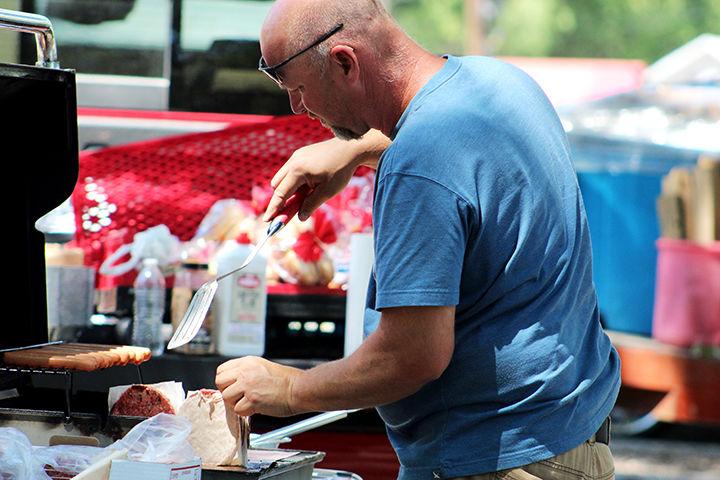 Westermann added, "I hope that they see they're not as vilified as the media would make them out to be. There are more people who support them than don't support them."
Law enforcement with the Colorado State Patrol, Montrose County Sheriff's Department and Olathe Police Department were present at the barbecue.
CSP Trooper David Miesner was one of the troopers at the event, who enjoyed interacting with his community. Miesner also engaged with the kids by handing out trooper badge stickers that read "Colorado State Patrol Junior Trooper."
Meisner placed a sticker on his grandson Mason James' T-shirt, which Mason said was cool because it made it stick to him.
"There's a lot of police officers over there," Mason said. "Yeah I like them."
As the troopers enjoyed catching up with friends in the community, Miesner said the barbecue made him feel grateful.
"I think in the current times, it's good for us to feel the support," he said. "Obviously it's negative, so something like this to see and greet and talk to other people and just know that we're still respected and loved and valued means a lot. Also, it's good for the people to know that we're human, too. We're people at heart and we're out here to do good things."
Riley Berdin, 10, of Thorton is visiting for the summer and attended the barbecue with family. She said she was excited when she found out about the barbecue and said she wanted to thank first responders and law enforcement for their service.
"I think (firefighters and police officers) are really cool because they save people's lives," Berdin said.
Lawrence Sanderson, owner of Montrose Hell Fighters, also expressed appreciation for the support from the community as well as making the communities a safe place to live.
"It's nice to be recognized and I like the fact that they're recognizing everybody," Sanderson said.
While the images and videos of violent protests occur across the country, Sanderson said, "It's awesome and great that we live in a community where we really don't do that stuff. It's sad that it's going on in other places, but I feel safe in our communities here."
Sno-cones were also available at the barbecue along with an inflatable bounce house for kids, courtesy of Harvest Community Church of Olathe. Caleb Bachman worked at the sno-cone stand throughout the event, which he said was fun as he watched the community come together.
"I enjoy seeing the community and all the kids here having fun together," he said.
From the event, Bachman hopes people understand "that police officers and firefighters it's OK that they're here and they're helping people out."
Caleb's sister, Shannon also worked at the sno-cone stand during the barbecue, pouring the flavoring over the ice. She also supported the idea behind the barbecue to support first responders and law enforcement.
"I think with everything that's going on today, it's good to show the first responders and law enforcement that a lot of people still care about them and respect them," she said.
Samuel Bellew saw a post on the Olathe message board about the barbecue and brought his son, Chrixus to the event.
"I think it's for a good cause," he said.
On the northeast side of the park, there was an American flag hanging over a sign that read, "We support law enforcement officers and first responders." People in attendance were encouraged to write on the sign, which was later given to the Olathe Police Department.