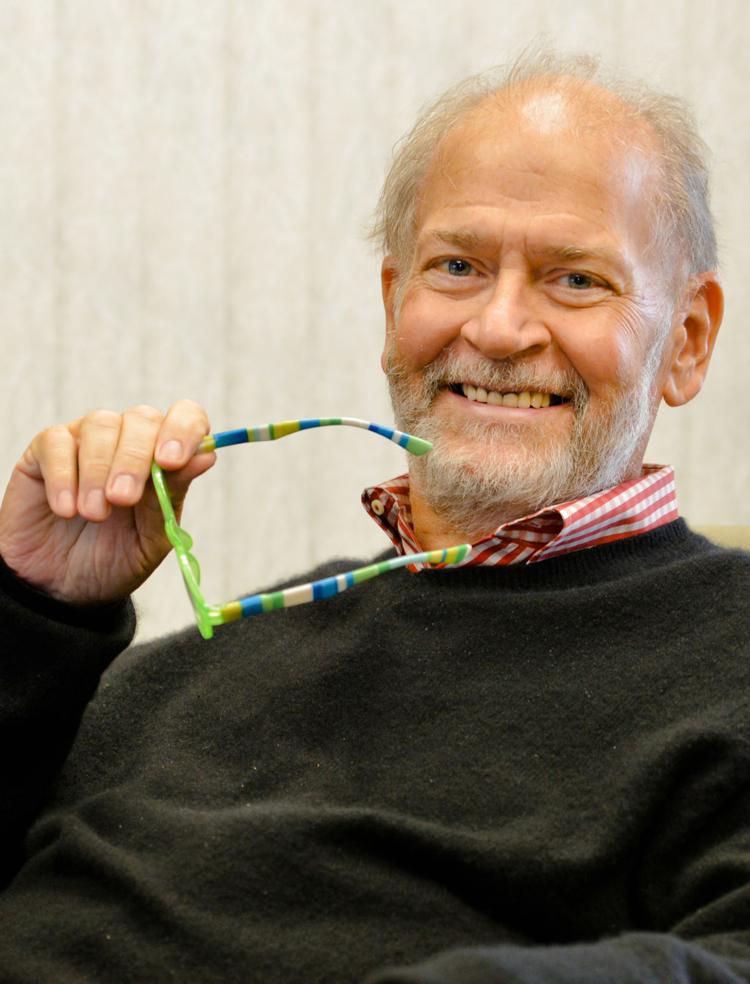 Good afternoon, Montrose.
No. 18, on-the-record recordings are included in today's notes.
Butter Side Up……The annual "prom for adults," aka the HopeWest hospice gala, was a victim of COVID in April. The men typically scrub up clean, reach beneath their sinks and wipe the dust from the English Leather cologne; why, some even rent a tux. The women are flat-out stunning. Lots of new evening dresses each year. (So, I'm told.)
In all, more than 400 people attend the usual festivities, a night of fundraising for essential HopeWest ministries. This year it was different, of course. The 2020 "gala" was held Aug. 1 in three, face-masked, socially distanced, staggered daytime come-and-gos at the Montrose Pavilion with 150 attending. The news: HopeWest matched last year's number of $116,000 in donations.
"Reaching this level was simply amazing," said Nancy Hoganson Hannah, director of community relations.
Methinks it's because HW is appreciated here in so many ways. Client families — and by extension, friends, neighbors and peers — understand the mission; there is trust built over years of established compassion and humanity. "No one asked for their money back," said Hannah. "Not the underwriters, the sponsors or the ticket buyers. It's indicative that we have such committed and supportive people who value the care HopeWest provides. They make our work possible."
Ms. Hannah adds: "Funds from the gala backfill programs like HopeWest Kids, adult grief support, and palliative care that have little to no funding source other than philanthropy. HopeWest never turns away patients in need of care who have no means to pay." (Disclosure: I'm on the local board of directors and am a volunteer.)
• The daily census of HopeWest hospice patients range from 73 to 79, according to Kelly Thompson, program director in Montrose. There are 16 palliative care patients on average. This compares to the 2019 numbers during the same period, before the pandemic. In March and April this year, the daily census slipped into the 60s. Thompson believes fewer people were venturing out, going to see their physicians, choosing to stay home.
• The average overall census was 492 last year. Besides Montrose-Ouray, HopeWest provides hospice care in Grand Junction, Delta, Meeker, Plateau Valley-Debeque. The Montrose operation began in 1995.
• There are 226 volunteers. Some sit with patients while their primary caregivers can shop or catch a break. Other volunteers assist with administrative duties, help with fundraising events, or show up regularly to work in the Heirlooms for Hospice store on east Main. In all, volunteers donated 18,206 hours in 2019.
Bless our schoolteachers.
Suggestion: express thanks.
From the This-Will-Sound-Like-An-Ad, file……The day's always brighter – even Monday, which was late summer Colorado perfect — when there's a spur-of-the-moment trip to Orchard Valley Farms & Market/Black Bridge Winery in Paonia. The Bradleys, Lee and Kathy, and son Ryan, have been farming fruit and vegetables for 30 years. In recent years, their vineyards along the north fork of the Gunnison river have taken flight.
"Our business has been good," said Lee Bradley. The day we were there, I was on the hunt for some more honey crisp apples. All gone, the previous customers bought 'em all. Another example: four semi-loads of Orchard Valley Farm peaches were delivered to the Golden (Colo.) Rotary Club for sale. The pick-your-own fruit and veggie tours were also successful of late. Last weekend there were so many visitors, he said, the traffic was backed up to Highway 133.
"People want to get outside. They want a place to go. They want to buy something. There are a lot of pent-up feelings because of the pandemic and we're glad they want to come here," added Kathy Bradley.
Ryann and I and our new pup, Sagan, were there on wine-making day and I sampled some of the grapes before they went into a machine that "de-stemmed" them. There was no "smoke taint," from the California fires, which has affected grapes from some vineyards. Lee Bradley explained that since the arrival of COVID, there's no more dish washing for the wine-tastings. People taste the four wines and the glasses are disposed. More than 3,000 glasses have been used so far. Their son Ryan, who is getting married next June, runs the cattle operations. The whole place was bustling for a Monday — the open-air market, the winery; tourists from Texas, California, Oklahoma and Colorado parked their RVs and cars and strolled around. Most took some time under the large shady cottonwoods, sitting in comfy chairs near picnic tables along the river. Must mention, too, the pumpkins. The largest variety of shapes, colors, sizes and weights — with stripes and "peanuts" attached — I've ever seen.
Lee and I have a connection and friendship that dates to 2003. He helped with some "attitude adjustment" (resolve) in regarding a lousy cancer diagnosis. We both had rare blood cancers, were treated successfully by Dr. Joanne Virgilio, DO, in Grand Junction, then had transplants at the Fred Hutchinson Cancer Center in Seattle. We joke that we're part of the "Virgilio All Stars." Lee will be cancer-free 20 years come October.
Recommended road trip. Avoid the weekends, if you can.
Quotable: "The thing about tainted money is that it 'taint mine." – Will Rogers, American cowboy, columnist, actor, social commentator, 1879-1935.