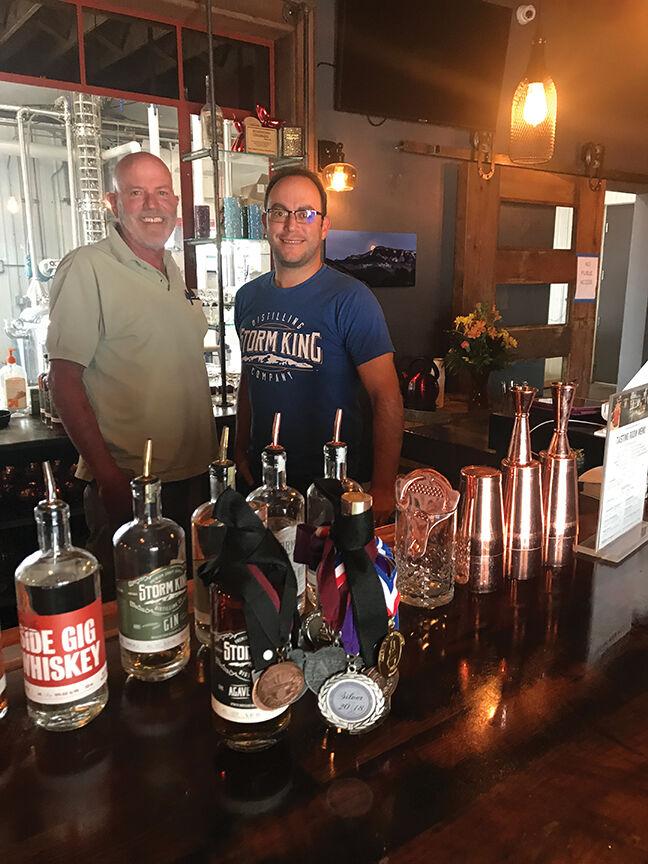 The Montrose Fruit & Produce Association Building, mostly known hereabouts as the "potato growers," was recently added to the National Register of Historic Places. The national recognition includes other local landmarks like the Post Office building, the Elk's building (Visitors Center, City Hall), the county courthouse and the renovated Masonic Temple, renamed the Precedence Building.
The Fisherings, son David and father Greg, invested considerable time and money and sweat in earning this award. They bought the building in 2016 and had planned to open a tasting room-bar-restaurant this year to complement their distillery, Storm King, located next door. Alas, the pandemic pushed those plans into 2021.
The potato growers building was built in 1907, caught fire and burned a year later, and was rebuilt, likely using bricks and timber from local manufacturers. Fruit was the big crop when it opened, said David Fishering, "then potatoes became number one."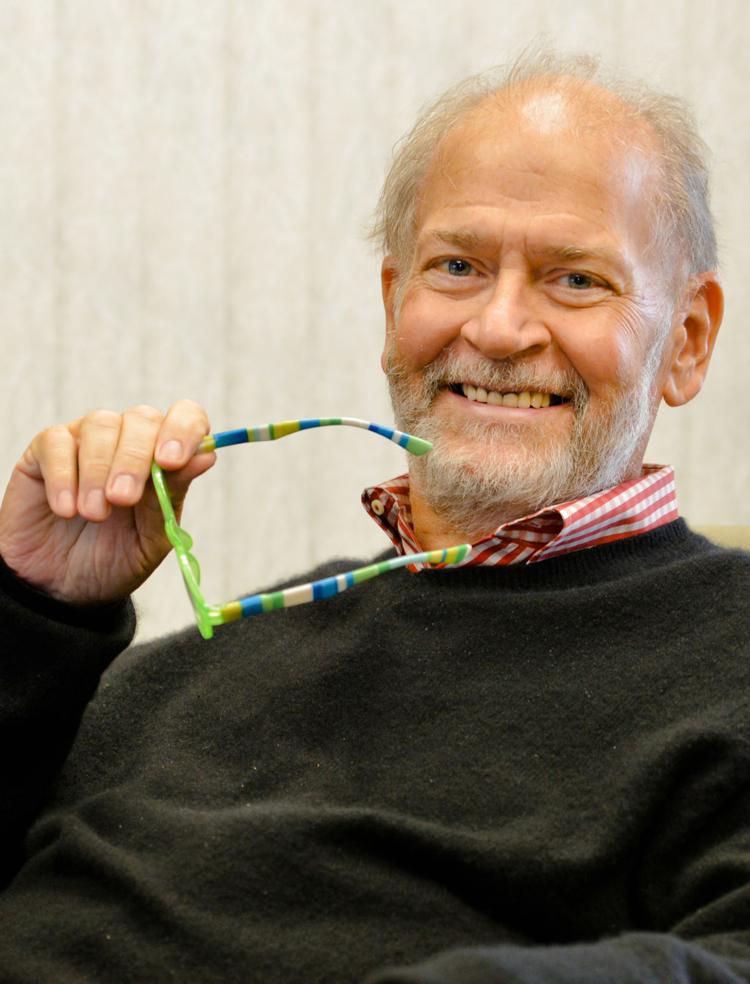 "There was always a shortage of refrigerated rail cars then because the local fruit and vegetable crop was so large," he added. Noteworthy, too, was how the building routinely held most of the town's cash, instead of the banks, given the large number of cash transactions held on its premises. One part of the renovation was keeping the roomy safe, and its original large, wooden cash drawers intact. The 8,500 square foot building had been abandoned since the 1960s.
"The building has lasting historical significance. The south façade is its character," said Greg Fishering. Photos of the distinctive façade is found in local museums, businesses, galleries and homes. The Fisherings had to prove the building is vintage to earn the NRHP designation, using old photos, state archival records and copies of the Montrose Daily Press that published the celebrated opening more than a century ago.
If you go to Storm King Distillery, don't expect a Jack-and-Coke. Storm King's spirits, which have been recognized a snootful of times with awards, are best enjoyed "neat." They are small batch, hand crafted, and have developed an ever-growing clientele. The two bartenders make the drinks one at a time using whiskies, barrel-aged gin, silver rum — with agave being the best-seller, said David Fishering. "People love the margaritas."
Don't look for blenders either. As for pina coladas and "getting caught in the rain," (the wet stuff always welcomed here), that's up to the customer, but the fresh coconut will be hand toasted.
Storm King is the first "legal" distillery to open in Montrose, June 2018. The younger Fishering believes that with the diversity of local farm crops, someone, somewhere, at some time, had a still, or two, or several. "We've tried to educate our customers about distilled spirits," he added. "A lot of whiskies are about marketing and food coloring. We sell what we make."
David Fishering was born and raised in Montrose, president of the MHS class of 2001. He graduated from the U. of Southern California and earned a master's degree from King's College in London, studying international relations and intelligence. Afterwards, he landed at the Department of Defense in Washington, D.C. for five years. What prompted a return to his hometown, besides a two-hour each way workday commute, was a life-changing trip to Kentucky and Scotland where he soaked up an education on whiskey-making, a craft that dates thousands of years.
Fishering and Sarah Fishering are the parents of two daughters. She's a member of the school board and is the events coordinator at the Montrose County Events Center. They are involved in local economic, educational and cultural development. Adds Greg Fishering, the longtime owner of High Mesa Communications on South Townsend, "no one here had ever done it (start a distillery). We had to take classes not only on the how-to, but also in code management and the legal end of it as well. We did a lot of homework."
Located on the corner of west Main and Grand Avenue, Storm King started like most small businesses, small. It used yurts from Colorado Yurt, a local company, in the beginning, making way for a permanent building built by Stryker Construction. Look around and you'll notice the unique metalwork by Jeremy Hauptman of Montrose. The tables, the bike-gear shapes, the distinctive big fish sculpture out front all point to a good vibe therein; a place, when visitors come, to show off. Locals catch up with each other on the patio during the long summer evenings.
"We've tried to raise the expectation of going out and socializing," said David Fishering. "Our real competition isn't against other bars, but rather Netflix, and a culture of not going out."
Food is available at Storm King via the DLICIOUSFOODCO food truck which is parked steps from the front door. The Castillo family operates it. Daniel Castillo is a Michelin-trained chef who has worked in high-end restaurants in Napa, Calif., before relocating here. The menu is small, rotating often with six items and a commitment to fresh and tasty local foods. Soft drinks and those fancy waters are available.
There are a half-dozen distilleries on the West Slope and more than 60 belong to a statewide guild in Colorado. Distillery tourism is a thing, too. One day while I was there, a carload of folks from Virginia rolled up and wanted to see the operation. David showed them the spirits side of Storm King; Greg showed them around the potato growers warehouse and explained what's coming next year and where it's been, history-wise.
"We're proud to have been a part of promoting historical preservation in the city," said Greg Fishering. "My passion is whiskey-making and the history of whiskey. It's consumed the last four years of my life. I'm proud of how our business has grown," said David Fishering.
Somewhat like that one-foot-in-the-past, another in the future, dynamic that enriches this hometown.