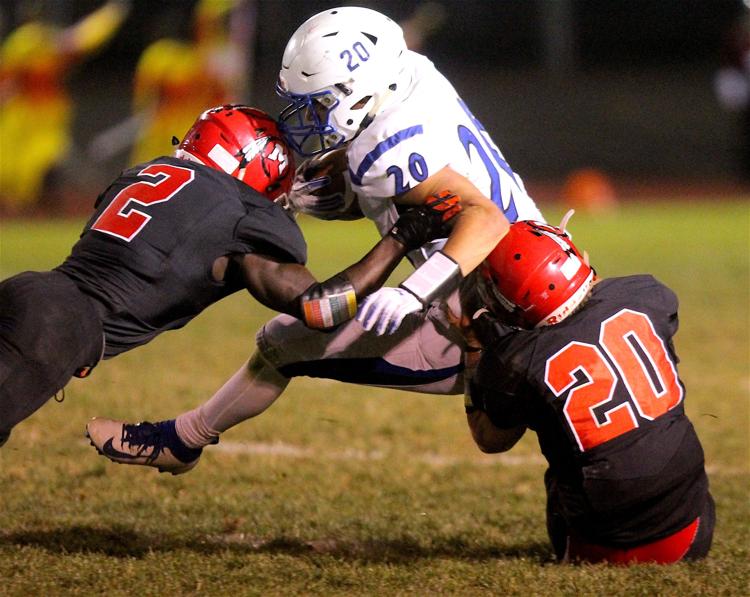 A Tuesday decision by the Colorado High School Activities Association Board nixed hopes there would be a football season this fall, after statements earlier this week raised that possibility.
The Colorado High School Activities Association (CHSAA) board of directors addressed a potential change to the 2020-2021 sports and activities calendar specifically, trying to resume a traditional fall season for contact sports.
In a resolution, the board unanimously voted not to reconsider any adjustment to the calendar, which was approved on Aug. 4 and separated the sports seasons into four quadrants — Season A, B, C and D.
In particular, the resumption of fall football has been a widely discussed topic on social media among coaches, student-athletes and parents across Colorado since the release of the adjusted calendar. The social media chatter ran rampant after CHSAA Commissioner Rhonda Blanford-Green released a statement on Monday regarding the return of high contact sports to the fall, just a day before the board's vote.
POLL: Do you agree with CHSAA's decision to keep contact sports scheduled for the spring?
"In recent weeks, we have seen reconsideration at the association, school district and conference level regarding the resuming fall sports, especially football," Blanford-Green said. "We also hear those who are advocating for a reconsideration of the 2020-21 sport calendar.
"We continue to work collaboratively with our state, health and educational officials. We're monitoring information from other states to see if it's applicable to reconsiderations in Colorado.
"Over the course of the past week, this has prompted conversations at the state level to see if some outdoor fall sports could resume under the state safety guidelines, including variances that would be needed to make this happen. We appreciate their willingness to keep the dialogue open."
Gov. Jared Polis, during a briefing Tuesday afternoon, said the state was open to the idea of football returning this fall and willing to work with CHSAA on a proposal that would allow school districts that were ready to play in the fall to start a season, essentially forming two seasons — one in the fall and spring.
However, the vote swayed into keeping the calendar intact and as planned, leaving high-risk sports such as football, volleyball and soccer in the spring.
"We are focused on getting school started and running smoothly, as well as handling all the issues of running a school district and trying to have that be as normal as possible. We do not want to travel. The biggest thing for me in the end is that we have continued to move the goalposts, and every time we turned around, we had something else we had to adjust to," said Richard Hargrove, the superintendent of Springfield Schools, and a member of the CHSAA board of directors, in a news release.
"The discussion last night amplified that there was another potential goalpost movement. We have already developed a calendar that addresses the concerns of health officials, and gives all students a season and a chance to participate. We need to move forward with that plan."
The board, during its discussion, noted the safety, physical and emotional well-being of Colorado student's participation, diverse educational return-to-learn models across the state, students integrating into non-traditional participation opportunities and Title IX and gender representation issues around a reconsideration of the calendar as factors into the voting decision.
"Our state has seen new golf, tennis, softball, and cross country teams formed statewide. Once this plan was rolled out, school administrators and families began to reshape their lives around the calendar. We are moving forward knowing all of our students will have the chance to participate in 2021," said Terita Walker, an assistant principal at Denver East High School, and a member of the board, in a news release.
Polis released a statement on CHSAA's decision Wednesday morning.
"I have said from the beginning that it will take all of us — people at home, local communities, governments, businesses, and organizations working together to crush the spread of this virus.
"Our administration was looking forward to allowing more student-athletes to begin their season this fall, but if the CHSAA board unanimously agrees that they should delay their season until the spring in an effort to ensure that they are better prepared to protect the safety of student-athletes then our administration fully respects that decision. The important thing is that every CHSAA sanctioned athletic team sport will occur this school year giving kids the opportunity to learn important skills by participating in team sports."
Monday's statement raised hopes among local teams, but Tuesday night's decision brought those hopes crashing down.
Montrose High School football coach Brett Mertens, after seeing the statement from Blanford-Green on Monday, had told his players Tuesday afternoon to get ready for a fall season.
"The way [the statement] came across, it looked like we were going to be switching," he said. With Polis stating his support for a fall return, Mertens was even more inclined to believe there would be a fall season since CHSAA awaited word from the governor's office before announcing the season calendar in early Aug., and approval from Polis would clear "the final hurdle."
Mertens added the student-athletes and coaches were frustrated with the way "our emotions got jerked around a little bit." Players are disappointed, but are excited for the start of the season in February.
Ryan Corn, Olathe High School football coach, said CHSAA's decision was "disappointing."
"It's tough enough," he said. "These kids have had a hard spring ... to give them a little bit of hope, and just take that away from them, that's just hard. Plain and simple, it sucks for these guys."
Corn, too, met with the team on Tuesday and discussed the possibility of ramping up for fall. The players reached out to Corn on Monday after hearing about a potential switch.
Corn said he planned to have a conversation with the team on Wednesday to discuss the past few days. It won't be the best news, but Corn is confident his players will stay focused on their task.
"I know they're resilient. They'll push through this and be ready to go in February," he said.
CHSAA, in the release, also stated the board remains committed to being responsive to community members and their feedback, and will continue to work with the governor's office, the COVID-19 response team and health and education officials to implement the 2020-2021 calendar.